News
Charlie Sifford's Life A Lesson In Perseverance, But A Reminder Of What Could Have Been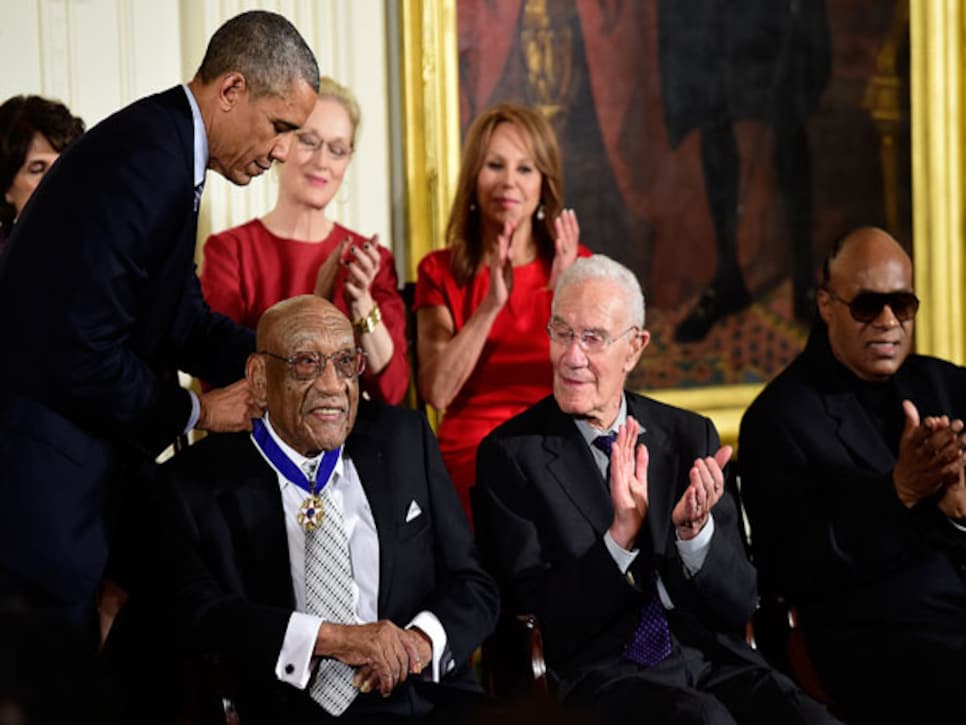 Sifford receiving the Presidential Medal of Freedom in November 2014.
Like Edgar Allan Poe and Vincent Van Gogh, Charlie Sifford will be more important to history in death than in life.
His 92 years will stand as a landmark for the decades in which golf institutionally went from doing nothing to doing relatively little in the interests of African-Americans. But his passing last night in Cleveland of complications from a stroke should -- and I believe will -- serve as an inspiration for the game to do more.
Sifford was a gifted player, but not the most gifted African-American to come to golf in the mid-century. That distinction belonged to Teddy Rhodes. But Sifford, a native of Charlotte, N.C., had two essential qualities that allowed him to endure what others didn't. His extraordinary gumption kept him from becoming discouraged when tournaments shunned him and or when galleries shouted racial taunts. As he told Guy Yocom in a "My Shot" for Golf Digest in 2006, "I was made for a tough life, because I'm a tough man." And he had a passion for playing. In 1992, he told me for a story in the New York Times, "Nobody ever loved this game more than me."
Sifford rode those attributes to a difficult but rich life. The son of a laborer in a fertilizer plant, he learned the game as a 10-year-old caddie, was smoking cigars by 13 and often looped for gruff but giving touring pro Clayton Heafner.
After migrating north to Philadelphia, by the late 1940s Sifford he had become the personal pro and valet of singer Billy Eckstine, who called him "Little Horse" for Sifford's sturdy build and resilient nature. While playing on the all-black United Golfers Association (he won the National Negro Open six times), Sifford also traveled the world with Eckstine, and became close friends with jazz artists like Sarah Vaughan, Oscar Peterson and Count Basie. He would remain proud of the connection he kept with the world of music and entertainment. When Sifford was given the Presidential Medal of Freedom in November (becoming only the third golfer, along with Arnold Palmer and Jack Nicklaus, to receive the award), he acknowledged being thrilled to join fellow honorees Meryl Streep, Tom Brokaw, Ethel Kennedy and Stevie Wonder, and then added, "Oh yeah, I know Stevie."
But the overriding theme of Sifford's golf career was what could have been. True, he was the first African-American professional to beat a field of white pros in a PGA-sanctioned event when he won the 1957 Long Beach Open. But because Sifford wasn't eligible for an "approved tournament players card" until 1960, when the PGA of America finally dropped its Caucasian-only clause, he didn't play what would become the PGA Tour regularly until he was 38.
Though he managed to win the 1967 Greater Hartford Open and the 1969 Los Angeles Open, and played consistently enough to stay exempt by continuing to finish among the top 60 money winners, Sifford never qualified or was invited to the Masters, an unrealized personal ambition that left him with hard feelings.
In the New York Times story, Sifford admitted he had trouble reconciling the years that were lost to institutionalized discrimination and complicated by his own anger. He sought relief from psychological counseling and listening to relaxation tapes, as well as writing his 1992 autobiography, "Just Let Me Play," but a melancholy remained.
"I really would like to know how good I could have been with a fair chance . . . but I had too much pressure," Sifford told The Times. "I will never know."
At least in senior golf, when he wasn't spotting his peers so many years and had won acceptance as a respected veteran, it was more enjoyable. Sifford won the 1975 PGA Seniors' Championship, and played in the Legends of Golf event until he was 83.
Sifford's career was finally acknowledged on a grand scale when he was inducted into the World Golf Hall of Fame in 2006. Sifford's speech remains one of the most sincere and affecting in the hall's history. "Man, I'm in the World Golf Hall of Fame," he told the audience. "Don't forget that, now. I'm in the World Golf Hall of Fame with all the players. That little old golf I played was all right, wasn't it?"
Yes it was, and its achievement deserves to be further honored by golf redoubling its efforts to encourage more blacks and other minorities to play and thrive in the game.
At the moment, the optics aren't very good. The only player on the PGA Tour of African-American ancestry continues to be Tiger Woods (his niece, Cheyenne Woods, and Sadena Parks are the only two African-Americans on the LPGA Tour). Although some strides have been made in recent years, there are still only about 150 African-American club pros among the 28,000-strong PGA of America membership.
But Sifford was hopefully heartened over the weekend when 24-year-old Harold Varner III finished second in the Web.com Tour's opening event in Panama, getting a jump on qualifying for next year's PGA Tour. If he, and other African-Americans can start to make it at the elite levels of the game, Sifford's memory will grow in value. But if they don't, all the more reason "Little Horse" should never be forgotten.