We've got to put some of it on Scottie Scheffler's utter nonchalance at anything he does. Take, for example, his post-round press interview on Saturday after he birdied the 18th hole, shot 68 and forged a two-shot lead over Scott Stallings and Brendon Todd heading into the final round of the Charles Schwab Challenge. He was asked seven total questions, none of which he answered in more than about four sentences.
That's who he is, and there's nothing wrong with it, but he also doesn't seem to be rocking the golf world like he should be considering he's doing things in the game hardly ever seen. Imagine if Jordan Spieth, Rory McIlroy or, dare we dream, Tiger Woods had a chance to get five wins on the year before the calendar turns to June.
Comparitively, it seems like Scottie is getting not roars, but respectful golf claps.
Anyway, in an already remarkable season in which he's recorded his first PGA Tour victories, the World No. 1 and reigning Masters champion has a chance to further put himself among the game's greatest if he can wrap up a win at Colonial Country Club in Fort Worth. A big "if," of course, on a Sunday in which the wind might blow to 35 mph and on a layout with a penchant for penalizing even slightly errant shots.
Here's what is at stake: Scheffler, at only 25, can become the fourth golfer since 1960 to post five wins in the year's first five months. Arnold Palmer did it twice, with Johnny Miller and Tom Watson also pulling it off.
It would be the first five-win season on tour since Justin Thomas had that many in 2016-17.
And Scheffler would become only the third player in history to capture his first five titles in the same season. How rare is that last one? Bobby Locke pulled it off in 1947, when he won six times. Joe Kirkwood Sr. got his five before that, in … wait for it … 1923.
You probably noticed: Woods has none of those marks, and he's been the standard for so many records over the past 20 years. It is remarkable golf being played by a highly talented player, even if we never saw this coming.
It was opined on Saturday's broadcast that Scheffler's didn't have his "best stuff," though he chipped in for a birdie on No. 10 and reached the 17th hole without having suffered a bogey over the first 52 holes. He then stumbled with a three-putt, but answered with a birdie on 18 by making a 30-footer.
The stellar iron play that has fueled Scheffler's incredible season is showing again this week. He's leading the field in strokes gained/tee-to-green.
"This is a golf course you have to be pretty careful around," Scheffler said. "It's very challenging. When you get things going in the right direction, you can really score. But the same goes when things go in the wrong direction."
Four other takeaways from Saturday.
Why we bow to Harold Varner III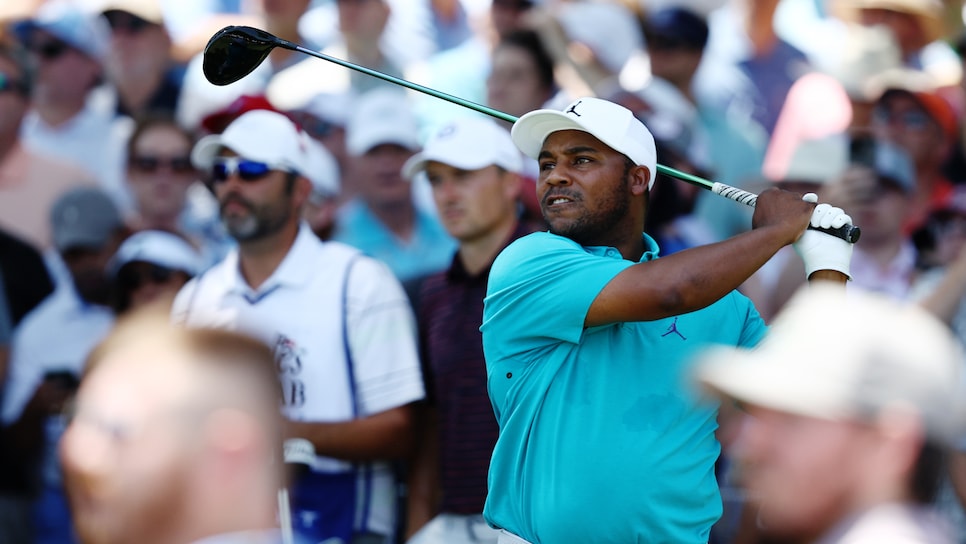 Harold Varner III plays his shot from the third tee during the third round of the Charles Schwab Challenge.
Tom Pennington
Varner has become known to fans and the media as a guy who can pull off pithy one-liners as smoothly as he swings a golf club. He came up with another one on Saturday afternoon after shooting a bogey-free 68 to be three shots off the lead heading into another chance to seize his first PGA Tour title.
Said the player who won the Saudi International in February with a 90-foot eagle putt on the 72nd hole: "Crazy s--- can happen, man. You're sitting there … you just never know. You're never out of it."
Varner holed out a bunker shot from 33 feet on the 10th hole for one of only two birdies he had in the round, and that's the kind of "stuff" he's talking about.
The 31-year-old seems achingly close to his U.S. breakthrough. In April, Varner shot a 63 in the third round of the RBC Heritage and held his first-ever solo 54-hole lead. He faded with a 70 on Sunday and finished in a rare seven-way tie for third, one shot out of the playoff that Jordan Spieth won over Patrick Cantlay. He also posted a T-6 in the Players Championship.
Of course, he keeps getting questions about what it's going to take for him to win. Predictably, Varner provided more than a robotic answer.
"I really love competing," he said. "That's what makes it so much fun. … I love trying to beat people. Everyone is, like, 'beat the course.' If I only played the course, I wouldn't play golf."
Stallings riding a wave of good feeling
Ranked 206th in the world, Stallings didn't make the field into last week's PGA Championship, and not going through that grinder at Southern Hills might have been as blessing for this week. On Monday, Stallings shot a pair of 67s in the 36-hole U.S. Open final qualifier in Dallas to reach that major for only the third time. And now he's contending for his first PGA Tour title in eight years.
Stallings scored 70 on Saturday to stand tied for second place a nine under, two back of Scheffler. It's been a performance that has been against the run of play on a couple of levels. The 37-year-old has only made one cut in his last five starts, and he has never played particularly well at Colonial, reaching the weekend in only three of nine appearances.
There was one standout effort, in 2013 when he finished T-4, and that came in the period in which Stallings played his best. His last win came less than a year later, at the Farmers Insurance Open in 2014.
Stallings came into Fort Worth on a personal high following the U.S. Open qualifier, in which he finished solo 11th and avoided a nervy playoff for the final two exemptions. We never know everyone's motivation for making a major, and this one at Brookline Country Club outside of Boston was special to Stallings. He was born in Worchester, Mass., and while he now lives in Tennessee, he's still a hard-core fan of the New England teams.
"Probably the biggest goal I had of the year is to play the Open up there. Probably the only time in my career I'll have an opportunity to play a major championship in New England, where at least half my family lives," Stallings said on Friday after shooting 64.
"I know I'm biased when I say it's the best sports town … probably guys would argue with me," he continued, "but to have that carry over into the week was nice to see."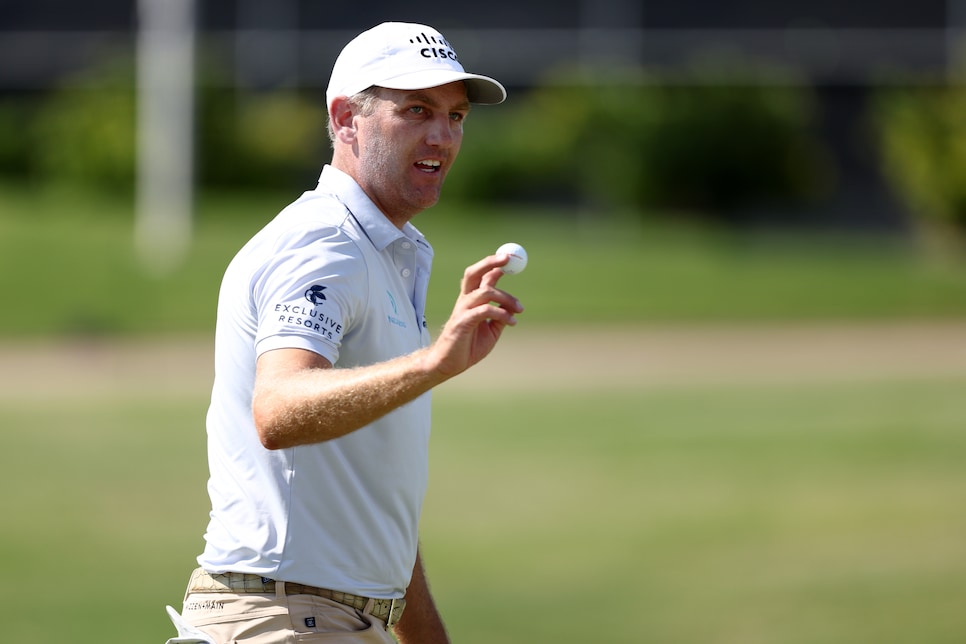 Brendon Todd reacts to his putt on the 18th green during the third round of the Charles Schwab Challenge.
Tom Pennington
There are a few things that Brendon Todd absolutely knows when he arrives at Colonial. There will probably be heat and wind, and he will love every minute of it on the layout he has called his favorite on the PGA Tour.
The first of Todd's three PGA Tour wins came in typical Texas spring conditions at the 2014 Byron Nelson, and he's relishing his shot at another victory on Sunday, when the wind could howl and the greens run firm.
"I generally feel like a little bit of wind helps me shape shots into the greens and not put pressure on myself to feel like I have to birdie every hole," said Todd, 38, who tied for eighth in the Schwab last year.
It looked like he could birdie every hole early on Saturday. Todd nearly holed out for an albatross on the par-5 first and made eagle. He then chipped in for birdie at the second en route to shooting 30 on the front. He bogged down with nine pars on the back, but still shot 65—the lowest score of the day by two strokes.
Todd, who's trying to win for the first time since notching wins back-to-back in late 2019, was his usually proficient self on the greens, needing only 22 putts after he headed into the week ranking seventh on tour in strokes gained/putting.
Why does he like Colonial so much?
"Well, because I can compete on it. Length is not as big an advantage here as other weeks," said the player who ranks 189th on tour in strokes gained/off-the-tee. "I love the shot making about this golf course. … You have to be really smart into the greens. I remember John Cooke saying one year he won here and he tried to hit the middle of the green every time, and that's something I keep in mind out there. No matter what club you have, if you can get the ball to the bigger part fo the green and have a putt at it, you're doing your job."
The wind did get a little wild at times. Todd said the par-3 16th was playing 165 to the pin, with the wind at the players' backs. He then watched Mito Pereira fly a 9-iron 185 yards and over the green. Todd's 9-iron usually goes 148, and he used that to hit into the fringe. "That was a 20-yard help there," he said. His second shot wasn't good, leaving him 14 feet short of the cup. But, of course, he made the putt.