As you watch Charles Howell III make his way around a golf course these days, he doesn't look as if he's aged that much. At 42, the Augusta, Ga., native has the same skinny physique he carried nearly 22 years ago when, fresh off winning the NCAA Championship, he competed in his first PGA Tour event as a professional at the Canon Greater Hartford Open.
OK, so maybe Howell hasn't added much weight since June 2000 (he's still 155 pounds). What he has gained is perspective. "When I first started playing, I just wanted to play golf on the PGA Tour," he told Golf Digest in a phone interview from his home in Orlando last week. "There was no timetable associated with that. It wasn't like I want to go win X amount of tournaments or do whatever. It's just I want to go play on the PGA Tour. And then all of a sudden, you get your head down and you go about your business, and you look up and it's, 'Oh my goodness it's been 600 starts.' "
Indeed, when Howell tees it up on Thursday at the Waste Management Phoenix Open it will mark his 600th tournament on the PGA Tour. Howell will be the 69th player to accomplish the feat, and the third youngest behind Billy Mayfair (41 years, eight months) and Mark Brooks (41 years, 11 months).
"Obviously, I've been fortunate on some things," Howell said. "A lot of things have to go your way—health being one of them. Knock on wood, I've stayed relatively healthy to do this."
This being have one of the most consistent careers of any modern tour pro. Starting in 2001, Howell went a remarkable 20 straight seasons of winning at least $1 million. (He fell roughly $52,000 short of that mark in 2020-21.) For his career, Howell has earned $41.25 million, seventh most among players to hit the 600-appearance mark and 22nd all-time on tour.
That first start as a pro, thanks to a sponsor's exemption, at TPC River Highlands in Cromwell, Conn., was a whirlwind experience. Three weeks earlier he claimed an eight-shot win at NCAAs with a then record 23-under 265 score. Despite having another year of eligibility remaining at Oklahoma State, Howell knew it was time to move on. "I made my first check as a pro [$13,626.67 for a T-32 finish] and man I thought it was just the richest thing ever," Howell said.
Two starts later, with a T-3 finish at the John Deere Classic, he had earned enough money via sponsor's exemption for temporary member status. He didn't earn his PGA Tour card until the middle of 2001, but by the end of that season he had played well enough to be named Rookie of the Year.
During his PGA Tour career, Howell has made 461 cuts (76.96 percent of his starts) and posted an impressive 227 top-25 finishes (37.8 percent) and 97 top-10s (16.2 percent). Ten times he's come in third, 16 times in second and three times he's taken the title (2002 Michelob Championship, 2007 Nissan Open and 2018 RSM Classic).
Despite his success, it's that three number that many fans point to, suggesting it should have been higher for a player of his talents. Howell doesn't deny it.
"You know I'd actually given that some thought. I would say I've had a very good career. For me to have said it had been great, I would have had to have won more," Howell said. "That would be my one thing, if you want to say regret, I wish I would have won more. I was told he other day I finished second 16 times and third 10 more times. So there are 26 starts that if I say even a third of them would have gone to first …"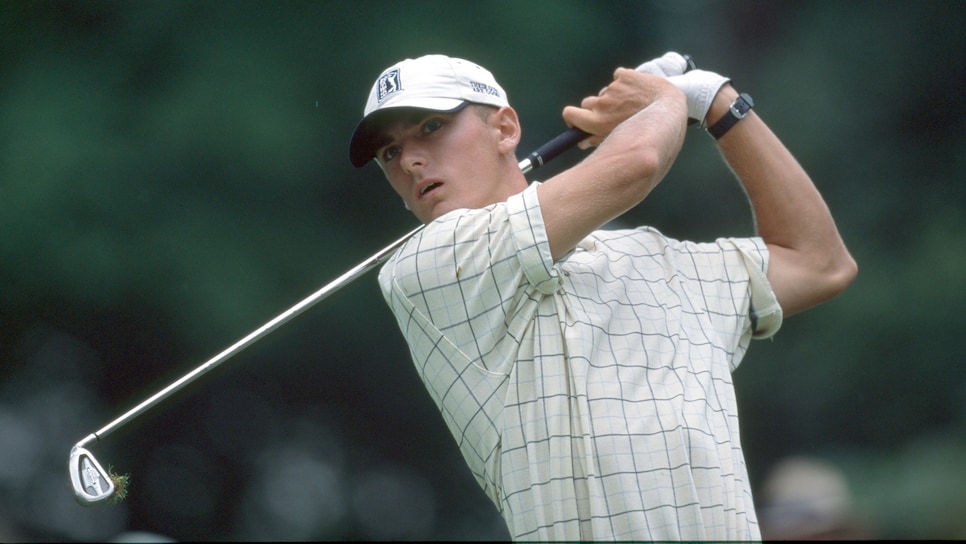 In his third start as a pro at the 2000 John Deere Classic, Howell finished tied for third, the first of his 97 career top-10 finishes on the PGA Tour.
PGA TOUR Archive
But what would he have done to make that happen? "I think there were times in my career that I kind of forgot the goal of the game was to shoot the lowest scores as opposed to the goal was always to be working on something," Howell said. "There are times that I would be working on something on my golf swing and spend six hours on the driving range hitting 5-irons, and then you get to a golf tournament and you realize, 'hang on here, I need to shoot the lowest score.' … I think this is the thing good young players now are doing. They keep it in the front of their heads that's the ultimate goal."
Howell proudly says his passion to play remains high even as he has more distractions off the course. A father of two with his wife Heather, Howell says that his 10-year-old Chase is starting to get serious about the game, playing in U.S. Kids Golf events.
"I find a lot of inspiration in him because I'm now helping him. I caddie for him when I can," Howell said. "I see the game through his eyes now, which is really neat. And it gives me a lot of inspiration because I remember when I was his age."
Howell's RSM win in 2019 locked up his card through the end of this season, meaning he's playing to extend his status for 2023. If he somehow didn't finish in the top 125 on the FedEx Cup (he's No. 106 heading to TPC Scottsdale), he could lean on one-time career-money-list exemption to keep competing.
And competing is definitely what Howell intends to continue to do.
"As long as I keep enjoying it and love playing, I'll keep doing it. I never want to go out there … if I don't enjoy it anymore, if I don't love it, if I don't enjoy the struggle, if that goes away, I wouldn't play any more. But I still do love it."
So much so that Howell says he's already looking ahead to a career on the PGA Tour Champions.
"Oh, sure it is. It's something I look forward to, Lord willing. If I stay healthy, [wife] Heather and I can go out and be rookies on the Champions Tour, be the young ones again. That's the beauty of this sport."
But first things first. As he prepares for start No. 600, Howell can't believe how fast the last 22 years have gone by. No need to rush the next eight just yet.