The Loop
CC Sabathia's F-bomb-laced rant on how to properly bean a batter is gold, Jerry! Gold!
While painful to admit, the New York Yankees are completely irrelevant at this current juncture. The Boston Red Sox clinched a spot in the World Series on Thursday night in Houston, defeating the Astros in Game 5 of the ALCS. These next few weeks will be absolute hell for Yankees fans, as we pray to the baseball gods that the Dodgers or Brewers can save us from an offseason of misery.
That being said, this CC Sabathia F-bomb-laced rant on how to properly bean a batter with the ball will bring a smile to faces of Yankee fans everywhere despite our current situation. If you recall, Sabathia cost himself $500,000 with one pitch late in the regular season against the Tampa Bay Rays when he threw at a Rays batter's knee. The pitch was in retaliation to a pitch by Rays pitcher Andrew Kittredge, who Sabathia felt had thrown at Yankees catcher Austin Romine's head earlier in the game.
This subject came up on the season recap episode of the "R2-C2" podcast that Sabathia co-hosts with the YES Network's Ryan Ruocco, and just talking about it enraged the veteran left-hander all over again.
"Don't f-ing throw the ball at my guy's head, like, I'm pissed off now! This shit's pissing me off now," said Sabathia. "If you want to throw at somebody, do the shit right, learn how to f-ing do it right or don't do it at all. Whoever the f---, Rays organization, whoever the f--- is calling the shots over there, you know what I'm saying? Do the f-ing shit right. So I had to show 'em how to do the f-ing shit right."
Here's the full clip in all its must-listen glory:
If you didn't think Sabathia was a ride-or-die teammate before, this should clear up any doubts. No matter who you root for, you got to love the passion from CC, who pointed to the Rays dugout following the pitch, making for this incredible GIF: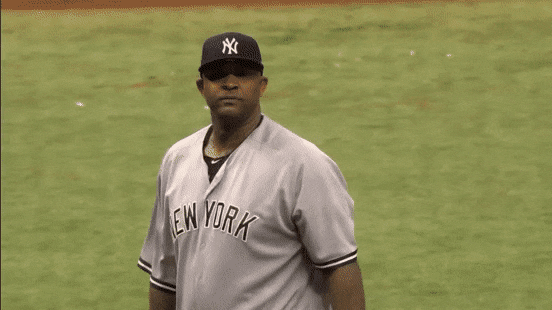 After listening to his rant, we have to assume he was pointing at Kittredge in the dugout in the hopes of "showing him how to do the shit right." A lot of pitchers could learn from CC's tirade about how to properly bean a batter. If you're going to do it, try not to kill or injure someone like Jose Urena did to Ronald Acuna Jr. in August. If you can't figure that part out, don't do it at all.