From the Magazine
Former MLB pitcher CC Sabathia has found health and happiness in golf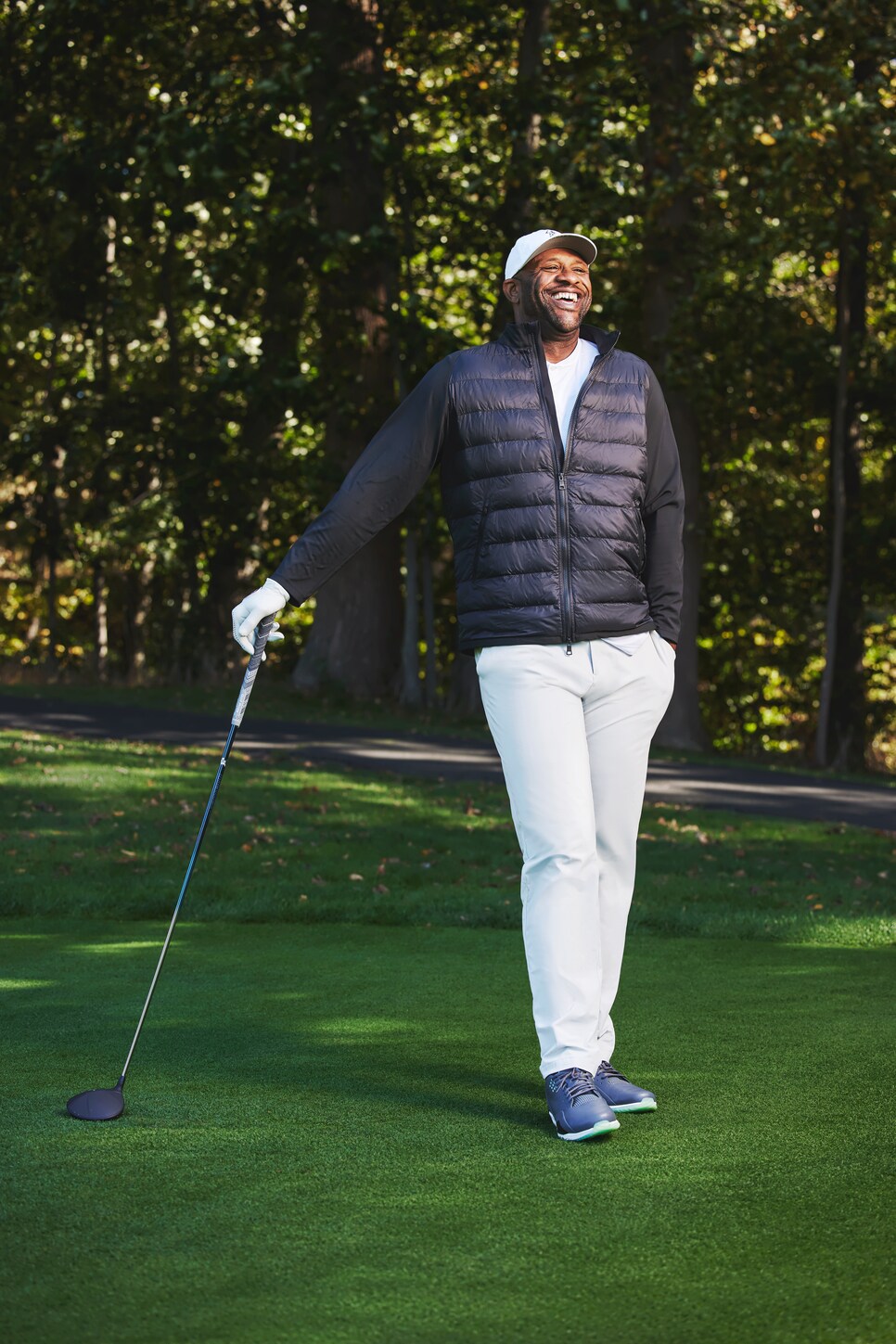 FIELD DAY Now six years sober, Sabathia has gone all in on golf since retiring from baseball
Steve Boyle
For nearly two decades, CC Sabathia was one of the most imposing players in Major League Baseball, a 6-foot-6, 300-plus-pound southpaw who looked more like an NFL offensive lineman on the mound. But opposing batters would have undoubtedly felt more at ease if they only knew what was going through the burly hurler's mind when he had the ball.
"You ever seen 'Finding Nemo' where Dory is saying 'Just keep swimming, just keep swimming'?" Sabathia asks. "I'd always tell myself, 'Just keep pitching, just keep pitching.' A lot of times I'd be singing that song in my head."
Sabathia's golf mantra might as well be, "Just keep swinging, just keep swinging." The former pitcher is spending more time than ever on the course— he just doesn't spend much time when it's his turn to hit. "Somebody told me, if you're going to play bad, you gotta play fast," says Sabathia, a six-time MLB All- Star who won a Cy Young Award with Cleveland in 2007 and a World Series ring with the Yankees in 2009.
A frequent visitor to Alpine Country Club near his New Jersey home, Sabathia has lowered his Handicap Index to 17.5 thanks to lessons with director of golf John Mascari. More noticeable than the saved strokes, Sabathia has shed 40 pounds through weightlifting and golf. The 41-year-old is in the best shape of his life now that he has dropped the "mass equals gas" philosophy for his fastball. Unlike most retired athletes who turn to golf because they miss competing, Sabathia does it to fill a different kind of void.
On Oct. 5, 2015, four days after pitching the Yankees into the playoffs for the first time in three years, Sabathia announced he was entering alcohol rehab. How bad had things gotten? Before heading home to pack, Sabathia stopped at a liquor store to buy two bottles of Hennessy for the drive back from Baltimore. His season had come to a sudden and stunning close, but it was the start of what would be a happier chapter of his life. Now six years sober, Sabathia hopes being open about his struggles, which he has detailed in a recent memoir, can assist others in need.
"It's important for me being a black man to share it just because we don't talk about those things in our community," Sabathia says. "Whether it's alcohol dependency or anxiety or depression, we're always taught to be tough and to not show our emotions and deal with these things internally. Those things can break you. They almost broke me in 2015."
Once he cut alcohol from his life, Sabathia says he had to find ways to fill the time—especially on road trips—during the final four years of his career. Eventually, he began playing a lot of golf, a sport in which he got off to an inauspicious start years before when he broke Cleveland teammate David Riske's driver on his first-ever swing. But the contact has gotten better in retirement, and the game has provided a healthy outlet in addition to his PitCCh In Foundation, his regular R2C2 podcast on The Ringer and getting to spend more time with his wife, Amber, and their four kids.
"For sure, golf has helped me," Sabathia says of his alcohol addiction. "Being able to detach from my phone, hang out with some buddies and enjoy being where my feet are. That's one thing I always try to tell myself. Just be where your feet are."
Those days are more frequent for Sabathia in golf. "I'm setting up golf trips; I've got a simulator in the house," Sabathia says. "Whether it's golf, baseball, working out, if I'm in, I'm in."
Just keep swinging, CC. Just keep swinging.