News
European Solheim Cup captain Catriona Matthew among three players to test positive for COVID-19 ahead of LET event in Dubai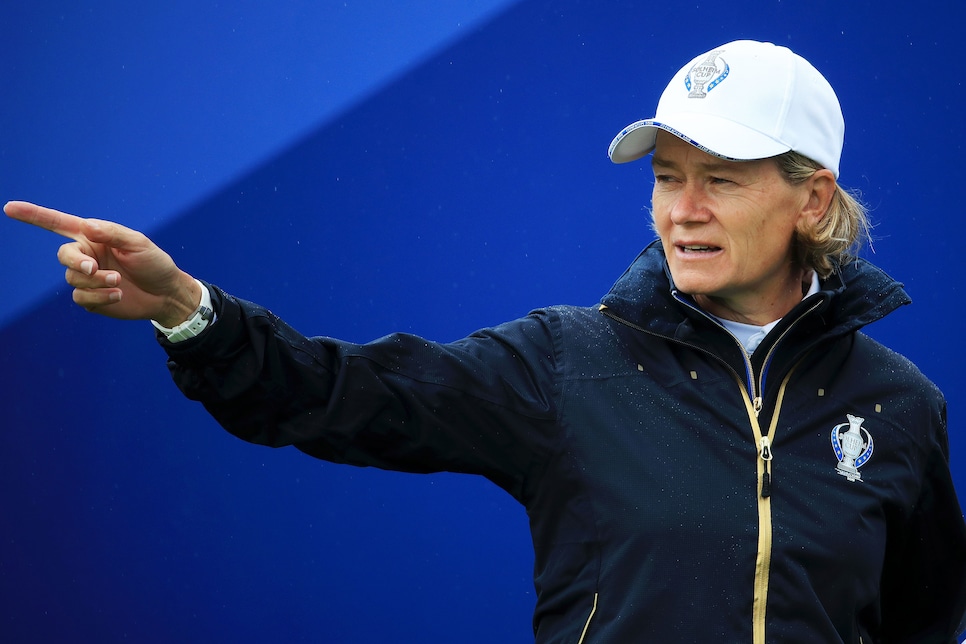 European Solheim Cup captain Catriona Matthew has withdrawn from this week's Omega Dubai Moonlight Classic after testing positive for COVID-19. Two other players—England's Annabel Dimmock and Finland's Ursula Wilkstrom—also had to pull out of the Ladies European Tour event, which is played under floodlights at the Emirates Golf Club, due to positive test results.
Matthew and her husband/caddie, Graeme, both tested negative at Heathrow Airport in London before flying to the United Arab Emirates. Tested again at the course when they arrived Monday morning, the pair then headed out for a practice round. Banned from entering any indoor facility, they then headed back to the hotel. And the next morning it was confirmed that, while Graeme remained negative, Catriona was not. The pair are now in separate hotel rooms.
The LET issued a statement on Tuesday: "The Ladies European Tour has implemented a strict COVID-19 testing process throughout the season and players who had not, and have still not, exhibited any symptoms were tested upon arrival in Dubai on Monday morning. The three players have followed all the LET guidance and protocols put in place to mitigate the risk of transmission of COVID-19 and will now remain in self-isolation for a minimum of 14 days in accordance with mandatory health-authority and medical-professional guidelines. Contacts identified as part of the track and trace process will be managed in accordance with the heath-authority guidelines."
"I was in contact with very few people between testing and the result coming back," said Matthew, who also must withdraw from next week's Saudi Ladies International. "I'm not showing any symptoms, and neither are Annabel or Ursula, which is very frustrating. I'll hopefully get tested again Wednesday morning. They have promised to put a rush on the result."
Should Matthew come back positive for a second time, her husband will have to be re-tested. But the hope is, should the six-time LET winner revert to negative, Graeme will be able to fly home immediately. Whatever happens, however, Catriona will be tested for a third time on Thursday.
"The worst-case scenario is that I will have to stay here for two weeks," said the 2009 Women's British Open champion, who turned 51 in August. "Even if I have two negative tests the next two days there is no guarantee I'll be able to fly home right away. But I'm hoping the LET people will talk to the Dubai authorities if that does happen.
"Graeme was only supposed to be here for four days, before going home on Friday," Matthew said. "It is so odd that I am positive, and he is not. It just shows how random it is. Close contacts of the other two players tested negative, too. None of it makes any sense. Now we just have to wait and see."