Carlos Carrasco is the baseball badass of the week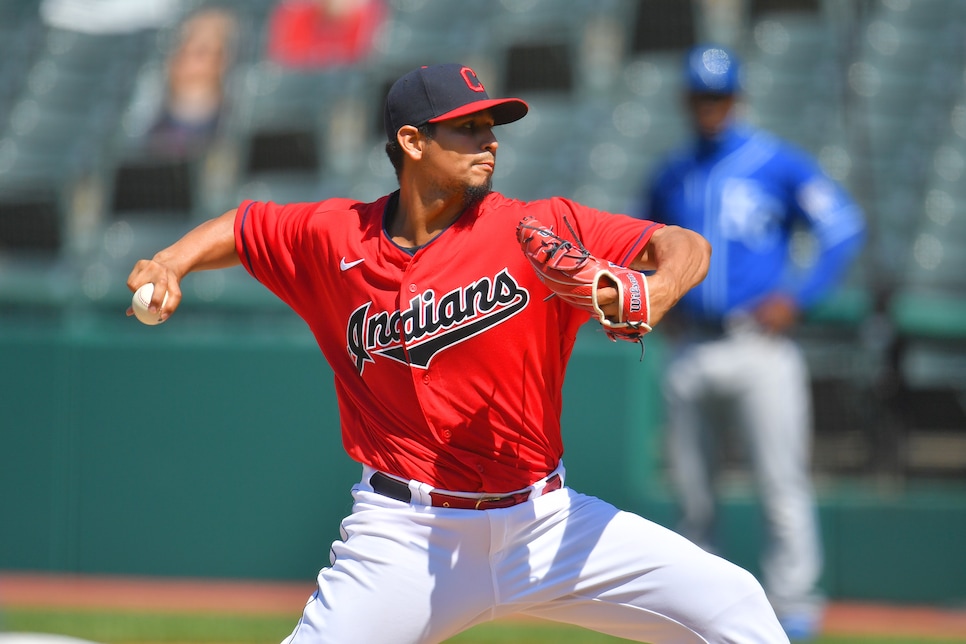 We really, really needed baseball back, and in the midst of this grueling summer, we really needed stories like Carlos Carrasco. The Indians starter was diagnosed with chronic myeloid leukemia last summer in the middle of his season, and needless to say, that's a very big deal. He had been a solid starter for Cleveland for five years, but he had an immense, almost unthinkable journey ahead of him, and there was no guarantee that he'd survive it, much less return to baseball. But survive he did, and return he did, and in his first start of the year on Sunday against the Royals, he was phenomenal. Carrasco went six innings and struck out 10 to lead his club to a win, and his slider was divine:
It's a shame he couldn't have been greeted by a full stadium, but it was a hero's return for Carrasco anyway. He's an amazing human being, and not just because he survived leukemia—he gives time and a whole lot of money to charity efforts from his native Venezuela to the U.S. to Africa, and in 2019 he won the Roberto Clemente award for (not official language) being an extremely good dude. We need more people like him, and it's great to see him back.
The Filth-Nasty Pitch of the Week: Blake Treinen, Dodgers
Watch the first two pitches here:
And all three pitches here:
That's Blake Treinen, Dodgers reliever, and the "sinker" you just witnessed is pure unadulterated pitching nirvana. Treinen had a spectacular year with the A's in 2018 (0.78 ERA), and came back to earth in 2019, but his stuff is clearly otherworldly and it's almost unfair that the Dodgers landed him. With that kind of horizontal movement on his pitch, drifting rightward, he can backdoor righties on the outside corner, while lefties will get the impression that the ball is about to hit them in the knees before it breaks back over the plate. The thing breaks TEN INCHES, and it's not even technically a breaking ball!
The Dumb to Smart Instant Evolution of the Week: Lorenzo Cain, Brewers
The Twitter dude who posted the video below credited Cain with a high baseball IQ, but in fact he starts by making a mistake. Watch:
So, with one out, Cain shouldn't have been running on a ground ball to short. With nobody on first, his job is to stay in scoring position, and getting caught in a rundown is a huge net negative. But then, after his mental lapse, he manages to extend the pickle and actually realize, in the middle of it, that first base is open and that his teammate Ben Gamel can race back before the Cubs can adjust. He directs Gamel in that direction—again, while getting chased down—and everyone is safe. That's brilliant! And it paid off, because his teammate Erik Sogard hit a two-out RBI single that scored Cain two batters later. So congrats to Lorenzo Cain, who went from idiotic to genius in under five seconds.
The Endangered Relief Pitcher of the Week: Sean Doolittle, Nationals
Doolittle ran into difficulties last year with the Nationals, when his ERA ran above 4.00 and his velocity dipped slightly. But watching him face the Yankees on Sunday afternoon, it was like watching batting practice. The data backed it up—in a preseason game against the Orioles and again when he faced the Yankees, his velocity barely cracked 90. It's a pitch he's used more than 80 percent of the time historically, and without his speed, one of the steadiest relievers of the last decade doesn't have much to offer major league hitters. Everyone was hitting him hard, and a good indication was the go-ahead hit by Gleyber Torres. On the 2-1 pitch, Doolittle tried out his signature high fastball, but at 91 mph instead of 94 or 95, it was a meatball:
Doolittle is a smart pitcher, but he's going to have to get very very clever if his velocity doesn't return, and it'll be bad news for the Nationals if he can't be effective late in games.
The Far-Hitting Human Being of the Week: Giancarlo Stanton
I have my problems with Stanton as a Yankees fan, foremost among them that he is literally the worst clutch hitter of the millennium. Not great! But this is 2020, there are no fans to boo him, and maybe it's the kind of season where even in high-pressure situations, it will seem like a low-stress practice. And I have to admit, when Stanton is locked in, it's a beautiful thing to behold. He hit two absolutely massive home runs in the first series of the year, and they're worth watching for the awe factor:
I know he's going to let me down when it matters the most, but I can't help enjoying these cannon shots while they happen. His time in New York hasn't been easy, and the fans routinely make him feel like trash, but nobody should forget that he's one of the most talented, natural, powerful players in this sport. Enjoy it while the stakes are low.