The Loop
Cardinal see red at NCAAs Day 1
__WILLIAMSBURG, VA.—__What a difference nine months makes. When they started the 2006-07 men's season last September, the players on the Stanford men's team under third-year coach Conrad Ray had a fairly simple goal: Win a tournament.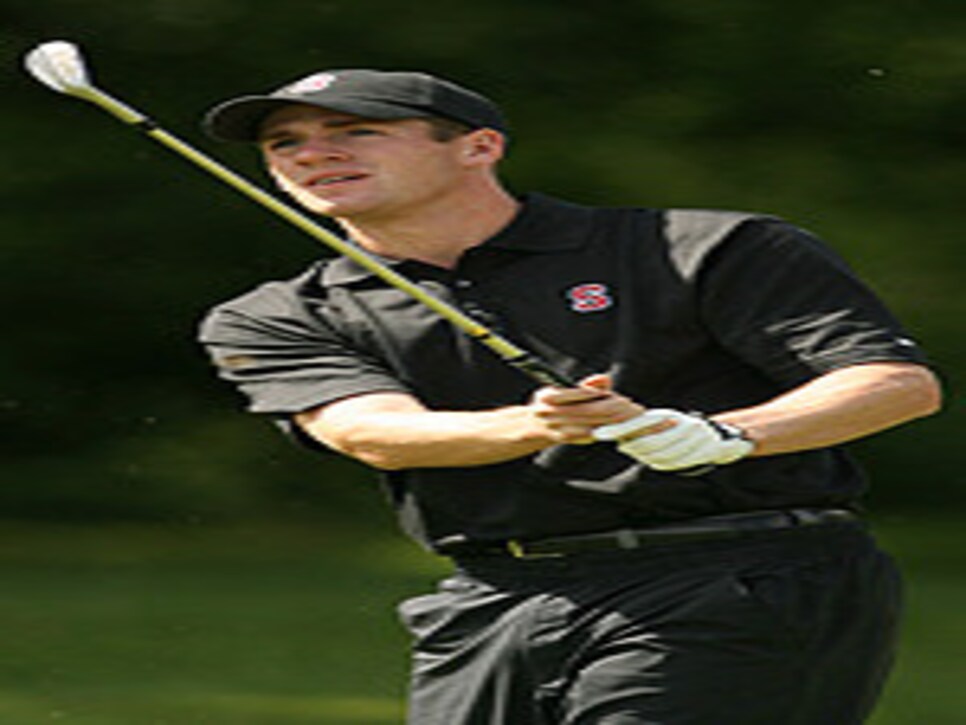 "We had a horse out there today," Ray said afterward, referring to Rob Grube. The junior from outside of Chicago (above) shot a bogey-free six-under 64 to take the individual lead by two strokes over Florida freshman Tim McKenney. "When you can post a low number like that, it makes a big difference."
Conditions were ideal for low rounds (no wind, temperatures in the 80s), with 28 players out of 156 breaking par. Still, the 6,803-yard, par-70 Robert Trent Jones Sr. layout held its own. Thick rough made hitting fairways a premium.
"I've got a team of pretty good ball strikers, and we do better on courses where par is a good score," said Ray, who squad counted a 69 from Daniel Lim, 70 from Zack Miller and 72 from Matt Savage.
Grube sacrificed length for accuracy, hitting three 3-woods, three 5-woods and a 4-iron off various tees. Five of his six birdies came on the front side, as he turned in 30.
A visit with his instructor, Jim McLean, May 24 in Palm Springs, Calif., allowed Grube to fine-tune his mechanics as well as helped in his decision to take out a 3-iron from his back and put in an extra wedge for tricky shots around the greens.
"With such a hot start [this season] we were going to hit a bump in the road," Ray said. "I think it might have helped us to know we still need to get after it. I think these guys are hungry to play well."
Several other schools expected to contend this week remain in the hunt after Day 1. Top-ranked Georgia, led by Chris Kirk's 68, finished at two-over 282 to grab eighth place. UCLA might like to replay the par-3 12th hole, after shooting six over as a team on it, but otherwise was OK with its three-over 283 and share of ninth. Alabama and Tulsa shot four-over 284s, while defending champion Oklahoma State, with Pablo Martin posting a 70, finished at seven-over 287.
Individually, McKenney's success came from a hot flat stick, as he needed just 25 putts for his 66, a career best. "Everything I looked at poured in," he said.
He hit only four fairways and struggled to a five-over 75, leaving him tied for 126th, but Penn's Chance Pipitone was one of the most sought out players among the media covering nationals. The freshman from Houston is the first Quaker to play in the NCAA Championship since 1964 is believed to be the first Ivy League golfer to compete in the event since the 1980s.
"He's a testimony to the fact that Ivy League golf is alive and well," noted Penn coach Rob Powelson. "I think my other seven coaches and players are rooting Chance on. It really means a lot to our program. All our guys are non-scholarship. It's a milestone accomplishment."
Piptone noted that there were some ups and downs on the course during his first year in college. He started the season still recovering from a broken ankle that sidelined him all last summer. During the year he posted a 74.9 average, with one round in the 90s and four in the 60s.
"I hope this shows recruits," Pipitone said. "You can get both school and golf."
Meanwhile, he will get a larger rooting section in the coming days; the rest of the Penn golf team is coming in to cheer their teammate on at the end of the week.