News
Captain Jim Furyk names Tiger Woods, Steve Stricker vice captains of U.S. Ryder Cup team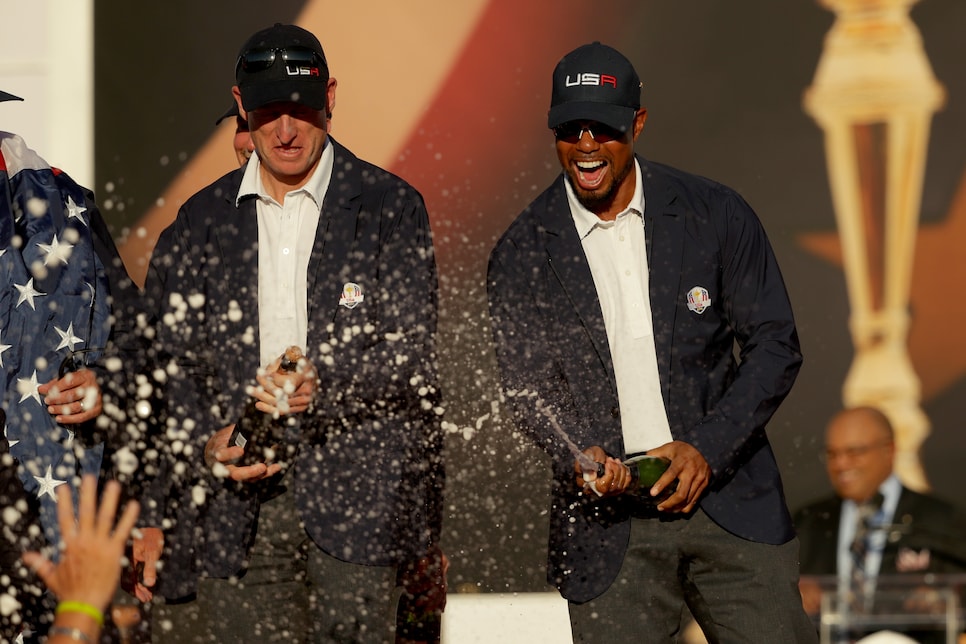 PALM BEACH GARDENS, Fla. — Tiger Woods is still hoping to make the Ryder Cup team as a player. But he'll be in Paris this fall no matter what.
U.S. captain Jim Furyk announced Woods and Steve Stricker as vice captains in a news conference from PGA of America headquarters on Tuesday. They'll join Davis Love III, who was previously named.
"He's been a part of this process from starting back with the task force and Ryder Cup committee," Furyk said of Woods. "Arguably one of the best players of all-time, what Tiger has really brought to the table for our vice captains is a great knowledge of Xs and Os. I think he's done a real good job of pairing players together in foursomes and four-balls.
"When you look at our team room and you look at a lot of the youth we have in that team room now with the younger players, a lot of them became golf professionals, fell in love with the game of golf, because they wanted to emulate Tiger Woods."
With Woods and Stricker, the team room will have a familiar feel to the last Ryder Cup two years ago when Love was captain and Woods, Stricker and Furyk were assistants. The U.S. won in a rout, 17-11.
This will be Stricker's third time as vice captain. After a 3-7-1 mark as a player from 2008-12, he was an assistant to Tom Watson at Gleneagles in 2014 and for Love at Hazeltine two years ago.
Woods is making his second appearance as a vice captain after serving in that capacity in 2016. He was also an assistant to Stricker on last year's winning Presidents Cup team. Woods has played on seven Ryder Cup teams, from 1997-2012.
Asked last week about the possibility of playing and serving as an assistant, Woods said he'd be open to it. Furyk reiterated the idea hasn't been ruled out.
"I'd like to do what's best for Tiger, I want to do what's best for the team," Furyk said. "That would be a bridge that we would cross when we got there. If he could be as valuable as a player I'm sure we would want him playing on this team."
The U.S. is aiming to make it two straight victories after losing six of seven Ryder Cups since 2002. Furyk is also hoping to lead the Americans to its first win on European soil since 1993.