Deep Dive
Can your course host a successful modern day U.S. Open? A checklist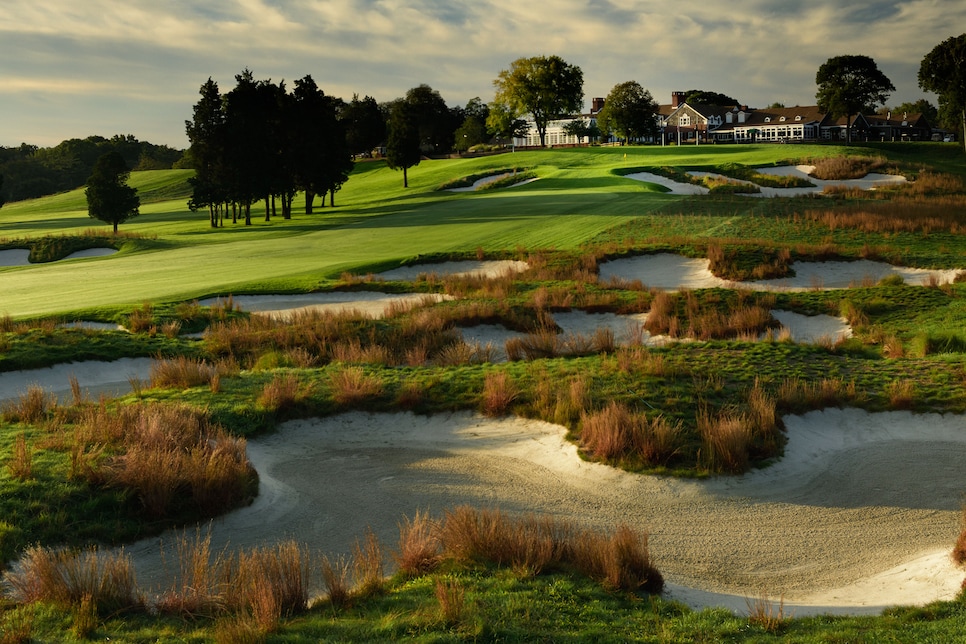 You're here because you have expressed interest in hosting a U.S. Open. Holding the nation's flagship championship on your home course can be a rich, rewarding experience, but in order to pull it off successfully, there are a few major pitfalls to avoid—no pun intended! Hahaha! What follows is an informational checklist outlining ten of the most critical questions to consider, and the consequences—good, bad and neutral—of your approach to each of these situations. Read well, and good luck!
How difficult should my course play?
The U.S. Open is the truest test of golf on Earth, and you do yourself, the tournament, and golf history a disservice by laying out a track destined to be incinerated by the game's elite players.
Don't become a novelty act that equates suffering with quality. Sadism is only attractive under certain conditions, and golf is already sadistic enough.
Congratulations, nobody's talking about you.
Should my course be old or new?
Yes, the architecture nerds will sputter about your merits on Twitter and do a thousand videos about how it was restored by some dweeb with a fetish for tree genocide, and your PR henchmen will invent exotic-sounding words for features like a simple overgrown ditch, but the fact is that your par 5s are approximately 270 yards long and today's players are going to shame and maim you.
Heartless, soulless, land-eating monstrosity, catering to players who reduce a beautiful game to barbaric feats of brute strength. Artistry is dead, the Tom Morrises are spinning in their graves, and you've ruined golf.
Sorry, this just isn't doing it for us. Hard to explain, we're just not excited.
How wide should my fairways be?
As we saw with Wyndham Clark's drive on 18, overly forgiving fairways don't sufficiently punish bad shots under pressure, and there has to be some standard of difficulty at a major or you're not sufficiently testing the players.
There's such a thing as being punitive for the sake of being punitive, and we've seen that heedless approach from the USGA too often in the past. When it's impossible to hold a fairway, it just benefits the longer hitters and erases all subtlety.
How fast should my greens be?
Is it your intention to lose the course? You have a course right now. It's yours. You possess it. Are you attempting to lose it? Is your ultimate goal to have once had a course, and then to have lost it? Do you care so little about your course that you're willing to risk its absence due to loss? Well congratulations, because you're on the right track to some solemn post-round pronunciations by the world's most finicky players. And once that happens, it's a slippery slope to a man raking his own putt before it has come to a complete stop. God help you then, because nobody else will.
The tournament is called "The U.S. Open," not "The Dopey European Goofaround Chucklefest."
Good: Bumpy, awful, unplayable.
Many prominent people are re-thinking the legacy of Chambers Bay. You're hearing it more and more.
How shameful should my club's history be?
Bad: Distressingly shameful, racist, sexist, anti-Semitic, with varying flavors of outmoded bigotry including a distaste for the Irish that was, for some reason, written in the club's bylaws and only removed by a narrow and contentious vote in 2007.
We simply can't have it. Not in 2023. Not on our watch.
(Note: There are no clubs in this category.)
Who should I give all my tickets to?
You can't give your tickets to people who will sit in hospitality tents the whole time, never cheer, drink cocktails with names like "Mortimer's teawhistle," and miss all the golf action because they're deep in conversation about the best way to monetize carbon monoxide poisoning. These people are not the heart and soul of the U.S. Open, and if you overload the place with elites, you'll lose all your atmosphere.
Have you seen any ordinary people lately? They're hooting, insensate morons who can only get a dopamine rush by drunkenly shouting the names of food items after a player hits a golf ball. The human animal is a gross, slobbering beast with a penchant for violence, whose elevated brain power has only led him to a rough kind of egotism that funnels toward collective destruction. You absolutely cannot let too many of these boors near the golfers, the same way you wouldn't let your child inside a gorilla cage at the zoo.
Good: A mix, but heavily police the proletariat with propaganda and pinkertons.
The Masters has it right. Rule with an iron fist or invite anarchy. The USGA has been permissive for far too long, and if anyone from that organization is reading this, be in touch, because I have some interesting ideas.
How quirky can my course be?
Again, there's nothing worse than boring, straight-ahead golf.
What, you think you're special?
What should the weather be like?
Too easy, because it's pleasant for the players, but also too hard, because it dries out the course.
Too easy, because it softens up the course, but also too hard, because it's not pleasant for the players.
Something could fly into your face.
The umbrellas, specifically, could fly into your face.
Bad: Windy and rainy and foggy.
The umbrella is going to fly into your face and you won't even see it.
Bad: Windy and rainy and foggy and cold.
Everything above, but it's worse because it's also cold.
What should the scenery be like?
Bad: Mountains, rivers, ocean, valleys, desert, normal trees, palm trees, sand, anything green, land that links the ocean and the farmland, barranca/ditch aesthetic, whatever b******* Texas has, pecan trees or whatever.
You seem extremely negative to me, what is your problem?
YOU SIMPLY CANNOT HOST A GOOD U.S. OPEN. YOU SIMPLY CANNOT. YOUR ARROGANCE FOR THINKING IT'S POSSIBLE HAS INFURIATED THE GOLF GODS AND THE PUBLIC. PREPARE FOR A RECKONING, AND ALSO, CONGRATULATIONS, YOUR APPLICATION HAS BEEN ACCEPTED, YOU'RE HOSTING THE 2047 U.S. OPEN. IT'S GOING TO SUCK, WE'RE SO EXCITED TO BREAK YOU DOWN INTO A QUIVERING MESS, AND PLEASE DON'T FORGET TO WORRY ABOUT CLIMATE CHANGE.