Only one first time
Monday qualifier's parents fly back from vacation to see son make first PGA Tour start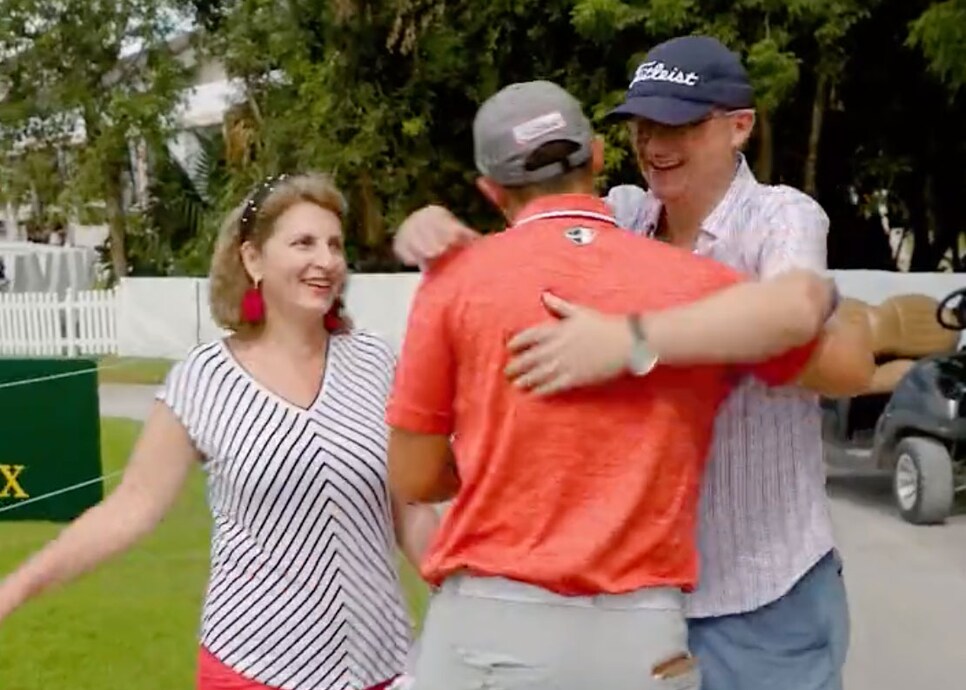 Camilo Aguado hugs his parents at Mayakoba Resort, site of his first career PGA Tour start.
There will never be another first time Camilo Aguado plays on the PGA Tour. So naturally, his parents, Germán and Lina María, wanted to be there to see their son, a 27-year-old Colombian who played in 2021 on the PGA Tour Latinoamerica and the Forme Tour, live out a dream after he Monday qualified for the World Wide Technology Championship at Mayakoba. Particularly, too, when the tournament is being played in Mexico, where the family spent time living when Aguado was growing up. There was just one problem?
Germán and Lina María were on vacation in Spain when Camilo earned his spot in the field at El Cameleon Golf Course.
Suffice it to say, the couple cut short their trip to get to Mayakoba Resort, making it there in time to see him post an opening-round 74 on Thursday.
"It felt really nice to see them there when I walked from the putting green to the first tee," said Aguado.
You couldn't miss Aguado's dad on the course. He was the one wearing personalized Camilo Aguado socks with his son's picture on them. Camilo says that his uncle has a printer and made the socks up for family members to wear.
Aguado backstory in golf is pretty intriguing. He didn't take up golf until he was 15 years old. "My mother went to a shopping center in Mexico City," Aguado wrote in a first-person story on PGATour.com in May. "So, I would not get bored while she did the shopping, she left me practicing at a driving range the mall had there. This is how my taste for this sport began."
The father of a family friend was the president of Chiluca Golf Club, where Aguado got to practice and develop his game. Another family friend played college golf at Jacksonville State, and told the coach about Aguado. He visited the school and wound up playing there from 2013-2017. After finishing sixth in the 2018 Latin America Amateur Championship won by Joaquin Niemann, Aguado turned pro.
Well behind the leaders after Day 1 at Mayakoba, Aguado's fate of a missed cut on Friday is almost certain. But the emotions of what went on Monday when he qualified and Thursday when he teed it up for the first time won't be forgotten.