LIV GOLF
Cam Smith adamant that majors 'stand above all the politics' and let LIV golfers compete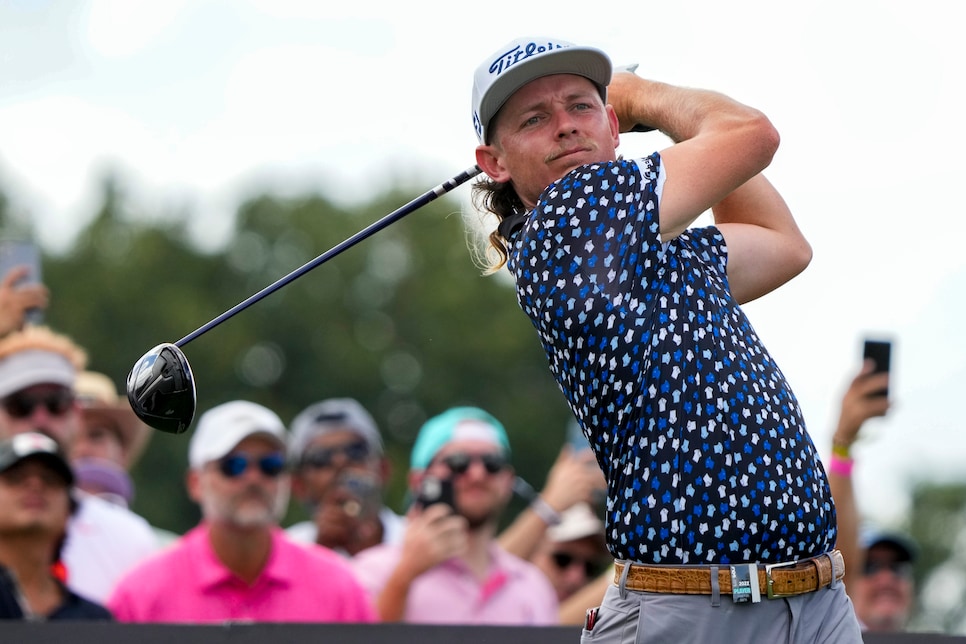 Earlier this month, the golf world came closer to knowing what is going to happen with LIV Golf players at major championships next year. Martin Slumbers, chief executive of the R&A, told Golf Digest that his organization's Open Championship wouldn't "ban anyone" at the 151st Open at Royal Liverpool. As for the Masters, PGA Championship and U.S. Open, there is less clarity around whether each will consider altering its eligibility criteria.
Cameron Smith—the reigning Open champion and World No. 3—certainly thinks the four organizations should stay out of a divide in professional golf which has seen the PGA Tour ban LIV golfers and the DP World Tour try to, before a U.K. court put a hold on sanctions until February 2023.
In an interview with the Sydney Morning Herald in his native Australia, Smith called for LIV golfers to be able to tee it up in the four majors in 2023.
"I think the majors really have to stand above all the politics," Smith said. "If they really want the best product and the best players playing against each other in the world, they have to let us play. There's no reason other than playing another tour that should suggest we shouldn't play. We're definitely good enough players. We should have those spots."
Smith is in a unique position in that he is exempt into the majors for the next five years courtesy of winning the 150th Open at St. Andrews in July. As a LIV player, it comes as no surprise he feels his peers should be free to play.
The 29-year-old pointed out the majors could be considerably weakened if no LIV golfers were in the field. Across LIV's 48-player roster, eligibility for the majors varies and is complicated given its players have won 12 of the past 26 majors—which would usually trigger automatic eligibility. There are past Masters champions like Dustin Johnson, Phil Mickelson, Patrick Reed, Bubba Watson, Charl Schwartzel and Sergio Garcia. There are also recent major winners like Bryson DeChambeau (2020 U.S. Open) and Brooks Koepka (2017, 2018 U.S. Open; 2018, 2019 PGA). Then there are young, in-form stars like Chile's Joaquin Niemann who, at World No. 22, is LIV's highest-ranked player after Smith. (On another note: LIV Golf announced Sunday that the 2023 schedule will include an event in Smith's native Australia, this one at the Grange Golf Club in Adelaide from April 21-23.)
The R&A could make some changes to its qualifications when it announces criteria for the Open early in 2023, according to Slumbers. The U.S. Open could also tweak its eligibility. Augusta National has remained quiet on the subject but it has been reported that past champions are unlikely to be banned. PGA of America CEO Seth Waugh said in May that the organization's bylaws stipulate "you have to be a recognized member of a recognized tour in order to be a PGA member somewhere, and therefore eligible to play."
Overall, Smith said he felt considerable nerves in the weeks before he joined LIV, which came after the PGA Tour's FedEx Cup finale in late August. He consulted a wide variety of friends, players and even major winners like Ian Baker-Finch, before leaving the PGA Tour where he had won six times, including the Players Championship and Tournament of Champions this year.
"It was definitely a stressful time leading up to make all those decisions," Smith told News Corp in a separate interview. "I spoke to a lot of good people, my mum and dad a lot of good friends. I have absolutely got no regrets. At the start it was definitely scary making a career move like that, it being a fresh tour. But from what I have seen over the past five events it is going the right direction."
Smith, who is about to return to Australia for the first time since before the Covid-19 pandemic to contest the Australian PGA Championship and Open—says he has maintained friendships with a lot of PGA Tour pros.
"Definitely some of my mates are still out on the PGA Tour and they are still my mates," he said. "They respect my decision. "Billy Horschel lives just down the road from me. He has been a big spokesman for the [PGA] tour [yet] he is the one who sticks out for me the most. We still have a laugh and are probably going to go fishing at the end of this week before I go home.''