The Loop
Cam Newton as a Patriot is intolerable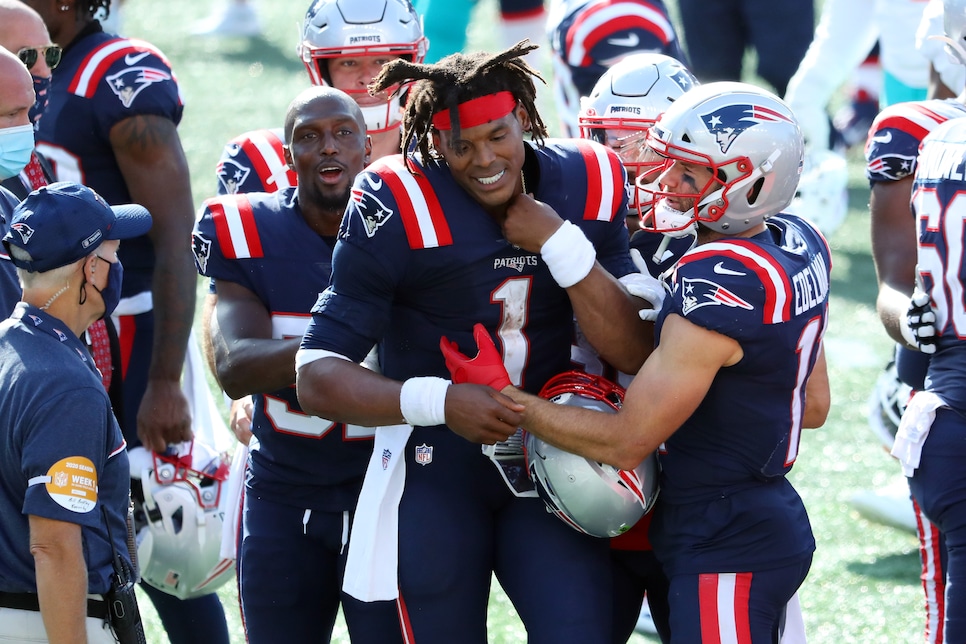 The NFL is back, at least for two weeks or so, and even though we've known for a while that Cam Newton would be a Patriot, now we have to cope with the actual reality. It's bad, folks:
That clip is atrocious, from Newton in a Patriots jersey to the applause of massage enthusiast Bob Kraft to Belichick's scowl. (Note: This video doesn't actually show Belichick's scowl, but come on, we can all imagine it.) The whole thing is proof that just because Tom Brady is a Buccaneer now, the hell that is Patriots football will not be stopped. Our football future is grim.
I never loved Newton in college, but then he came to the Panthers, and while I wouldn't care if the Panthers moved to Bangladesh tomorrow, I do live in North Carolina and saw what Newton meant to the real fans here. Despite the fact that he couldn't be bothered to jump on a fumble the one time he made a Super Bowl, he was talented and charismatic and beloved for a very long time. And now he's a Patriot. It's a classic "this is why we can't have nice things" scenario, and it's probably the most heartbreaking loss for North Carolina to the north since...well...you know.
The First Great Lateral Play of the Season: Alabama High School
This is the best part of football. Not a single Patriot involved:
The Slain Tyrant of the Week: Old Tennis Champs
Two years ago, on Marin Cilic's 30th birthday, I wrote about a strange moment in the history of men's grand slam tennis—for the first time ever, there was no grand slam title holder younger than 30. The reason was clear:
This is a testament to the ahistorical dominance of three men: Roger Federer, Rafael Nadal, and Novak Djokovic. They now hold the top three spots in "grand slams won" despite the fact that they played in the same era and are still active. We don't need to go into great depth here—their greatness speaks for itself. But this bizarre statistic is just further evidence of how thoroughly they have hoarded the oxygen of the tennis universe, suffocating an entire generation in a way that has never been seen in the sport's long history
That bizarre period lasted almost two years, but it came to an end on Sunday when 27-year-old Dominic Thiem defeated 23-year-old Alexander Zverev in a nervy U.S. Open final. Thiem was brilliant the entire tournament, and of course may have benefited from Novak Djokovic accidentally throttling a line judge by proxy.
So the reign of terror is over, and if I had my guess, I bet we'll go an entire lifetime without seeing it again. That's how ahistorical the whole thing was. But the 20-somethings have reasserted themselves at last, and though we haven't heard the last of the Big Three, those who have craved some variety in men's tennis for years are about to fish their wish.
The Unnecessary but Cool Audio Thing of the Week: NFL Stadium Sounds
It was established almost immediately after the pandemic began, courtesy of European soccer broadcasts, that fan audio is a must for team sports held in a stadium or arena (i.e., not golf). It just sounds bad without it, and it's a strange case where fake atmosphere is better than no atmosphere.
The NFL learned that lesson, and has taken piped-in fan noise to a new level. According to ESPN, this is going to be comprehensive:
Over the past few months, NFL Films' sound mixers spent hundreds of hours harvesting and cataloging sounds from each of the NFL's stadiums...each broadcast will have the option to create a unique sound palette for each team in that game. The sounds will be fed to the broadcast by an NFL-hired operator who is following the game and using a button panel to control playback from custom-configured software.
Did we really need bespoke stadium noise? Probably not. Is it cool? Yeah. So now, if you're watching from home, you might hear Seahawks fans doing their 12th man cheer, or Eagles fans cursing out Santa Claus, or Jets fans weeping inconsolably. It truly is a brave new world.
The Tragic Almost-Champs of the Millennium: Houston Rockets
We all know Rockets GM Daryl Morey is the Billy Bean of basketball, exploiting advanced analytics and market inefficiencies to build a truly modern team. The fact that that team is led by a superstar, James Harden, with the most cynical game in world history, or that the Rockets style of "jack up threes at historic rates" isn't exactly scintillating television...well, so be it. They're trying something new.
But with their emphatic loss to the Lakers in this year's western conference semifinals, we can pretty much close the lid on any idea that the Harden-era Rockets are going to win a championship. Adding Russell Westbrook at the expense of Chris Paul didn't really help, and it turns out that you can Moneyball your way to a top spot in the league, but it won't help you beat LeBron.
The high-water mark for the Rockets came in 2018, when they took a 3-2 lead on the Warriors in the Western Conference Finals, and actually had a chance to win at home in Game Seven. But Durant and Curry went off, Harden finished 2-13 from three, and the Rockets as a team were an abysmal 7-44 from deep. In the finals, the Warriors swept a weak Cavs team, and it's reasonable to expect that the Rockets would have won too. So that was the nearest miss: One game away from an NBA championship, more or less.
The year 2020 provided a strange opportunity for them, because while they were clearly inferior to the Lakers and Clippers, the bubble has done strange things to some teams, and the team looked pretty great on the return. But reality struck back hard: The Lakers finished the 4-1 victory, the hierarchy was preserved, and the Rockets struggle on into the future, the elusive championship further and further away.