The Loop
Serena Williams is never going to break Margaret Court's grand slam record, and it's depressing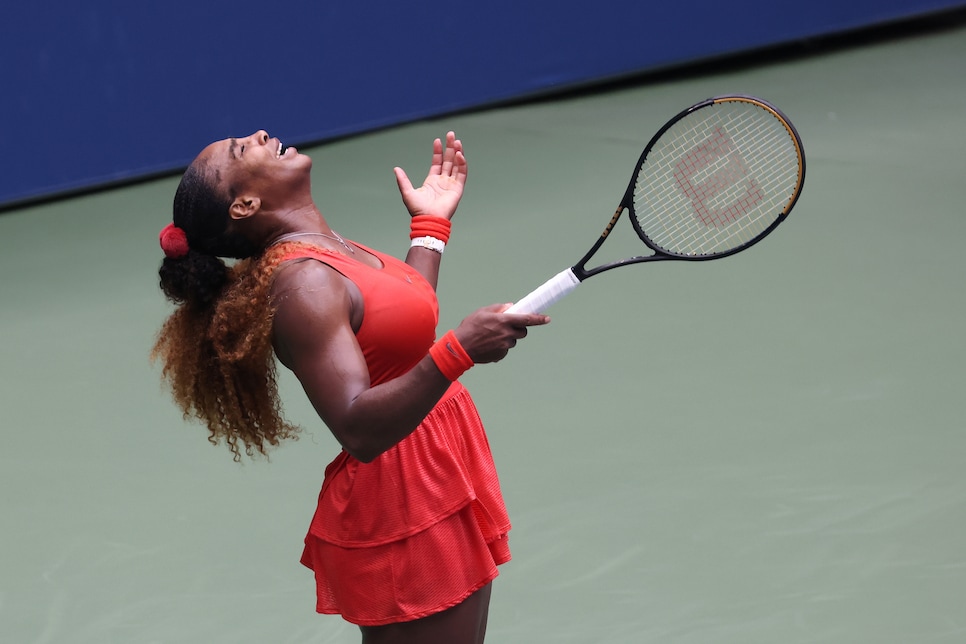 What Serena Williams is doing in grand slam tennis, at age 38 and after having a child, is incredible—time and again, she goes deep into the second week, and has made four finals and a semifinal in the nine slams she's played in since her return. Unlike her absurdly dominant prime, she hasn't been the best player in any of these events, including the 2020 U.S. Open, but her mental strength and her power have been enough to survive tense matches until the inevitable moment when she meets an opponent who is simply too good. It happened again in Flushing Meadows this week, where she won three straight three-setters before falling to Victoria Azarenka in Thursday's semifinal (hampered late, perhaps, by a leg injury). Even if she had won that match, it's become clear in the past week that nobody is going to touch Naomi Osaka.
The loss means that yet again, Serena is stalled out at 23 career slams. She's the greatest tennis player ever, in my opinion, but barring a miracle, she seems destined to finish one slam short of Margaret Court's record of 24 grand slams.
Ahhhh, Margaret Court. Let's talk about Margaret Court. She's an Australian who was born Roman Catholic, but instead of just slowly drifting away from religion and only attending church on Easter and Christmas when forced by family, like the rest of us, she went full Pentecostal in the '70s. Today, she has her own TV show called "A Life of Victory" on the Australian Christian Channel and is the president of a network of churches. More power to her! Except it's not just run-of-the-mill Evangelicalism; for decades now, Court has routinely popped up in the news for her overtly homophobic remarks.
"There's only one thing longer than a list of Margaret Court's tennis achievements," John McEnroe recently said. "It's her list of offensive and homophobic statements."
She has previously called homosexuality "the work of the devil," opposed same-sex marriage by calling it "unnatural" and "unhealthy," and said of Martina Navritolova that she'd "like someone at the top who the younger players can look up to. It's very sad for children to be exposed to homosexuality." She was also a public supporter of Apartheid in South Africa in the '70s, and it will surprise no one that when Billy Jean King and the other original members broke away to form the WTA in a bid to earn fair pay—a move which paved the way for the lucrative women's game that exists today—Court wouldn't join them...despite the fact that she won just a $15,000 bonus for winning all four slams in 1970. $15,000!
When her name is brought up today in her native Australia, it's either in the context of her anti-gay views, or in a debate about whether they should change the name of the third-largest venue at the Australian Open, currently called Margaret Court Arena. Court's response to all this is your run-of-the-mill persecution complex, typified by a remark from 2012: "Minority groups can have their views [but] as soon as a Christian stands up it's not allowed."
This is the woman who stands in the way of Serena Williams holding the most singles titles ever. There is a very clear best possible outcome here, and yet again, John McEnroe put it perfectly earlier this year in Australia: "Serena, do me a favor, get two more Grand Slams this year and get to 25 so we can leave Margaret Court and her offensive views in the past, where they both belong."
Is it possible, though? Women's tennis is in a spectacular place right now. When Serena left for the birth of her daughter, there was a brief heyday for the "grinders," players like Caroline Wozniacki, Sloane Stephens, Angelique Kerber, and Simona Halep, who play a counter-punching defensive style with pace. In the last year, though, the disciples of Serena have emerged. Players like Naomi Osaka, Sofia Kenin, Bianca Andreescu, and others have won slams with a power game, marked by vicious groundstrokes and unbreakable serves, resembling the woman who dominated women's tennis for so long. At this year's U.S. Open, the best power players routinely blew past the grinders, and I suspect that trend will continue. The problem for Serena is that she can lose to both styles—she can be out-hit by the likes of Osaka, but she can also be run to death by the Haleps and Kerbers of the world since she's clearly lost quickness since returning.
Which means that while she's still one of the best players in the game, she's bound to run into a superior player at every slam eventually. Time is against her too; as she approaches 40, it's only going to get harder. Of course, I hope I'm wrong. She deserves to be recognized as the GOAT by all metrics, and Court deserves to be a footnote. But it looks like reality is writing a different story.