News
Callaway bullish on its merger with Topgolf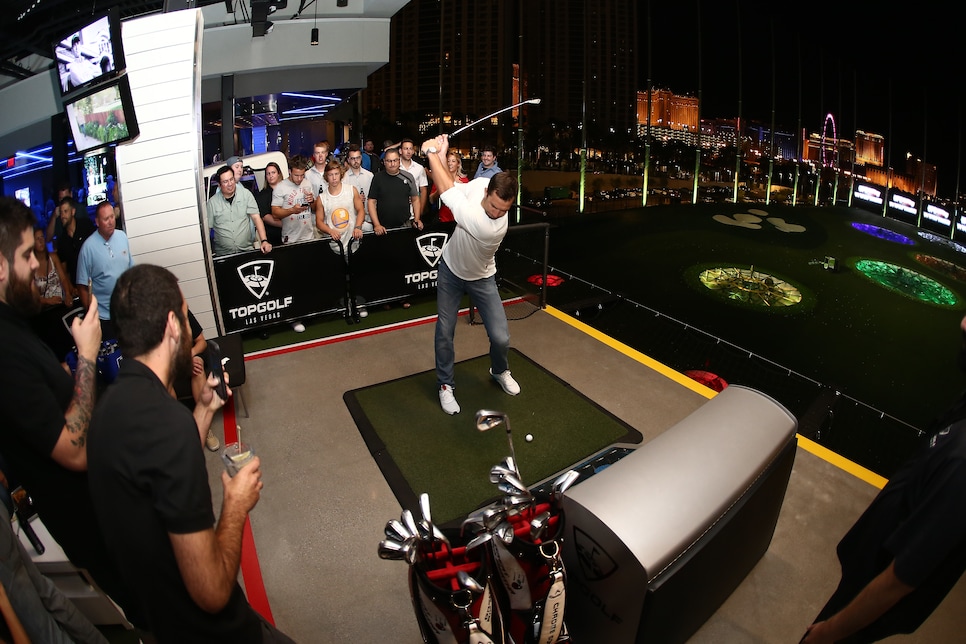 Luke Rockhold hits a golf ball during the UFC Topgolf Challenge at Topgolf Las Vegas.
Rey Del Rio/Zuffa LLC
Business-wise, Callaway and Topgolf were already joined at the hip. After a merger was announced on Tuesday, they have gone all in with each other on the future of the golf-as-entertainment platform.
The companies said they have entered into a definitive merger agreement in which they will combine in an all-stock deal. Callaway said the number of shares to be issued is based on Topgolf's implied equity value of approximately $2 billion, including the 14 percent already owned by Callaway, which first invested in Topgolf in 2006.
In its press release, Callaway said Topgolf generated approximately $1.1 billion in revenue in 2019 and has grown at a 30-percent compound rate since 2017. Callaway called Topgolf "a high-growth platform with attractive unit economics across its business that will benefit from Callaway's strong financial position that can fully fund Topgolf's growth plans at an attractive cost of capital."
The transaction is subject to the approval of the shareholders of both Callaway and Topgolf, as well as regulatory approval. The companies expect to complete the transaction in early 2021.
The deal comes amid a big upswing in business for Callaway as golf has experienced a boom in participation and sales during the coronavirus pandemic. Callaway is estimating that it will have net sales of $476 million in the third quarter that ended on Sept. 30. That is up 12 percent over last year. The company said its e-commerce is thriving, including a 108 percent increase in soft goods sales this year.
"The world is rediscovering golf in a way that has led to a record quarter for our company," Chip Brewer, Callaway's president and CEO, said in the release. "Both our golf equipment and soft goods business are recovering more quickly than we expected, and our third quarter projections reflect this momentum."
Founded in 2000, Topgolf has 63 locations around the world, and it reports having more than 23 million guests in 2019, with more than 50 percent of users identifying themselves as "non-golfers." It also has expanded from fixed, stand-alone buildings to more than 7,500 range bays that use the Toptracer technology that fans see every week on televised golf broadcasts