News
Callum Shinkwin will never forget the incredible putt that helped him claim his first Euro Tour title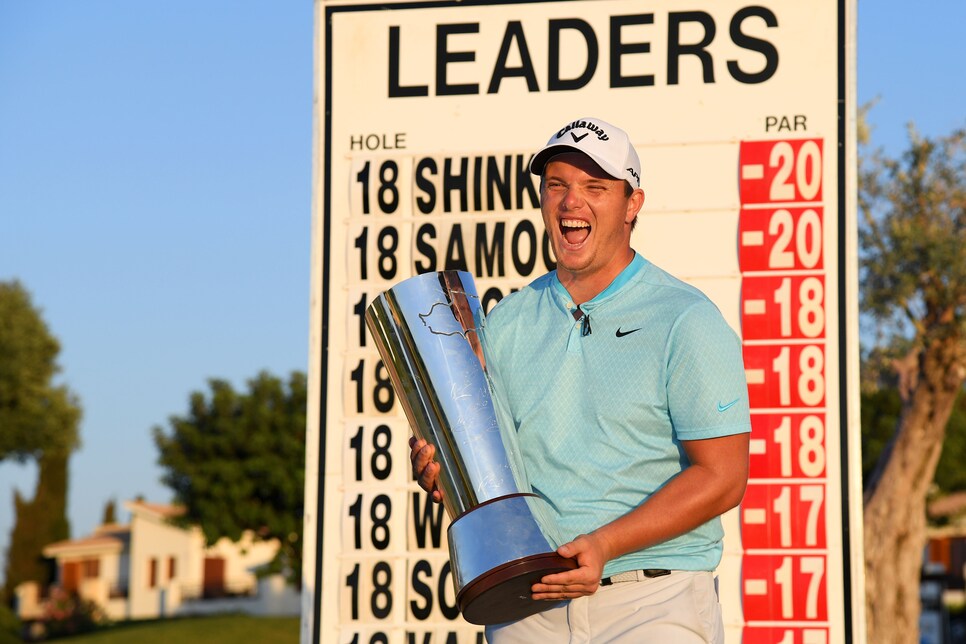 Callum Shinkwin poses with the trophy after his first European Tour victory at the inaugural Cyprus Open.
Ross Kinnaird
The 54-foot putt Callum Shinkwin holed across the 18th green at Aphrodite Hills meant a lot of things to the 27-year-old Englishman. An eagle 3 on the 538-yard par 5. A back-nine of 29. A closing 63, low round of the week in the European Tour's inaugural Cyprus Open. A total of 20 under par. And most importantly, a one-shot lead at that moment over Kalle Samooja.
The last bit didn't last though. Samooja's two-putt birdie on that same 18th hole gave him a second consecutive 64 and carried the 32-year-old Finn into his second European Tour playoff. At last year's European Masters in Switzerland, he was one of four to fall (Rory McIlroy another) to eventual champion Sebastian Soderberg.
This playoff didn't take long either. Shinkwin's up-and-down birdie from sand behind the green was followed by three-putts from the unfortunate Samooja, his second effort from four-feet lipping out. It was, to say the last, something of an anti-climax after the drama that had gone before.
"I was as shocked as anyone," said Shinkwin, in reference to the epic putt that eventually led to that extra hole and then to his maiden Euro Tour title. "I was 18 under par at the time and 19 was leading. So I wasn't really thinking about winning. Holing from there was one-in-a-million really. My aim was just to get down in two, but it went in."
Eschewing the normal protocols in such situations, Shinkwin retired to the clubhouse restaurant rather than the range to await his fate. A number of players other than Samooja, had chances to ruin his day but all came up short. Jamie Donaldson, six years on from recording the trophy-clinching point for Europe in the Ryder Cup at Gleneagles, tied for third alongside a pair of left-handers, Scotland's Robert Macintyre and South Africa's Garrick Higgo.
"I was starving," said Shinkwin with a smile. "All I'd had to eat all day was a protein shake and a banana. And I guess all the adrenaline I was feeling made me even more hungry. Then again, eating is one of my favorite things to do."
All of which was in sharp contrast to the 2017 Scottish Open and its aftermath. Needing only a par 5 on the 18th hole at the Dundonald Links, Shinkwin missed the green left with his second shot, found an unfortunate lie, then took four more shots to get his ball in the cup. In the playoff a birdie from Rafa Cabrera-Bello was enough to claim an unlikely victory. Clearly affected by that loss, Shinkwin recorded only one more top 10 that season and, by the end of 2018, had lost his card.
"I was back [for a third time] at the qualifying school, not wanting to be there," he said. "I had only just missed my card, by three spots and only a very small amount of prize money. Looking back, I missed three cuts by one shot. And I had a lot going on at home at the time, which distracted me without me really realizing. But it all worked out as I got through OK. It was maybe just the kick up the backside I needed."
In 2019, it was a year of further resurrection. Five top 10s were the highlights, taking the former English Amateur champion (he beat current World No. 19 Matt Fitzpatrick in the final in 2013) to 100th spot on the money list and full playing rights this season. The memory of Dundonald was fading.
"You can always say I deserved what I got back in 2017," Shinkwin said. "It happens if you deserve it. But this time was so different. To win when I wasn't actually expecting to do so is amazing. My form has been up and down all year, too. Although I played well in Scotland a couple of weeks ago. For a while anyway. I was one shot off the lead playing the last hole in the third round and made triple. So my form was there."
The biggest difference has come on the greens, long an issue for the 2013 Walker Cup player. But armed with a new caddie, friend and former teammate in the English amateur squad, Sam Robertshawe, another corner has been turned.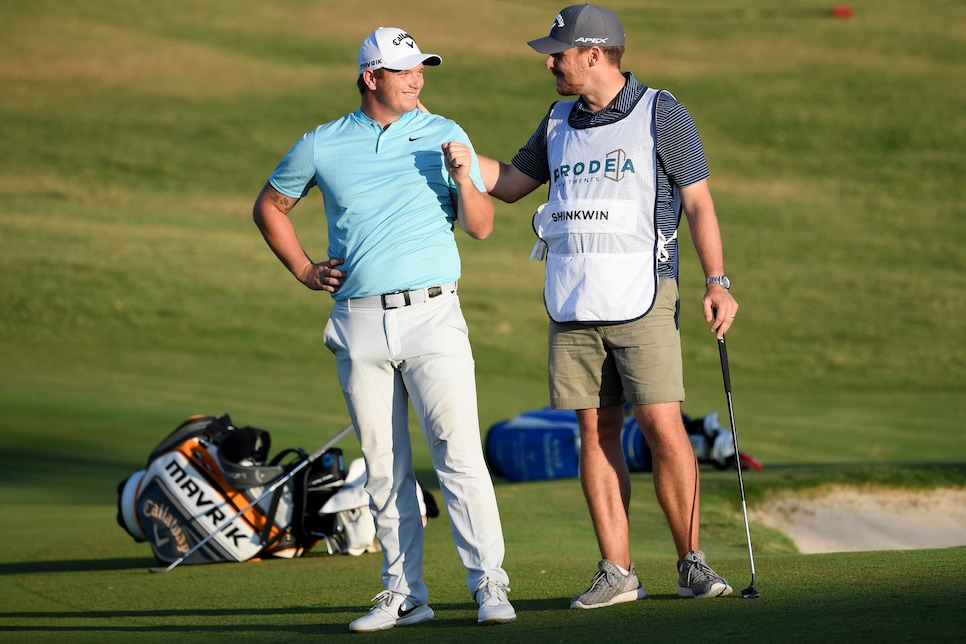 Shinkwin celebrates with his caddie, Sam Robertshawe, on the first playoff hole after capturing the Cyprus Open title.
Ross Kinnaird
"I've been out here since 2016, and in the time I've only had three caddies," said Shinkwin, who earned €160,650 for the win. "The first two were very experienced, which was great. But after a while it became clear I needed someone to help me with the thing I needed to work on, which was holing more putts. Sam has always been a decent putter. And when he stopped playing at the end of last year I offered him the job. His ability to read greens has shown me that I can do the same. He's made me so much more confident."
And, more than three years on from the biggest disappointment of his life, a winner on the European Tour.