News
Callaway GBB Epic Star line of woods ($700 driver), irons ($2,400) aimed at distance through targeted, lighter weight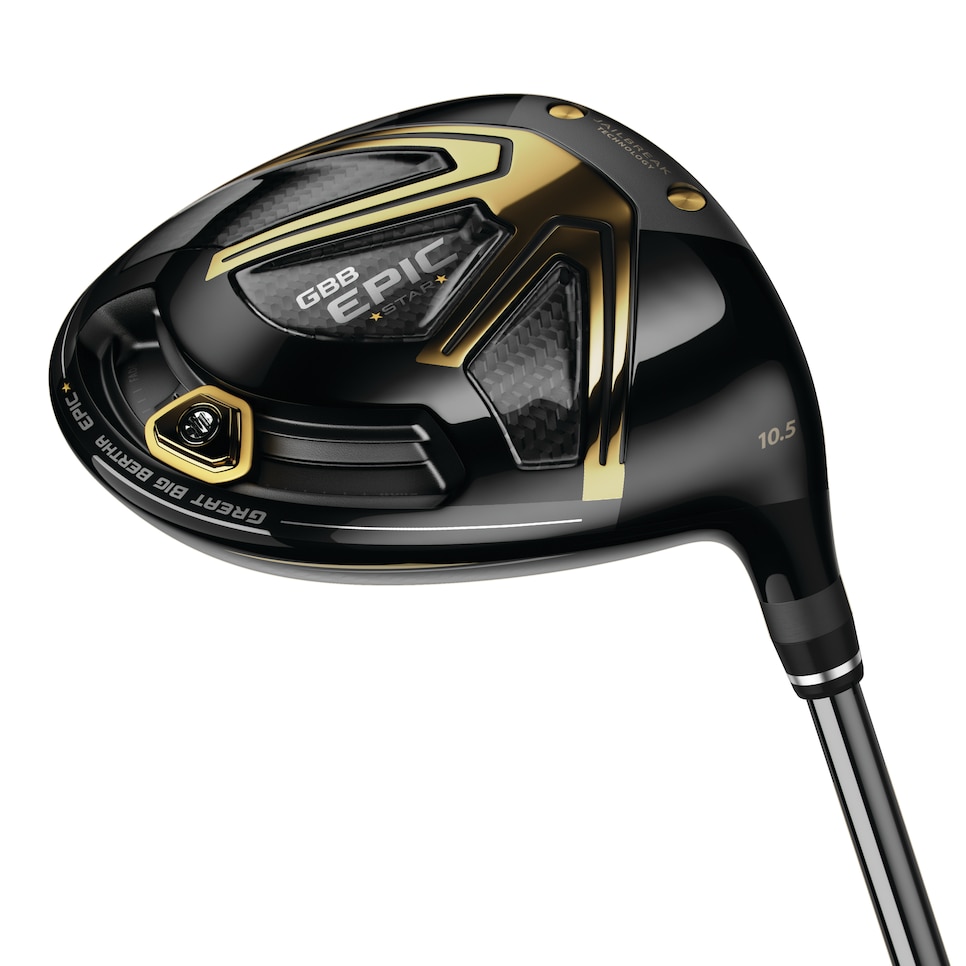 The Callaway Great Big Bertha Epic Star woods and irons make up a new collection built on the popular Epic name but aimed at a niche market looking for the kind of lighter specifications seen in models typically only released in Asia. But Callaway's push to make a lighter club was not a race to the extremes, at least when it comes to weight.
Why? Because sometimes lighter actually is heavier. Moreover, the lightest clubs don't actually lead to faster swing speed.
"When we went really light in overall club weight, at some point there was no more increase in head speed," said Evan Gibbs, Callaway's senior director of research and development in woods. Gibbs explained that often superlight clubs get so light by taking weight out of the grip. That doesn't work on two fronts, he said.
"Reducing weight is more impactful the further from the hands it gets. If you put an ultralight 25-gram grip on a club, you're not seeing hardly any change in head speed because it's all under your hands. So what you have is just a club that doesn't feel very good and doesn't help you swing it faster."
In fact, what's often happening is that clubs that are superlight, like drivers that weigh 270 grams or less, (10-15 percent lighter than traditional drivers), is those lighter overall clubs end up with heavier swing weights.
"We decided that all-out low club weight wasn't necessarily our goal, but we did want to keep swing weight under control," said Alan Hocknell, Callaway's senior vice president of research and development.
Gibbs said one bonus benefit of the lighter weight is players tended to launch the ball higher because they had more control of the club and are able to hit up on the ball with the driver.
"The two biggest things for lower head speed is one, try to increase their head speed, and two, make sure they get high enough launch," Gibbs said. "The lighter weight helps some players hit up on the driver, and hitting up on it for a lot of players is a greater benefit than the additional head speed."
Both the GBB Epic Star woods and irons incorporate the same core technologies found in the popular Epic driver, fairway woods, hybrids and irons. That includes extensive use of carbon composite materials in the crown and sole, comprising nearly half of the head's total construction and a crown that weighs under 10 grams. The GBB Epic Star driver also uses the internal supporting rods structure behind the face designed to concentrate the flexing of the face across a wider area, what the company calls "Jailbreak Technology."
While the GBB Epic Star driver's design saves weight (seven grams) through not having an adjustable hosel, it does feature an 11-gram sliding weight in the rear perimeter of the sole designed to move the center of gravity toward the heel for more draw bias.
The GBB Epic Star driver uses a slightly lighter than standard grip (41-gram J200 from Golf Pride, about 5-20 grams lighter than many standard grips) and a super lightweight Mitsubishi Grand Bassara shaft that weighs less than 40 grams, or about a third lighter than typical graphite shafts used on the standard version of the Epic driver. The overall weight is in the 286-289-gram range about 20 grams lighter than the standard Epic driver and the lightest driver in the company's current arsenal. Unlike some ultra-lightweight drivers with swing weights of D3, D4 or even D5, the GBB Epic Star will have a D0 swingweight, three points lighter than the standard Epic.
The GBB Epic Star fairway woods continue the lighter theme with a sub-50 gram version of the Grand Bassara shaft. Like the standard Epic fairway woods, they feature a cupface design where the face insert wraps around the crown and sole to provide better rebound. The lightweight carbon composite crown allows more mass to be distributed to the perimeter for more off-center hit forgiveness.
The GBB Epic Star hybrids use a forged 455 steel cupface for improved ball speeed, but provide more swing speed potential with a 50-gram Grand Bassara shaft that's about 25 percent lighter than typical hybrid shafts. An internal, wave-like, metal-injection-molded tungsten weight pad lowers the center of gravity to improve launch.
The GBB Epic Star irons take their technology cue from the Epic irons, although with amendments geared to servicing the needs of slower swingers. They maintain the core technology of the Epic's lightweight but stable structure that features a thin cupface supported by two rear beams that work somewhat like the support rods in the Epic driver.
The GBB Epic Star irons use longer lengths and stronger lofts to go with lighter weight to provide distance opportunities for those players lacking natural speed. The set starts at the 4-iron and the lengths stay consistently a half-inch longer compared to the standard Epic irons, while the lofts get progressively stronger through the set. That starts with an 18.5-degree 4-iron (two degrees stronger than the standard Epic) and continues with a 26-degree 7-iron (four degrees stronger than the standard Epic) and a 39-degree pitching wedge (five degrees stronger than the standard Epic).
The GBB Epic Star line's use of lighter materials, particularly the high-end and ultralight Mitsubishi Grand Bassara shafts, also make for higher prices through the line. As such, they will be offered in limited quantities to select retailers and golf clubs.
The GBB Epic Star driver (10.5, 12 degrees; $700), fairway woods (15, 18, 21 degrees; $400 per club), hybrids (18, 20, 23 degrees; $300 per club) and irons (4-iron through sand wedge; $300 per club) will be available September 29.