Callaway Epic mentality, concept-car approach comes to new pair of irons and hybrid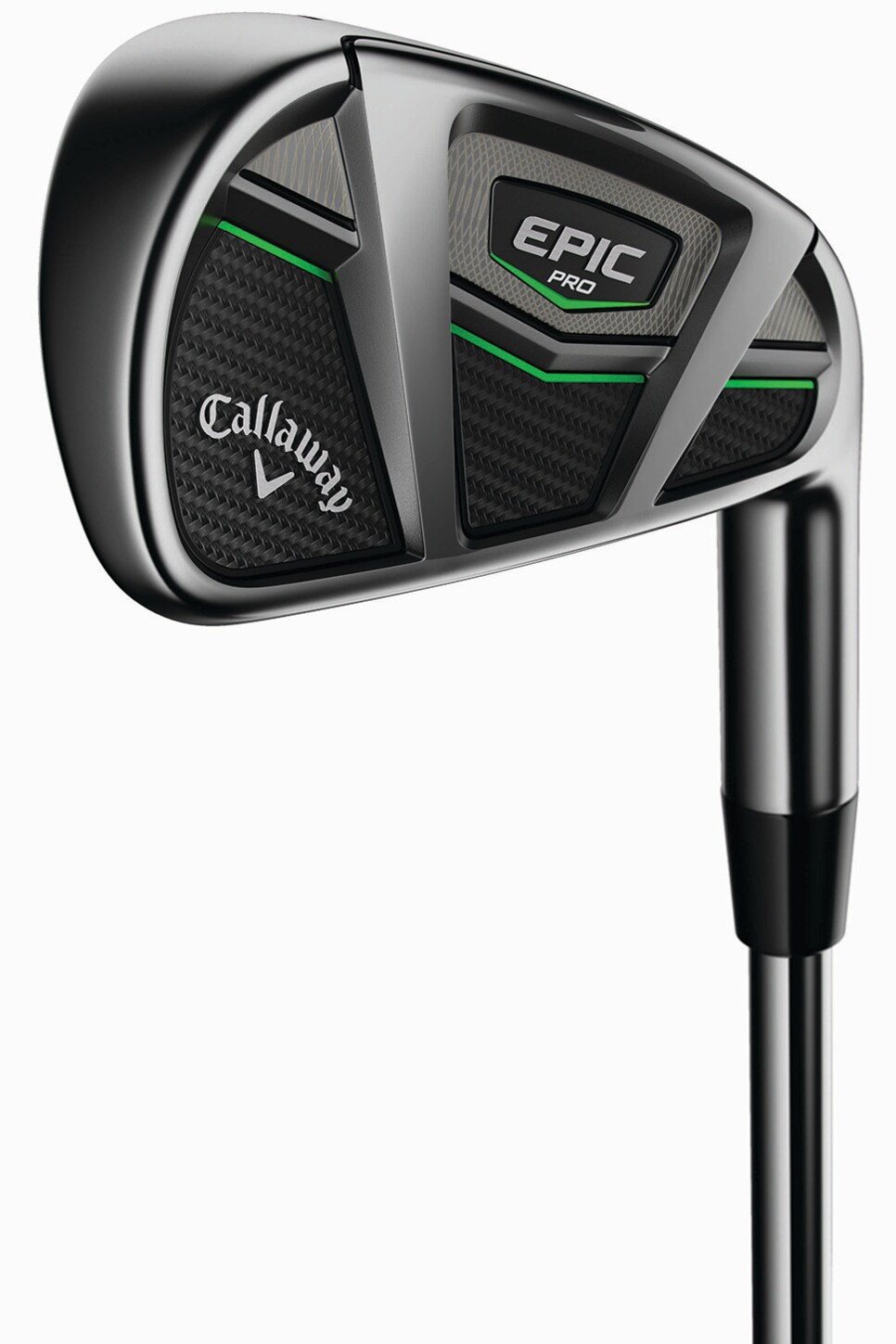 The new Callaway Epic irons (standard and Pro) build on a key idea of the company's successful Epic driver: making the face more flexible by stabilizing the framework that supports it.
But as complex as the Great Big Bertha Epic driver's support rod structure known as "Jailbreak" might be, the complexity of construction behind the new family of Epic irons and hybrids may be another step function greater entirely for two simple reasons: First, irons are much smaller than drivers so having less face area to work with makes it much more challenging to produce ball speed improvements for more distance. Second, unlike drivers, irons cannot be simply a pure distance play because accuracy and trajectory and green-holding flight are just as vital and often harder to achieve.
Callaway attacked those two challenges of more aggressive ball speed and more consistent division of labor from iron to iron by focusing on two areas: an improved face design and a cutting edge approach to materials. The result was a project that broke new ground for the company in components and process, and with more than 100 technicians and operators touching each iron from beginning to finished product, it also results in the company's most advanced price point in nearly two decades: $2,000 for a set of eight with steel shafts.
"We're really trying to create the lightest stiffest body we can and we're coupling it to a very flexible face cup," said Alan Hocknell, Callaway's senior vice president of R&D, who conceded the Epic Pro iron was a special favorite of his because it brings the highest spring-like effect technology to the more compact players iron shape he personally prefers to play. "So it has some very similar theory to our driver construction, but we have the additional problem of very low volume comparatively to put the mass in the right place and so you go to the extremes of materials and internal structure."
First, the face is the next iteration of the cupface technology that has been the hallmark of Callaway irons since migrating from fairway wood technology first introduced five years ago. In a cupface the face forms a cup that wraps around the top and bottom of the head. That thin lip or rim around the perimeter flexes at impact to create more ballspeed for on-center hits and less lost ballspeed on off-center hits. In the version on the new Epic and Epic Pro irons, the face cup's rim has been thinned to as little as one millimeter, or thinner than a paper clip. The cupface design runs through the full set of irons.
Hocknell and Scott Manwaring, director of Callaway's irons and hybrids R&D, said the key behind that flexibility is again the strength of the structure supporting the almost hollow design of the Epic irons. Support beams, much like the rods in the Jailbreak feature on the GBB Epic drivers, form a cage-like structure bracing the cupface. It's what Callaway calls an Exo-Cage, and is similar to what was first seen on the Big Bertha OS irons.
"The added stiffness of the body makes the face cup work harder, makes it flex more during impact and that allows us to generate more ball speed," Hocknell said.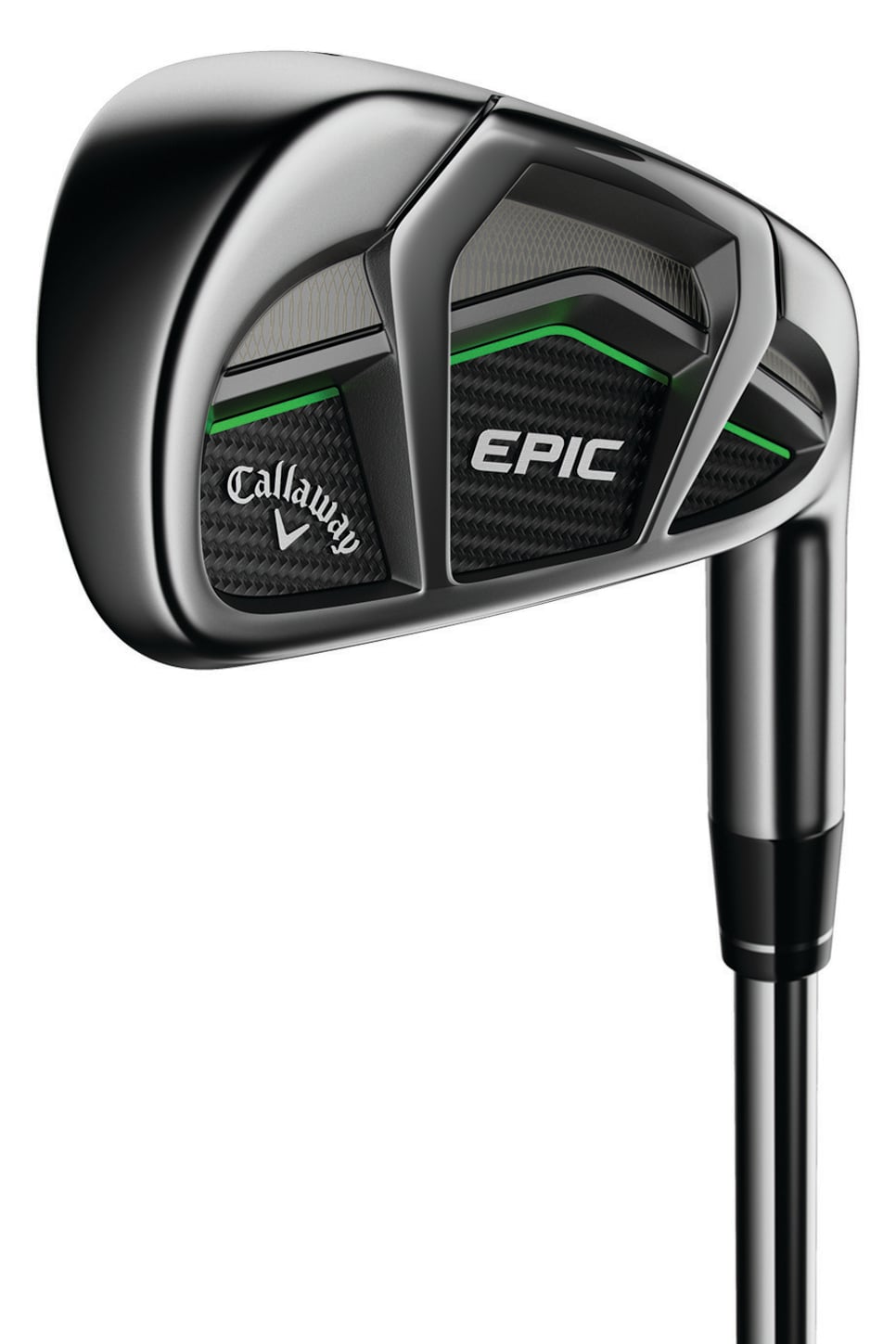 The second element of the Epic irons' design is the individualized construction of each iron where materials and structure are optimized to produce centers of gravity that are lower in the long irons for better launch and slightly raised in the short irons for trajectory control. The structure, which also includes a uniquely hollowed out section in the heel hosel to free up more than 20 grams of discretionary mass, allowed designers to use mass more selectively than any other iron in company history through a process called metal injection molding or MIM.
The MIM process allows different mixtures of heavy tungsten and lighter steel in a powder to form a metal alloy that's used in an internal weight slug that forms the company's trademark wave-like shape. Welded into the external cage structure at the back of each iron, it makes for a changing CG location on each iron through the set. In essence, the density, size and location of that weight structure changes with each iron to produce more consistent spin, distance and the proper trajectory. That means a lower position in the 3- through 8-irons.
Manwaring called the Epic irons project "a concept car approach."
"This opens up all sorts of weird stuff that you can do, put your CG wherever you want," he said. "There's a lot of versatility in both your design and manufacturing process. You basically decouple the manufacturing process from your CG requirement.
"We came at it like what would we do with that information and that extra freedom in our design, how would we design differently. What's the lowest neutral CG iron we can make with the max COR [coefficient of restitution or spring-like effect]. In doing that we said let's take the limits off the different materials and see what other technologies have matured to the point where we can implement them. It was kind of blue sky to see where things take us."

The Epic line also adds a hybrid. The hybrid incorporates a lightweight triaxial carbon composite material in the crown, the same used in the recent Epic and Big Bertha Fusion drivers. It also features a similar cupface design found in the Epic fairway woods made of forged 455 steel, and it also incorporates a tungsten-infused MIM internal weight structure to help ideally position the CG through the lofts in the hybrid lineup while still allowing for the hosel adjustability that changes between two lie angles and four loft settings (+2/-1 degrees).
The Epic and Epic Pro irons retail for $250 per club in steel (Project X LZ stock) and $280 in graphite (Recoil 760/780 stock). (2- through 5-hybrid, adjustable). The Epic hybrid will be $280 (2- through 5-hybrid).
You are using an unsupported version of Internet Explorer. Please upgrade to Internet Explorer 11 or use a different web browser.