U.S. Amateur Four-Ball
Cal teammates Aaron Du and Sampson Zheng take down 'The Sleeze' and Drew Kittleson to win U.S. Amateur Four-Ball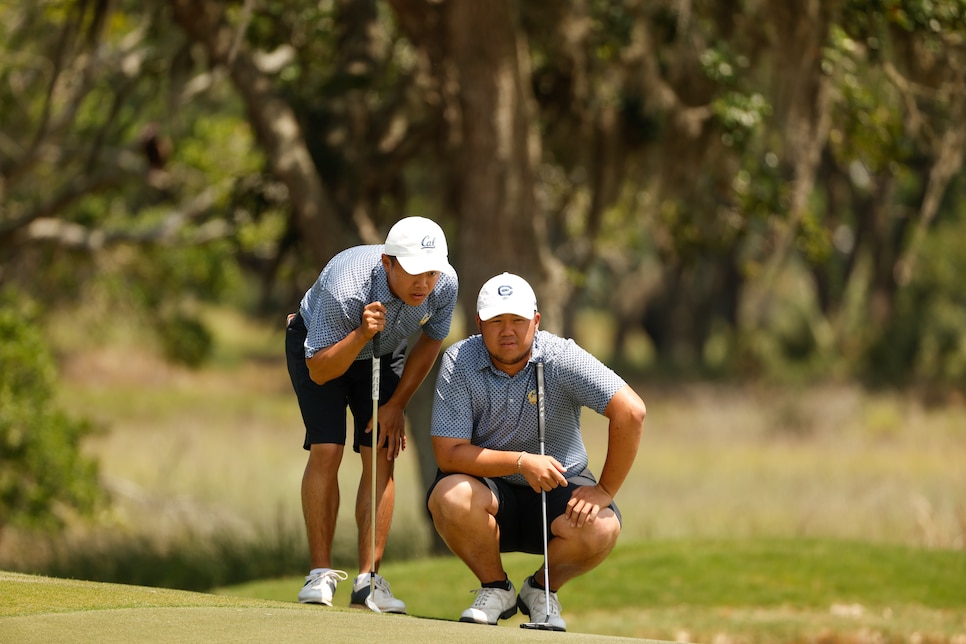 The final of the U.S. Amateur Four-Ball Championship had a bonus element of interest courtesy of a popular podcaster known as the Sleeze, who can do more than just talk a good game. But in the end it was a pair of college teammates at UC-Berkeley who prevailed over the Sleeze and his partner.
Aaron Du of Bejing, China, and partner Sampson Zheng of Nagoya, Japan, won, 2 and 1, over Drew Stoltz, aka the Sleeze, and his partner Drew Kittleson at Kiawah Island Club in Kiawah Island, S.C.
"It's history," Zheng said. "Our names are going to go down forever in history. Fifty years, 100 years later when this tournament continues on, our name is going to be on there. That's such an amazing thing to think about."
Du echoed those sentiments. "I couldn't agree with Sampson more. He exactly captures both of our hearts. Yeah, I mean, just to be able to get our names on the trophy, like that's amazing. It's hard to describe it with words right now."
It was not an upset given that the winners were co-medalists in the stroke-play part of the competition. Moreover, Zheng, 21, was an all-Pac-12 first teamer who will represent the International Team in this summer's Palmer Cup at Laurel Valley Country Club in Ligonier, Pa.
Zheng and Du birdied the two par 3s on the back nine to take a 2-up lead with two holes to play, then closed out the match on the 17th hole.
Stoltz, 38, and Kittleson, 34, were hoping for a little redemption after losing in the final of the U.S. Amateur Four-ball the previous year. Both belong to Whisper Rock Golf Club in Scottsdale, Ariz., its membership featuring some of the best professionals in the world, including Jon Rahm. Kittleson has the better handicap index, plus 4.6, to Stoltz's plus 2.7, but Stoltz is better known at this point.
Stoltz is a re-instated amateur, who played college golf at TCU. He is co-host of "Gravy and the Sleeze" on Sirius XM, Gravy being former U.S. Amateur and U.S. Public Links champion Colt Knost, now a CBS on-course reporter. The pair also team up on the Golf Subpar podcast.
Kittleson, too, is a re-instated amateur, who was a college teammate of Brooks Koepka at Florida State. Kittleson played in the Masters and U.S. Open in 2009, courtesy of his runner-up finish in the 2008 U.S. Amateur. He is now the owner/operator of Re-Bath & Kitchens in Arizona.
Ultimately the Drews could not match the college teammates, who played the four par 3s in three under par, which proved the difference.