Rules
How a caddie saved his player's job during weird rules situation at Korn Ferry Tour Q School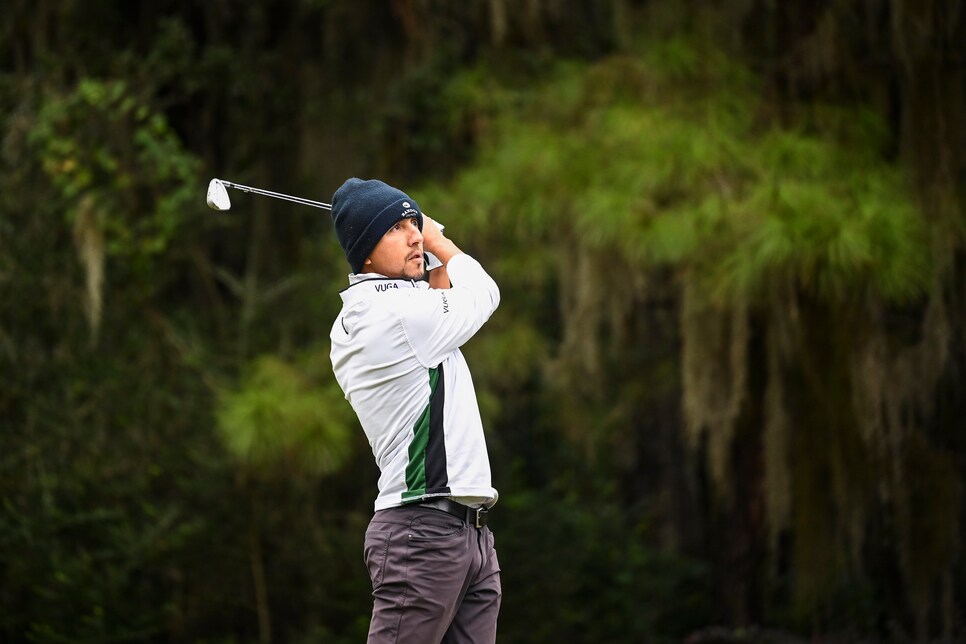 Mark Anguiano plays his shot on No. 8 during the third round of the Korn Ferry Tour Qualifying Tournament Final Stage.
Keyur Khamar
As if there wasn't already enough drama at Q School, this year's version also featured a bizarre final-round rules issue. And a caddie, who quite literally saved his player's job.
As is the case with so many of these stories from the fringes of the top golf tours, this one comes from Ryan French, AKA Monday Q Info on Twitter. French describes an unusual situation from Monday's final round at The Landings in which Mark Anguiano appeared to have hit a ball out of bounds.
A rules official was called to the scene and a piece of string (Normal sport!) was used to determine for sure the ball's fate. But as the 29-year-old pro battling for status on the Korn Ferry Tour picked up his ball and headed back to the tee for golf's stiffest penalty, his caddie noticed something. Here's the thread that describes the situation:
How big were those two shots? Well, they proved to be the difference between Anguiano, who finished T-29, guaranteeing himself eight starts on the Korn Ferry Tour next season by finishing in the top 40. Otherwise, the Cal State Fullerton product would have just had conditional status in 2022.
Not surprisingly, Anguiano was happy to give credit where credit was due:
We're guessing he gave him a pretty generous payday as well.