Genesis Scottish Open
Equipment change helps this notoriously poor putter post lowest score of his PGA Tour career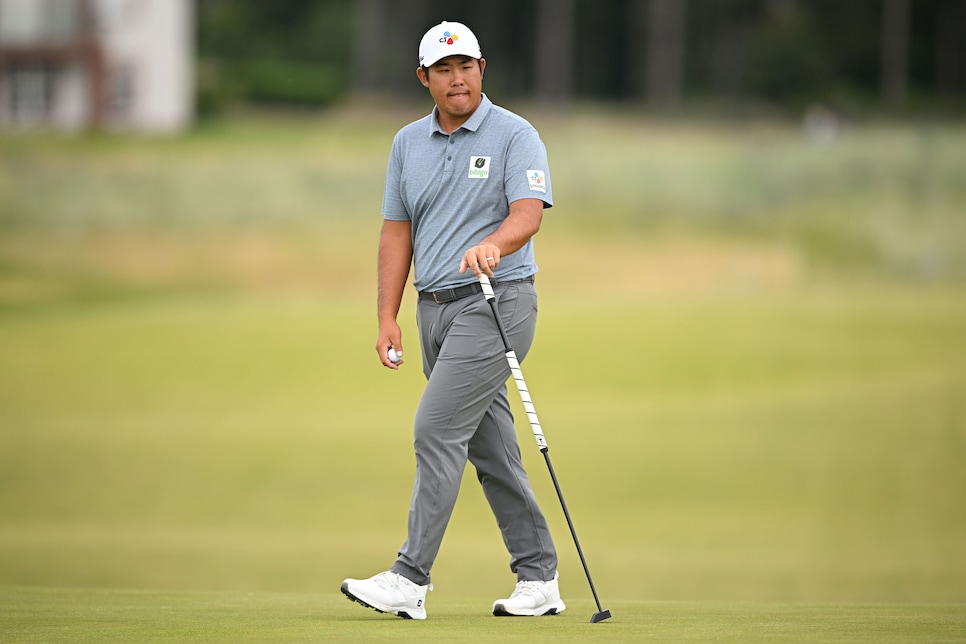 Byeong Hun An went to the long putter four weeks ago and says he's becoming comfortable with it, which showed with an opening 61 at the Genesis Scottish Open.
Octavio Passos
GULLANE, Scotland — Going low on the DP World Tour is something Byeong Hun An (Ben to his English-speaking followers) has always been able to accomplish. So even a starling nine-under-par 61 in the opening round of the Scottish Open at a breezy Renaissance Club is nothing new. Back in 2015, An won the biggest tournament on the Old World circuit, the BMW PGA Championship, by six shots. His 21-under-par 267 remains a record for the DP World Tour's flagship event.
Throw in An's three years on both the European Challenge Tour and the main circuit and it is clear that the 31-year-old South Korean is no stranger to the sort of conditions that prevailed on the southern shore of the Firth of Forth.
"I couldn't play any better," he said with a smile after posting the lowest score in 561 rounds on the PGA Tour. "I drove it well and hit it well and chipped it well and putted well. That's a clean scorecard. Overall, very relaxed out there and weather was nice, too. I like links golf. It's different than the courses we play in the U.S. You just have to land it in different spots. I really like it as long as the weather is nice. I prefer warm weather but on a links course, I feel comfortable no matter what. I feel like I'm back home. This is the Tour I started my professional career. It's been great coming back. It can get tricky hitting shots into the greens but I think I did well today."
That he did, the former U.S. Amateur champion (at 17, he became the youngest to claim that title when he won in 2009) mixed nine birdies with nine pars over the 7,237-yard Tom Doak-design.
"I hit a lot of shots close, a lot of wedges close," An said. "It was one of those days. Every shot I hit was from a perfect number. They all pitched right and how the ball reacted on the greens was perfect. Some of the putts I had were very straightforward putts. It seemed like I was last in a good spot. Overall today, everything went really well."
That level of positivity was especially true on the greens. An holed out unerringly while wielding a long, broomstick putter, an implement that entered his bag only recently.
"This is my fourth week with it," said An, who missed two cuts and finished T-51 at last week's John Deere Classic.. "I feel very comfortable. When we switched, I talked to other fellows who use the broomstick putter, guys like Adam [Scott] and Si Woo [Kim]. I asked them for the pros and cons and they all said, it looked good. We are trying to get my hands out of the stroke and the long putter helps me a lot with that. I've been putting pretty decent over the past couple weeks. I just need more time with it."
Putting has long been a sore spot for An. He ranked outside the top 175 on the PGA Tour in strokes gained/putting in 2018, 2019, 2020 and 2021, when he lost his card and had to play again on the Korn Ferry Tour. (So far this season he's T-141st at -.233.) An has been able to poke fun at himself about his "prowess" on the greens in the past.
It's been a busy season for An on the PGA Tour, having played 26 events. While only having two top-10 finishes, he's made 19 cuts and sits 58th in the FedEx Cup standings with the top 70 cutoff for the Playoffs coming in a little more than a month.
While it is possible to analyze scores like this one in Scotland almost endlessly, the explanation for how it came about is, more often than not, quite simple.
"When you're playing well, everything goes your way," An said. "We had the wind going up and down a little bit, but you can't do much about that. And when the wind switches, you have to adjust to it and try to play that way. I feel like it wasn't a consistent wind today but at the same time when I hit a shot, it didn't switch right after impact. Basically, everything went my way."