News
By requiring green-reading materials to provide less information, are the USGA and R&A creating more confusion?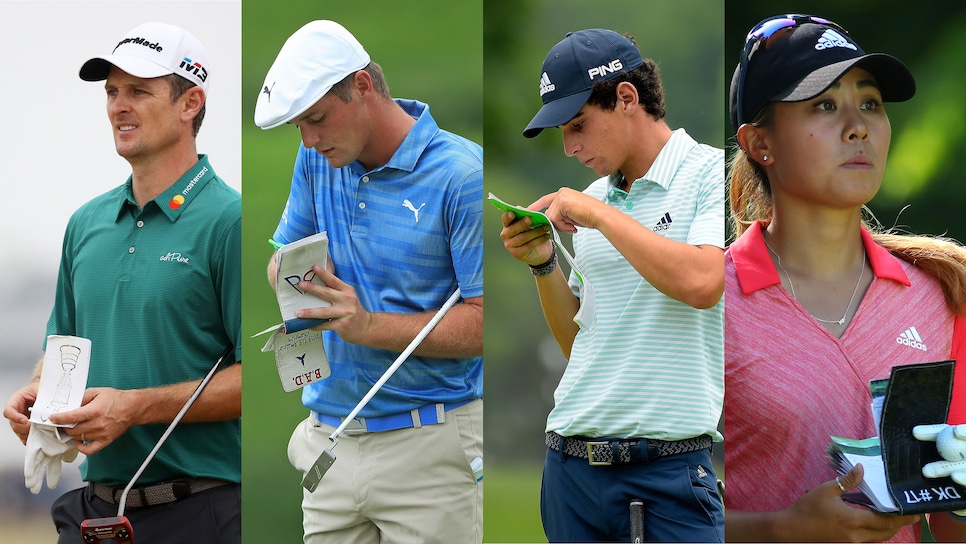 Photo By: Getty Images (4)
The proposed restriction on green-reading materials that golf's governing bodies announced on Tuesday—which seems to amount to an effective ban on the so-called green books that have become common on professional tours these days—was not met with immediate universal approval. Far from it, in fact, as both those who have developed the technology, and even those who might be called on to administer the eventual rule, seemed uncertain at best and angry and frustrated at worst.
An official statement from the PGA Tour took a wait-and-see approach. "Over the last several weeks, the PGA Tour has received the proposed draft interpretation on greens reading materials announced today by the USGA and R&A, and will collaborate with both organizations in order to get feedback on the proposal from tour players, PGA Tour rules officials and through our governance process," said Tyler Dennis, vice president of competition for the PGA Tour.
The PGA of America said it would offer its thoughts on the proposed rule next week during the PGA Championship at Bellerive in St. Louis.
Tour players haven't voiced many opinions on the topic, although there is near universal use of the so-called green books that routinely show contours and slopes well below the proposed minimum of 4 percent and 2.25 degrees described in the proposal. Mark Long, veteran caddie and designer of many of the yardage books used on the PGA Tour and at the U.S. Open, first mapped a green in 2004. He understands the thinking behind the proposal—rules officials say they are concerned that a players' skill and judgement in reading greens is being minimized by the use of advanced materials—but worries that it might lead to more problems than it solves.
The issue in Long's mind comes down to two things: First, if the objection to green books is that they create a slow-play problem, then that problem isn't a green-books problem.
"Technically, green books can't slow down play because you only have a certain amount of time to hit a shot," he said. "The only reason it might slow down play is the pace-of-play rules are not enforced. They sped me up a thousand percent. So that fact is questionable. They may in fact speed up play. We don't really know."
For Long, the bigger question, however, is about what information you should have available to read a green, and he says restricting a green book creates a potential dichotomy between tour players and amateur golfers. "A tour player always will have better access to more stuff to help him play well than the average Joe does," Long said. "When he gets on a green he can ask his caddie to read the putt. That doesn't happen for the amateur. So the amateur is actually playing a more difficult game than the pros do."
Jim Stracka is CEO of StrackaLine, which designs green-contour books for players on the PGA Tour and LPGA Tour, and 300-plus college golf teams, as well as golf facilities. StrackaLine has produced books for more than 700 courses. According to the company, the process takes five hours, costs $1,500 and includes 100 free guides for resale. Typically, on tour, the books are more customized and more expensive, around $150 a week.
Stracka finds the proposal confusing, not the least of which because he was never approached by the ruling bodies for input prior to the announcement. "This really causes me to have more questions and might cause more problems than it has answers," Stracka said. "They say they've been working on this for a while, but it looks like they just threw this together yesterday.
"Just from an administration standpoint, it's a nightmare. The pros will get this information, even if it's just going back to the future with their own hand-drawn maps and notes."

Stracka says his software is completely configureable, so it can adjust to show less information to conform with the USGA and R&A's new guidelines. And he also knows the proposed rules interpretation does not specifically ban green guides.
"I can see that the USGA is trying to eliminate the 'exactness' of putting by limiting slope information," he said. "[But] very few golfers understand slope … and even fewer know what to do with it. Over the past few years, I have talked to a few professional golfers that think they can calculate the exact break of a putt because they know the slope percent between the ball and the hole … but the reality is that doing that is impossible because of the effects of Stimp [speed], grain, moisture and wind on the putt.
"Green reading is more memory than a map."
Stracka's company released a statement saying it "would continue to service golfers with the same highly detailed greens guides for their practice rounds, and once the details of the proposed rule are finalized, StrackaLine will work with the USGA to produce a greens guide that conforms to the new rule so our players can continue to make more putts." Stracka later added, "The statistics do not show any need for this rule. If they feel that green reading is a necessary skill, they should also eliminate the caddie from green reading."
He also said the proposal "stunts the growth of the game," and ultimately, he said, "I could see another black eye coming for [the USGA]."
Statistically, there is no clear indication greens books have changed the landscape of putting performance on the PGA Tour, or in fact had any effect at all. Going back over the last 16 years for which specific distance data on putting is available, there is little difference in the putting statistics from 2003-2015 versus the last three years, when green books became extremely prominent. Players showed a very slight improvement in the current era in three-putt avoidance and putts per round, but are slightly worse now compared to then from four to eight feet, 10 to 15 feet and 20 to 25 feet.
In addition to greens guides, there are digital apps that include green-contour features. Since the proposed rules interpretation restricts not only numbers but arrows and lines, it's not entirely clear how it might apply in the digital space. Apps such as Golflogix with its Putt Breaks feature and GolfScope with its augmented-reality green-scanning function let users see how a putt might generally break. Said one app developer, "To me, it's really like having a caddie help you out in reading a green, and most people can't have a caddie. Seems weird to take us backwards."
Long has seen the technology curve for green books accelerate, and he appreciates the ruling bodies' concern for how far it might go. But it's not an easy thing to lock down knowledge he said, especially since the rule still will allow handwritten notes in yardage books.
"If I write down in my notes the break on the 15th hole, does that mean I now have an illegal yardage book?" Long wondered, suggesting the scoring tent could end up being as confrontational as airport security with rules officials asking caddies and players to "show me your papers."
"I think they're in an extremely difficult situation," he said.
Thomas Pagel, USGA Senior Director, Rules of Golf and Amateur Status, told Golf Digest that the hope is the makers of green-reading materials will submit them to the USGA and R&A to confirm they're conforming. The materials could then, potentially receive some type of imprint so that tournament officials would know from a distance that they are conforming. However, regarding handwritten notes that players might add, Pagel acknowledge that the governing bodies will "rely on the integrity of the player" to follow the guidelines.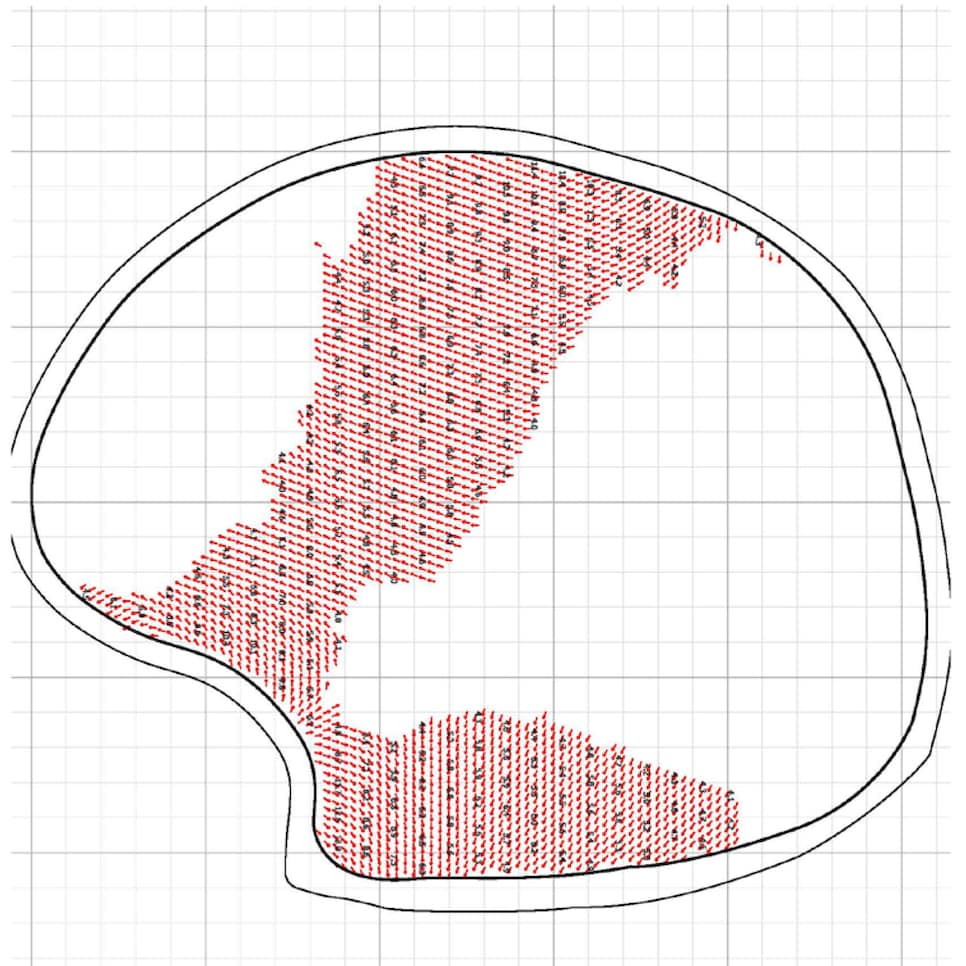 Finally, there is the issue of growing the game. For as much technology as has come into the game's clubs and balls, golf's data-driven and augmented reality potential has been well under-utilized, especially compared to other sports. One could make the argument that taking away the green books hurts a college player's or even junior golfer's potential earnings. Leaving green books and green-reading materials technology alone, at the very least, would be a natural attraction for more potential younger golfers, whose world is increasingly driven by instant information processing.
"With the technology for golf apps, they're pretty good right now, but they're not nearly as good as they're going to be," Long said. "And when they get really good, they're going to make everybody play a lot faster and have a lot more fun playing golf in my opinion. I don't think we should discourage that.
"If you want to talk about growing the game and attracting young people, you better just open the door to technology and say, 'Whatever guys, have fun!' because everybody young is about How fast can I do something on my device?"
Of course, with the rulemaking bodies closing the comment period on the new proposal in six weeks, what might be moving faster is how quickly green-contour information will be disappearing for players at all levels.