Tee Times
2022 Butterfield Bermuda Championship tee times, TV coverage, viewer's guide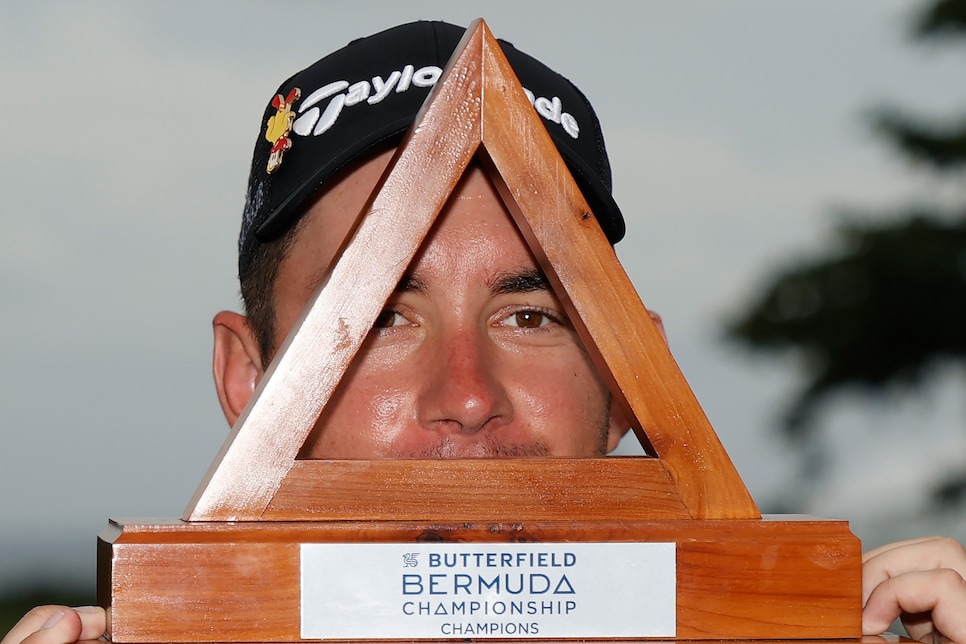 The Butterfield Bermuda Championship begins a two-event stretch away from the continental U.S. on the PGA Tour (next week players head to Mexico).
Lucas Herbert won last year's event at Port Royal Golf Club, holding off a late-charging Patrick Reed. It was the Aussie's maiden tour title, and he won it behind a strong putting performance that is always critical in Southampton. He won't be back, however to defend his title; he's attending a close friend's wedding in Australia.
This is the fourth year that the tournament has been held and the third where it's been a standalone tour event. Eight players in the field have made the cut in the three previous iterations of the championship: Ryan Armour, Robert Garrigus, Brian Gay, David Hearn, Kramer Hickok, Russell Knox, Denny McCarthy, and Seamus Power
Among the notables also playing are two-time major winner John Daly, European Ryder Cup captain Luke Donald and fan favorites Akshay Bhatia and Harry Higgs.
The winner will receive 500 FedEx Cup points and a $1.17 million cut of the $6.5 million purse.
Golf Channel will carry live coverage on Thursday through Sunday from 1:30-4:30 p.m. EDT.
Find all live PGA Tour scoring data here.
Tee Times (all times EDT)
6:40 a.m. -- Michael Kim, D.A. Points, Brian Stuard
6:51 a.m. -- Cody Gribble, Russell Knox, Austin Smotherman
7:02 a.m. -- Ryan Armour, Chris Stroud, Greg Chalmers
7:13 a.m. -- J.J. Henry, Sean O'Hair, David Hearn
7:24 a.m. -- Scott Piercy, Stephan Jaeger, Matthias Schwab
7:35 a.m. -- Martin Trainer, William McGirt, Scott Gutschewski
7:46 a.m. -- Bill Haas, Cameron Percy, Kramer Hickok
7:57 a.m. -- Michael Gligic, Carson Young, Augusto Núñez
8:08 a.m. -- Thomas Detry, Eric Cole, James Nicholas
8:19 a.m. -- Dylan Wu, Tyson Alexander, Nick Jones
8:30 a.m. -- Erik Barnes, Trevor Cone, Aaron Jarvis (a)
11:15 a.m. -- Grayson Murray, Seung-Yul Noh, Adam Schenk
11:26 a.m. -- Bo Van Pelt, Aaron Rai, Callum Tarren
11:37 a.m. -- Aaron Baddeley, Ben Crane, Chesson Hadley
11:48 a.m. -- Seamus Power, Nick Taylor, Tyler Duncan
11:59 a.m. -- Erik van Rooyen, Robert Streb, Richy Werenski
12:10 p.m. -- Scott Brown, Jonathan Byrd, Denny McCarthy
12:21 p.m. -- Kevin Tway, Hank Lebioda, S.H. Kim
12:32 p.m. -- Joseph Bramlett, Vincent Norrman, Willie Mack III
12:43 p.m. -- Brandon Matthews, Kevin Roy, Adrian Meronk
12:54 p.m. -- Kevin Yu, Zecheng Dou, Chandler Blanchet
1:05 p.m. -- Will Gordon, Sam Stevens, Palmer Jackson (a)
6:35 a.m. -- Charley Hoffman, Ricky Barnes, Doug Ghim
6:46 a.m. -- Adam Long, Sam Ryder, Henrik Norlander
6:57 a.m. -- Sangmoon Bae, Mark Hubbard, Justin Lower
7:08 a.m. -- Chad Ramey, Ryan Brehm, Garrick Higgo
7:19 a.m. -- Lucas Glover, Brian Gay, Luke Donald
7:30 a.m. -- Jonas Blixt, David Lingmerth, Patrick Rodgers
7:41 a.m. -- Nate Lashley, Sung Kang, Max McGreevy
7:52 a.m. -- Harry Higgs, Kyle Westmoreland, Greg Koch
8:03 a.m. -- Nicholas Lindheim, Austin Eckroat, Philip Knowles
8:14 a.m. -- Nick Hardy, MJ Daffue, Akshay Bhatia
8:25 a.m. -- Harry Hall, Tano Goya, Jarryd Dillas (a)
11:20 a.m. -- C.T. Pan, Camilo Villegas, Brandon Wu
11:31 a.m. -- Nick Watney, D.J. Trahan, John Daly
11:42 a.m. -- Vaughn Taylor, Tommy Gainey, Robert Garrigus
11:53 a.m. -- Wesley Bryan, Byeong Hun An, Alex Smalley
12:04 p.m. -- Brice Garnett, Austin Cook, Fabián Gómez
12:15 p.m. -- Kevin Chappell, Ben Martin, Greyson Sigg
12:26 p.m. -- Harrison Endycott, Matti Schmid, John VanDerLaan
12:37 p.m. -- Ben Taylor, Trevor Werbylo, Kim Swan
12:48 p.m. -- Scott Harrington, Andrew Novak, Michael Sims
12:59 p.m. -- Robby Shelton, Ben Griffin, Clay Feagler
1:10 p.m. -- Nico Echavarria, Brent Grant, Caleb Surratt (a)
6:40 a.m. -- C.T. Pan, Camilo Villegas, Brandon Wu
6:51 a.m. -- Nick Watney, D.J. Trahan, John Daly
7:02 a.m. -- Vaughn Taylor, Tommy Gainey, Robert Garrigus
7:13 a.m. -- Wesley Bryan, Byeong Hun An, Alex Smalley
7:24 a.m. -- Brice Garnett, Austin Cook, Fabián Gómez
7:35 a.m. -- Kevin Chappell, Ben Martin, Greyson Sigg
7:46 a.m. -- Harrison Endycott, Matti Schmid, John VanDerLaan
7:57 a.m. -- Ben Taylor, Trevor Werbylo, Kim Swan
8:08 a.m. -- Scott Harrington, Andrew Novak, Michael Sims
8:19 a.m. -- Robby Shelton, Ben Griffin, Clay Feagler
8:30 a.m. -- Nico Echavarria, Brent Grant, Caleb Surratt (a)
11:15 a.m. -- Charley Hoffman, Ricky Barnes, Doug Ghim
11:26 a.m. -- Adam Long, Sam Ryder, Henrik Norlander
11:37 a.m. -- Sangmoon Bae, Mark Hubbard, Justin Lower
11:48 a.m. -- Chad Ramey, Ryan Brehm, Garrick Higgo
11:59 a.m. -- Lucas Glover, Brian Gay, Luke Donald
12:10 p.m. -- Jonas Blixt, David Lingmerth, Patrick Rodgers
12:21 p.m. -- Nate Lashley, Sung Kang, Max McGreevy
12:32 p.m. -- Harry Higgs, Kyle Westmoreland, Greg Koch
12:43 p.m. -- Nicholas Lindheim, Austin Eckroat, Philip Knowles
12:54 p.m. -- Nick Hardy, MJ Daffue, Akshay Bhatia
1:05 p.m. -- Harry Hall, Tano Goya, Jarryd Dillas (a)
6:35 a.m. -- Grayson Murray, Seung-Yul Noh, Adam Schenk
6:46 a.m. -- Bo Van Pelt, Aaron Rai, Callum Tarren
6:57 a.m. -- Aaron Baddeley, Ben Crane, Chesson Hadley
7:08 a.m. -- Seamus Power, Nick Taylor, Tyler Duncan
7:19 a.m. -- Erik van Rooyen, Robert Streb, Richy Werenski
7:30 a.m. -- Scott Brown, Jonathan Byrd, Denny McCarthy
7:41 a.m. -- Kevin Tway, Hank Lebioda, S.H. Kim
7:52 a.m. -- Joseph Bramlett, Vincent Norrman, Willie Mack III
8:03 a.m. -- Brandon Matthews, Kevin Roy, Adrian Meronk
8:14 a.m. -- Kevin Yu, Zecheng Dou, Chandler Blanchet
8:25 a.m. -- Will Gordon, Sam Stevens, Palmer Jackson (a)
11:20 a.m. -- Michael Kim, D.A. Points, Brian Stuard
11:31 a.m. -- Cody Gribble, Russell Knox, Austin Smotherman
11:42 a.m. -- Ryan Armour, Chris Stroud, Greg Chalmers
11:53 a.m. -- J.J. Henry, Sean O'Hair, David Hearn
12:04 p.m. -- Scott Piercy, Stephan Jaeger, Matthias Schwab
12:15 p.m. -- Martin Trainer, William McGirt, Scott Gutschewski
12:26 p.m. -- Bill Haas, Cameron Percy, Kramer Hickok
12:37 p.m. -- Michael Gligic, Carson Young, Augusto Núñez
12:48 p.m. -- Thomas Detry, Eric Cole, James Nicholas
12:59 p.m. -- Dylan Wu, Tyson Alexander, Nick Jones
1:10 p.m. -- Erik Barnes, Trevor Cone, Aaron Jarvis (a)