The Loop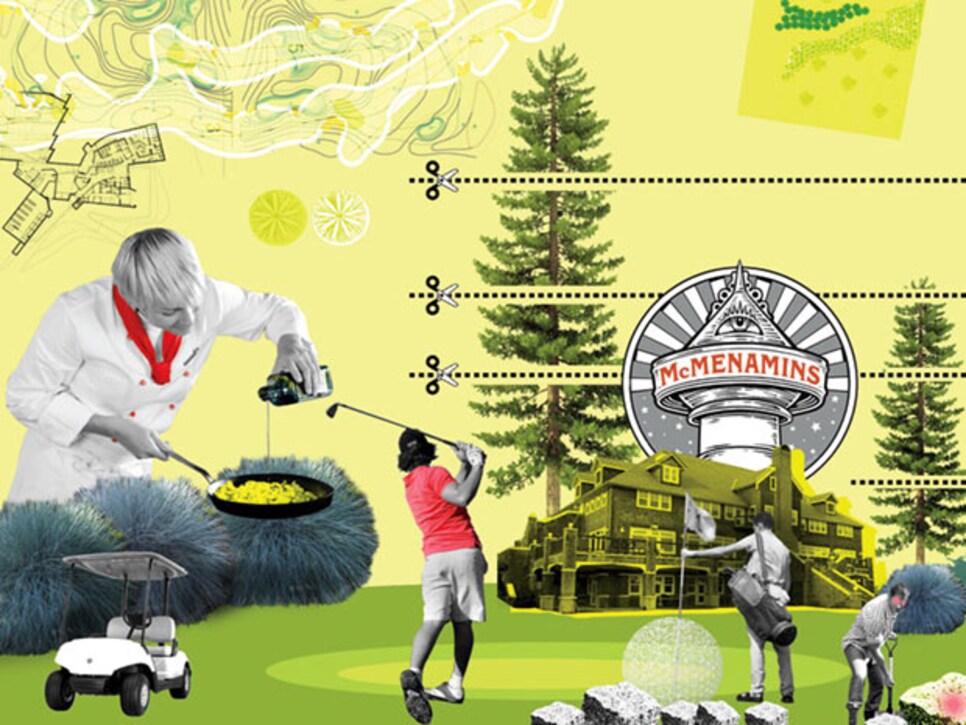 You'll find Tim Boyle's name on the membership rolls at some of the country's top golf clubs. Among them: Nanea in Hawaii, Sand Hills in Nebraska and Waverley Country Club in his hometown of Portland, Ore. Yet Boyle, the CEO of Columbia Sportswear, plays much of his golf at Gearhart Golf Links, a little public course on the coast about 90 minutes outside of Portland.
Boyle is the course's owner. It happened sort of accidentally. He joined a group of other wealthy Oregonians to take control of the financially struggling course in 2000—and then, as he recalls, "Everybody decided, 'This is horrible,'" so he bought them all out in 2010.
He has been working to turn it around ever since. Boyle paid to lengthen the course to 6,500 yards, chop down 400 pine trees planted unaccountably some years earlier, remove its paved cartpaths, and plant fescue along the fairways to emphasize its links look. He also has brought in new personnel, including Nanea's former pro (Jason Bangild) and a superintendent from Portland Golf Club (Forrest Goodling) and got local brewer McMenamins to run the restaurant and open a hotel on the site. He estimates it has cost him about $5 million so far, including the purchase price.
Boyle, 65, might seem like an unlikely golf-course savior. A big fan of duck hunting, fly-fishing, skiing and surfing, he didn't take up golf in earnest until he was 40, when he was offered a chance to play in the Greater Greensboro Open pro-am. The round was a struggle, but that only strengthened his determination to improve. I can't possibly be this awful! he thought. I've got to see if I can do better.
Happily for him, son Joe and daughter Molly took up the game around the same time, so golf outings became a family affair. Their go-to course: good old Gearhart Golf Links, just a few hundred yards from the Boyles' weekend home. Boyle improved—he plays to a 9.7 Handicap Index—but Joe and Molly left him in the dust. They competed on their college teams.
Boyle's family is among Oregon's most prominent, thanks to the sportswear company it has run for three generations. Their involvement began when Boyle's grandfather bought a Portland hat business in 1938 and renamed it after the Columbia River. Boyle and his mother, Gertrude, now 91, took over after his father died in 1970.
Today the company has annual revenue of more than $2.1 billion and 6,300 full-time employees. But it hasn't always been easy. The year after Boyle's father died, revenue plunged by half to $500,000, and lenders were threatening bankruptcy. Boyle credits Ron Nelson, a Columbia board member and an executive at then-fledgling Nike Inc., with helping him arrange a much-needed line of credit through a Japanese finance company. He also focused the business on its core products. To this day, Boyle remains unafraid to ask for advice. He invited his friend Mike Keiser, developer of the Bandon Dunes Golf Resort, to come have a look at Gearhart—and Keiser suggested Boyle bring out celebrated architect Jim Urbina. The design changes, which were suggested by Urbina, David Jacobsen and John Strawn, were overseen by Strawn.
And how is business? "Frankly it's been good," says Boyle, adding that the course has been profitable for the past two years. But then, he has never viewed Gearhart as an actual investment. "It's really an opportunity for me to have fun with something—polishing this little gem of a course," he says. "As Columbia has gotten bigger, what I do every day is go into my office, then to the conference room for a meeting, to the men's room, back to my office, back to the conference room. That's my day. Having this diversion of Gearhart has really been good for me."
A GETAWAY FOR WEALTHY OREGONIANS
The town of Gearhart has been a popular summer retreat since the mid-1800s, when a train line connected it to Portland. Gearhart Golf Links, founded in 1892, calls itself the oldest 18-hole course west of the Mississippi that is still in operation. (Our architecture editor, Ron Whitten, confirms this.) Though it doesn't overlook the ocean, the beach is within easy walking distance of the clubhouse. Summertime 2015 green fees: $80 for 18 holes, plus $15 to share a cart.