From the Magazine
Bubba Watson's 5 tips to go super low at your course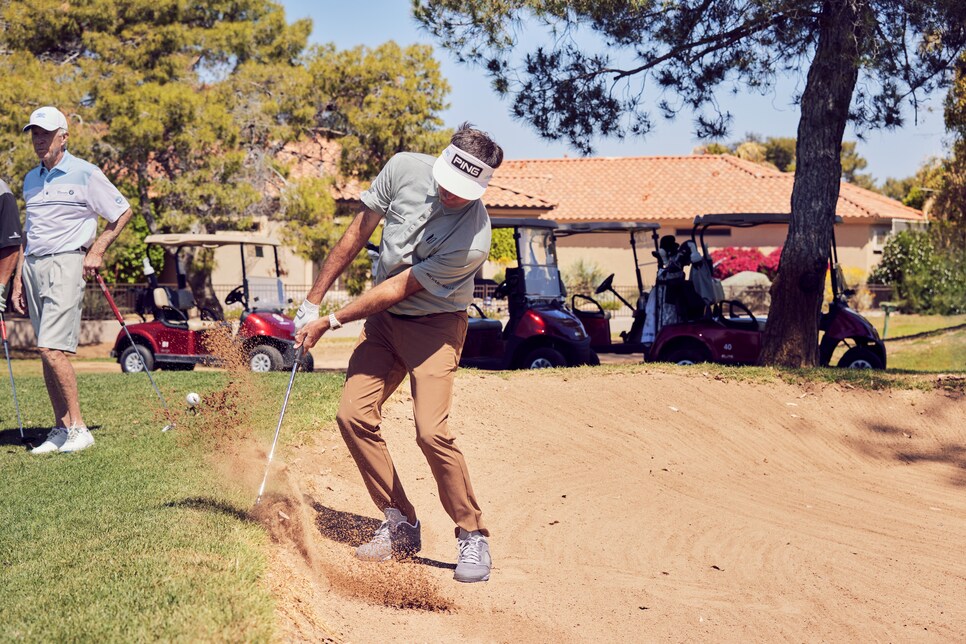 Photograph by Jesse Rieser
For the latest issue of Golf Digest, we invited Bubba Watson to play a public course in Scottsdale. It was just as astonishing to watch the two-time Masters champion executing shots on a 6,000-yard track as it would be to see him execute shots in pressure situations on tour.
HOW TO WARM UP IN 15 MINUTES OR LESS
Chip at first to loosen up the back and then ease into full swings. Start with a sand wedge and try to hit it 50 yards, then 100. Switch to an 8-iron. Next is a 5-iron, full shot. No need to hit more than five balls per club. Hit a few putts to get a feel for the greens. Now you're ready to let it fly.
HOW TO IMPROVE YOUR CONCENTRATION
I always like to have a game going with an opponent or myself. It doesn't have to be about score; maybe the game is to hit a certain number of fairways or greens or trying to hit nothing but fades or draws. Playing a game within a game will keep you sharp.
HOW TO HIT FROM COMPACT SAND
The lie is going to be firm, so try to pick the ball off the sand as cleanly as possible. When your ball is close to the lip like mine is here, take more loft and treat it like a traditional bunker shot. The big thing is, try not to freak out. The goal is to get it out, not reach the green.
HOW TO STAY LOOSE DURING A BACKUP
I like to take a few practice swings every few minutes to keep my body loose. When those swings are done, I put the club against my bag; letting it sit in your hands will develop bad grip habits. Also, don't let a delay sour your mood the way I look here. You're still playing golf!
HOW TO PUTT ON BUMPY GREENS
I think amateurs get a little too worked up when the greens aren't rolling perfect. Don't use that as an excuse for your putting struggles. When you get to surfaces that are a bit bumpy, it's all about the speed. Focus on getting the speed right, and you'll be OK. —with Joel Beall