The Loop
Bryson DeChambeau's big win, Holly Sonders' slip of the tongue, and Michael Phelps makes a hole-in-one
Welcome to another edition of The Grind, where we have a couple great ideas for a Sci-Fi movie. The first involves the best golfer of all time being broken down and put back together, returning to near top form, but then suddenly having his greatest skill taken away. Actually, that's really a more of a horror flick. . . Prefer something a bit more uplifting? Well, there's also the one about a budding scientist building a golf swing — and special golf clubs — in a lab and then becoming one of the best players in the world. Sounds pretty cool, right? Yeah, let's go with that storyline. And for some reason, we're feeling like a young Chris O'Donnell would be perfect to cast in the lead role. . .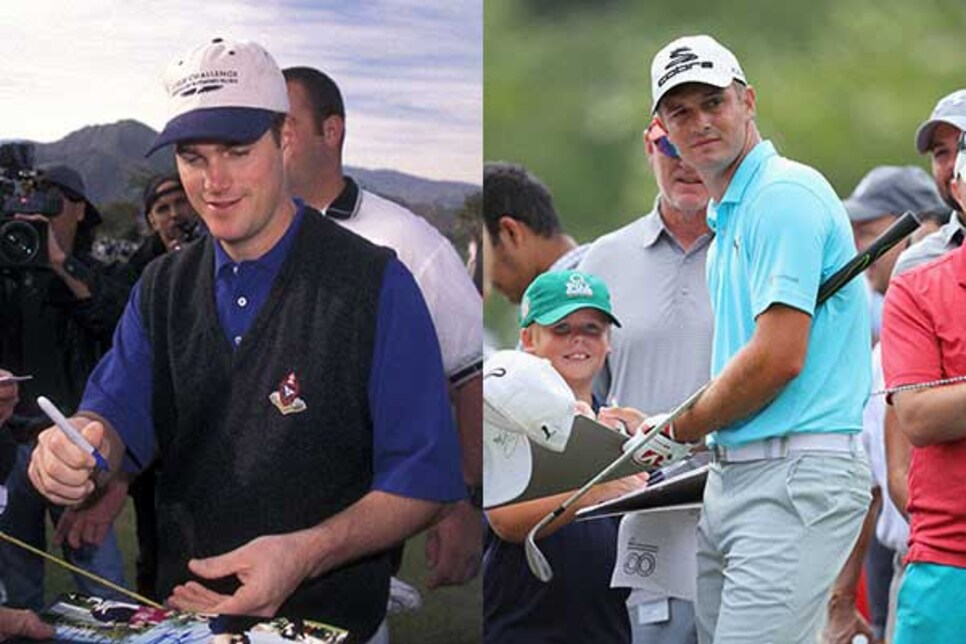 I think we've got a blockbuster on our hands — or at least, a Netflix original better than that Will Smith "Bright" disaster. If any big-time Hollywood producers are reading this, give me a call. And in the meantime, let's talk about all the plot lines unfolding during a busy time on the golf calendar.
Bryson DeChambeau: Forget about the kooky cap and the kookier single-length irons, the man who pretty recently experimented with side-saddle putting is no longer a side show on the PGA Tour. DeChambeau, one of the most decorated amateur golfers ever, picked up the biggest win of his pro career (so far) at the Memorial. And the self-proclaimed artist created one of the most intense reactions you'll ever see after draining the winning putt:
Captain American might have competition in the celebration department at this year's Ryder Cup.
Ariya Jutanugarn: In the span of a couple hours, we went from watching a dominant performance to a gutsy playoff win after Jutanugarn blew a 7-shot lead on the back nine at the U.S. Women's Open, but still survived extra holes with major title No. 2. We're happy for the young star because that could have been a career-crippling loss. And Ariya, who hits a 2-iron longer than I could dream of hitting my driver, appears headed toward a pretty special career.
TV coverage: We're tough on TV networks from time to time, but we've got (almost) nothing but kudos all around this week. A tip of the cap to Golf Channel and CBS for (finally) figuring out a way to show live golf at the Memorial when tee times have been moved up (Of course, it took Tiger in contention for it to finally happen). And a round of applause for Fox for its limited commercials during the final round of the U.S. Women's Open. Well done, everyone!
John Smoltz: The Hall-of-Fame pitcher is now a budding star on the senior golf circuit after qualifying for the U.S. Senior Open later this month. It's an amazing accomplishment -- even to John Smoltz. "I'm pinching myself every time I wake up," Smoltz told me on this week's Golf Digest Podcast. And I had to pinch myself while talking to John freaking Smoltz. What a legend. I loved watching this guy pitch when I grew up -- well, except against the Yankees. Smoltz also told me he's willing to be mic'd up during Fox's coverage. Let's hope this happens!
Tiger's putting: Tiger Woods' ball-striking at the Memorial? Vintage! Tiger Woods' putting at the Memorial. Not vintage! Seriously, that was tough to watch. And completely mystifying when you consider how well Woods rolled it at the Players and how pure Muirfield Village's greens are. In Friday's round alone, Woods missed three putts inside four feet, a six-footer and a seven-footer, and still shot 67! Stats guru Mark Broadie calculated that if Tiger just had an average putting week — not Tiger average, but PGA Tour average — he would have been shaking Jack Nicklaus' hand on the 18th green for a sixth time. For the week, he lost nearly 8 shots to the field on the greens while having the second-worst strokes gained/putting of anyone who made the cut. Not exactly what you want to see before heading to Shinnecock's slick greens next week. . .
Bud Cauley's car crash: The damage was extensive (five broken ribs, a fractured leg and a collapsed lung), but Bud said he's "thankful to be alive" following "the scariest night of my life." We're glad to hear Cauley is on the mend and we wish him the best. And if he's looking for motivation, we've got two words: Ben Hogan. The legend recovered from similar injuries sustained in his own accident and won six more majors. Of course, he'd already won three, but you get the point. Get well soon, Bud.
Final group's pace of play: We've said it before and we'll say it again, but taking nearly six hours for PGA Tour pros to play a round of golf is ridiculous. Yes, they were in threesomes, and yes, the average golfer can't begin to understand what it's like to play under final-round pressure on a difficult course, but Bryson "Check the book" DeChambeau, Patrick "Happy Feet" Cantlay, and Kyle "Sloth" Stanley (Actually, he seemed to play at a decent pace) were practically putting people to sleep.
To summarize: Showing live golf over tape-delayed coverage is a good product. Showing guys taking an inordinate amount of time to hit shots -- even if it's live -- is not a good product.
The PGA Tour heads to the FedEx St. Jude Classic in Memphis, AKA that event Daniel Berger wins every year. Seriously, the man has won the past two years at TPC Southwind. Those are the only two wins of his PGA Tour career.
Random tournament fact: This is the last year of this longstanding event as we know it. Next year, it moves from June to August and becomes a World Golf Championship called the WGC-FedEx St. Jude Invitational. That's great news for those involved in the event, but Memphis in August? You may as well hold a golf tournament inside a sweat lodge.
RANDOM PROP BETS OF THE WEEK
— Tiger Woods isn't practicing on his backyard putting green right now: 1 million-to-1 odds
— Bryson DeChambeau will win the 2018 U.S. Open: 40-to-1 odds
— Bryson DeChambeau disagrees with Vegas' calculations: LOCK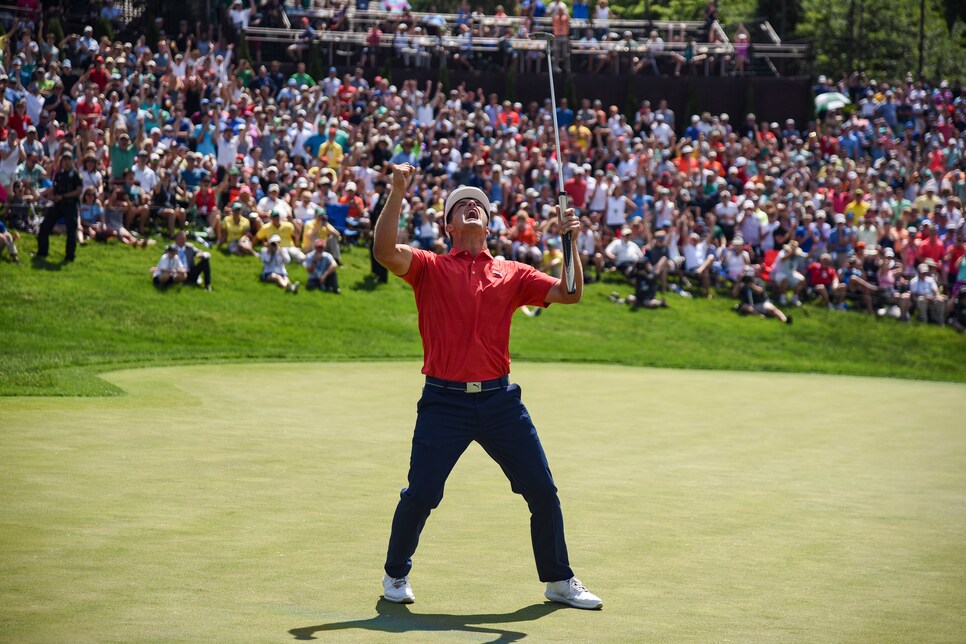 VIRAL VIDEO OF THE WEEK (NATURE DIVISION)
A moose chased a couple playing golf in Utah:
That'll help pace of play.
Live TV is tough, and Holly Sonders is a true pro for pushing on, but this slip of the tongue is too good not to share. Sorry, Holly. . .
Whoops. Credit to all involved for not cracking up. That's focus.
UPDATE: Holly addressed the gaffe the following day:
Well played. A pro's pro.
THIS WEEK IN DUSTIN JOHNSON-PAULINA GRETZKY PUBLIC DISPLAYS OF AFFECTION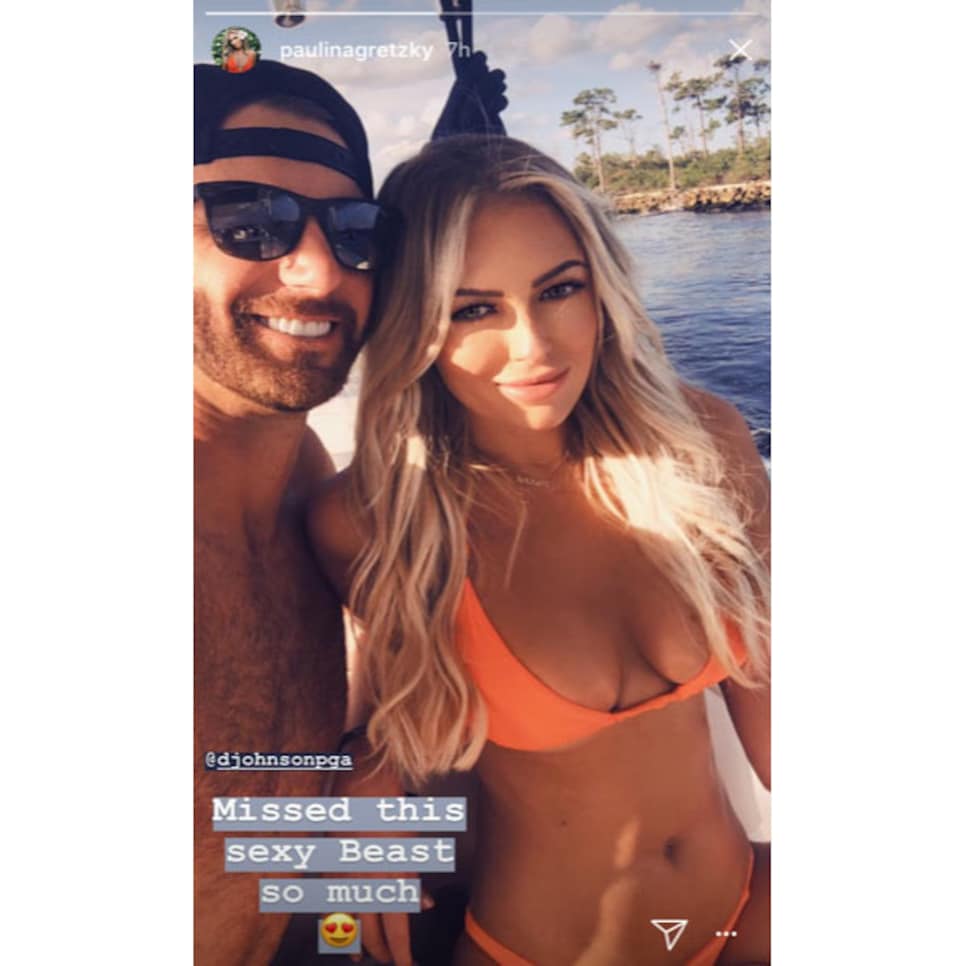 That "sexy beast" finished T-8 at the Memorial and is the Vegas favorite at both this week's Memphis event and next week's U.S. Open.
THIS WEEK IN CELEBRITY GOLFERS
Add Michael Phelps' name to the list of golfers who have made a hole-in-one before me:
Congrats, Michael, but c'mon with the typos. If I ever make an ace (LOL) you can bet I'm going to double and triple check my post(s) before letting everyone know about it.
"I'm not going to give too much away, but it's got to do with anatomical limits of your body and how you can best utilize them for your proprioception." — Bryson DeChambeau talking about his golf swing. We think.
THIS WEEK IN TOUR PROS ARE JUST LIKE US!
Kyle Stanley's bad break on the 18th hole in the Memorial playoff was just brutal — and reminiscent of what happens every time I clip a tree with a tee shot.
THIS AND THAT Adam Scott will continue his streak of playing in major championships (currently at 67) after making it through a U.S. Open sectional qualifier. Clutch! . . . Also qualifying for next week's U.S. Open was Andrew "Beef" Johnston. Good luck to whomever gets paired with him in front of rowdy New York crowds. . . . Joaquin Niemann didn't win the Memorial, but his T-6 was good enough to earn special temporary membership on the PGA Tour for the rest of the season. Considering he's 19 and already has three top 10s in five starts, we don't think he should be worried too much about his future tour status. . . . And finally, take a look at this list of courses played by Barstool Sports' Riggs:
Suddenly, I have a new hero.
RANDOM QUESTIONS TO PONDER
How many tour wins will Bryson DeChambeau wind up with?
How many science degrees will Bryson DeChambeau wind up with?
How much is a set of single-length irons?