Bryson... Back?
Bryson DeChambeau posts impressive swing video as PGA Championship status remains unclear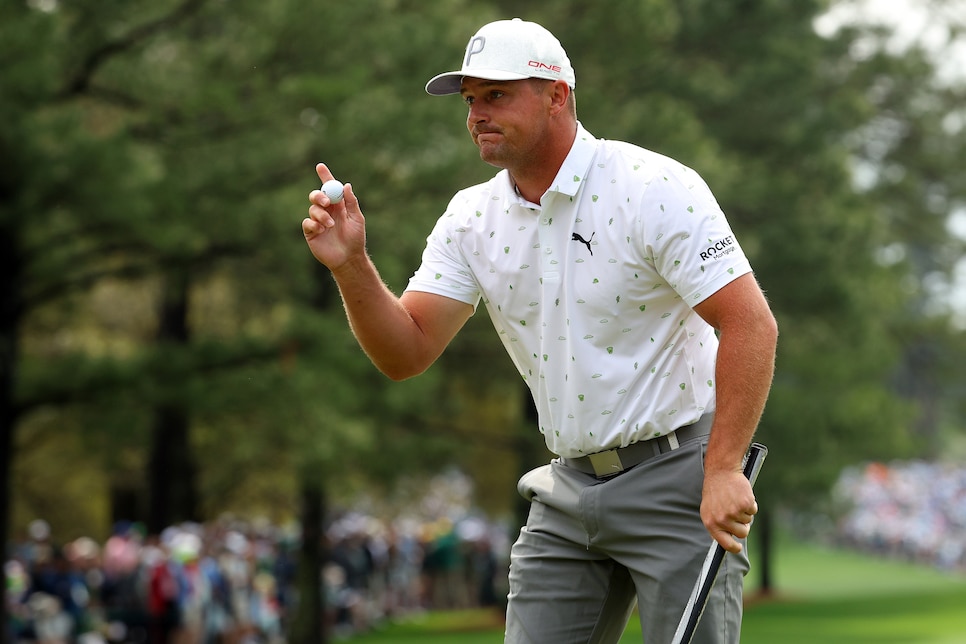 After undergoing successful left-wrist surgery right after the Masters, Bryson DeChambeau said that he'd be taking the necessary time to recover and stated that he was looking forward to competing at the highest level "within the next two months." While he didn't rule the PGA Championship out, the way it was worded made his absence at Southern Hills a virtual certainty.
Exactly one month and a day later, DeChambeau posted a full-driver-swing video to his Twitter account that would lead one to believe that him teeing it up at next week's PGA is now a possibility. Does this look like a guy who is not playing in Tulsa?
Technically, next week falls firmly in his "within the next two months" timeframe, and he never actually ruled it out. He remains on the field list for now, and can even be found at 65-1 odds to win, depending on the sportsbook you use. The fact he's hitting 192-mph ballspeed and carrying it 342 yards with what's likely still a very sore wrist is a scary thought. The average ballspeed for Cameron Champ, the PGA Tour's leader in that category, is 188.42. Keep in mind, DeChambeau is just wailing away in his backyard here, but it's still impressive.
Another thing to keep in mind - this is what DeChambeau's hand looked like just 12 days ago:
Obviously, it's healed enough, and feels good enough, for the 2020 U.S. Open winner to start taking big-daddy hacks into a net. Whether or not that means he's ready to compete at a high level again remains to be seen. He's not played since the Masters, where he missed the cut, marking his third missed cut in five worldwide starts since the Sentry Tournament of Champions. DeChambeau began 2022 ranked eighth in the world but has since fallen to 22nd, and he no doubt wants to put a stop to that fall as soon as possible.