Ryder Cup
Bryson DeChambeau says Zach Johnson 'should have called,' and that he could have 'racked up some points for Team USA'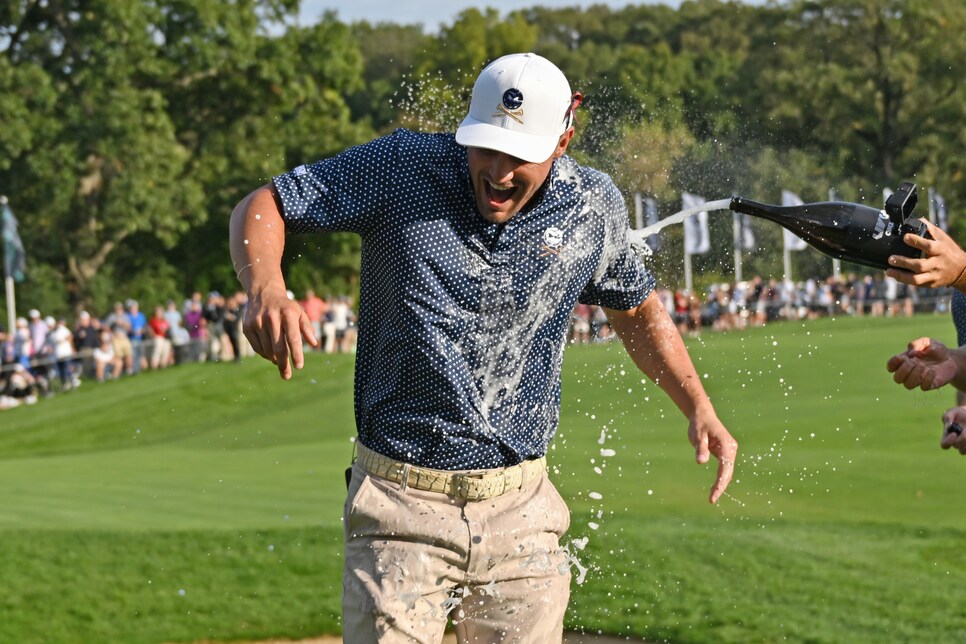 Bryson DeChambeau is suddenly a red-hot golfer again. Unfortunately for him, that won't translate into repping the red, white and blue this week at the Ryder Cup.
DeChambeau was doused in champagne after winning for a second time in three starts on LIV Golf, but he'll miss out on any potential celebratory bubbly in Rome. That's because the 2020 U.S. Open champ was not selected to represent the U.S. at the Ryder Cup despite having a decent case. DeChambeau finished T-4 at the PGA Championship in May and won his first LIV Golf title in August by firing a final-round 58 at The Greenbrier.
And after winning a second LIV title on Sunday, DeChambeau declared he's playing better golf now than he did during his lone major win. In regard to being left off the American squad, though, he said he's more disappointed that he didn't even receive a phone call from Zach Johnson when he made his six captain's picks.
"I am playing better than Winged Foot, you know, if you look at it, it would have been nice to at least have a call," DeChambeau told reporters at Rich Harvest Farms. "There's numerous people that I think Zach should have called out here and we didn't get that and I understand I get it. But, you know, we're nothing different. We're still competing. We're still working super hard to be the best we possibly can be."
Although certainly not the only golfer on either side feeling snubbed, DeChambeau seems to indicate that he feels players who left the PGA Tour for LIV were less likely to be considered for the team. However, DeChambeau did have positive things to say about the one LIV golfer, Brooks Koepka, who will be in Rome. But Bryson also couldn't resist mentioning that he could have helped Johnson's squad this week as they attempt to end a three-decade drought on European soil.
"Brooks is obviously going to kill it for team USA next week and excited for the team," DeChambeau added. "But yeah, I mean, it definitely does sting a little bit. But, you know, you say what you want, we're still golfers and I personally think that given the way I played this week, I could have definitely racked up some points for team USA."
Hey, you can't blame him for being confident—especially after driving a 384-yard par 4 on Sunday on his way to shooting 63 and earning another win. And after a rough Ryder Cup debut in 2018 (to be fair, almost every American had a rough time in France), DeChambeau went 2-0-1 in 2021 with his spectacular opening eagle on Sunday—when he drove another par 4—arguably being the most memorable moment of the entire week at Whistling Straits.
There will be no such highlights from DeChambeau in Italy this week. Sunday's champagne—and $4 million check—will have to do.