Crunching the Numbers
Bryson DeChambeau is doing something (so far) in 2021 that only Tiger Woods and Rory McIlroy have pulled off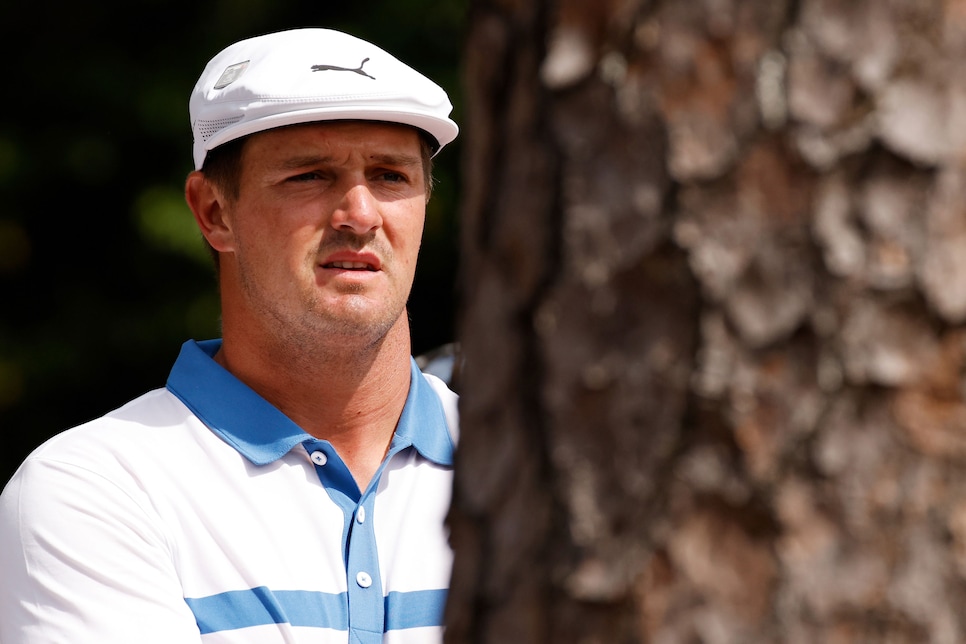 Bryson DeChambeau, a two-time winner in 2020-21, is on pace to do something only Tiger Woods and Rory McIlroy have accomplished on the PGA Tour.
Jared C. Tilton
Bryson DeChambeau is one of only two pros who have won multiple times during the 2020-21 PGA Tour season. He has two wins in 10 starts, which doesn't sound like a historic accomplishment, even if one was the U.S. Open and he won that by six shots (the other was the Arnold Palmer Invitational). But on the weeks he hasn't won, the 27-year-old also has held his own, with three other top-10s, one more top 25 and only a single missed cut.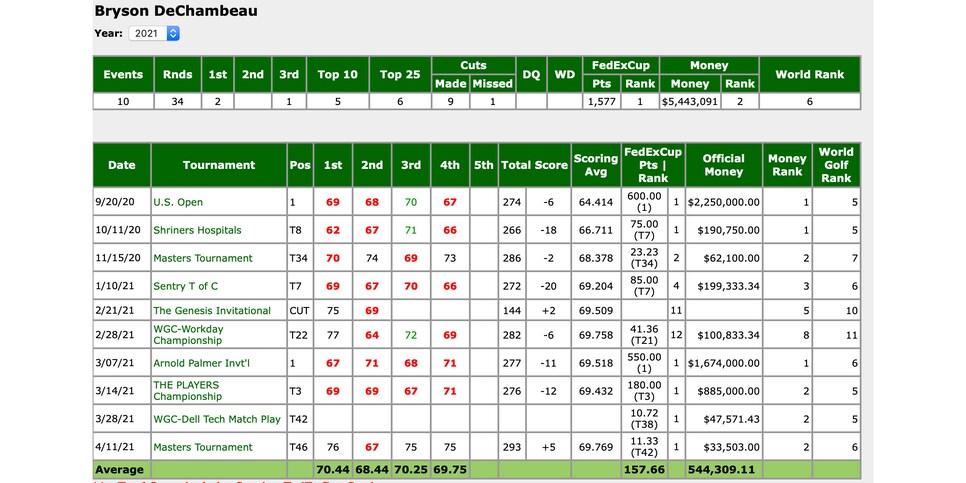 The most intriguing number here is the one at the bottom right: $544,309. That's the average amount of money DeChambeau has earned per start this season. And it's a number that, if he could somehow maintain that pace to the end of the season, would put DeChambeau in some very rare company.
The PGA Tour tracks average winnings per event by season back to 1995. And only two golfers have finished a season earning an average of more than $500,000 per event (playing a minimum of three events in said season): Rory McIlroy and Tiger Woods.
McIlroy accomplished the feat in 2011-12. He made 16 starts that season, won four times (including the PGA Championship at Kiawah, finished second twice, had 10 top-10s and earned $8.047 million for an average of $502,996 per event.
Woods, meanwhile, accomplished the feat … (double checks PGATour.com) … six times.
2004-05: $506,096 (21 starts)
2005-06: $662,770 (15)
2006-07: $679,190 (16)
2007-08: $962,500 (6)
2008-09: $618,127 (17)
2012-13: $534,589 (16)
Woods' 2008 number is, of course, mind boggling, but it is impacted greatly by the fact that he only played six times, the rest of his 2008 season wiped out by the knee surgery he had after his victory at the U.S. Open at Torrey Pines. That was, amazingly, his fourth win of the season.
The next best season since 1995? McIlroy can take credit for that, too. In 2014, he had averaged $487,064 in 17 starts. (McIlroy has averaged better than $400,000 four times, the others coming in 2015 and 2019.)
The best average-earnings-per-start number for a season by any other golfer not named McIlroy or Woods? It came in 2015, the year Jordan Spieth won five times, including two majors, and finished second four times. That year, he averaged $481,218, which was particularly impressive since he did it while playing in a hefty 25 tournaments.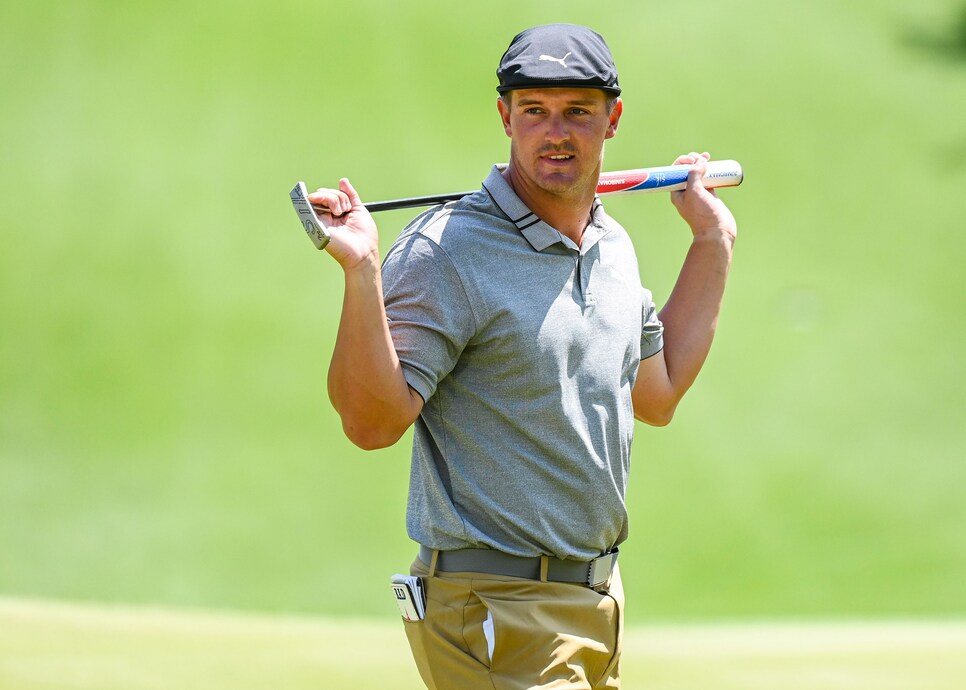 If DeChambeau is to keep up the $500K pace, he'll likely need to win another tournament, preferably a major or WGC event.
Keyur Khamar
We've listed below every season a player posted an average of $400,000 or more to help put everything into context. Interestingly, Justin Thomas currently is averaging $461,613 in the 2020-21 season off 12 starts, aided by the $2.7 million he made when he won the Players Championship in March.
Expecting DeChambeau to keep his number north of the $500K mark is a big ask. It would probably require another win (preferable in a big-money event like a major or WGC), since to average that much per start requires that you make a sizable amount of money overall, too. That said, his consistency in 2020-21 has been impressive.
2000
Tiger Woods, $459,416 (20 starts)
2005
Tiger Woods, $506,096 (21)
2006
Tiger Woods, $662,770 (15)
2007
Tiger Woods, $679,190 (16)
2008
Tiger Woods, $962,500 (6)
2009
Tiger Woods, $618,127 (17)
2012
Rory McIlroy, $502,996 (16)
2013
Tiger Woods, $534,589 (16)
2014
Rory McIlroy, $487,064 (17)
2015
Jordan Spieth, $481,218 (25)
Jason Day, $470,166 (20)
Rory McIlroy, $405,275 (12)
2016
Dustin Johnson, $425,690 (22)
Jason Day, $402,256 (20)
2017
Dustin Johnson, $436,610 (20)
Jordan Spieth, $410,132 (23)
2018
Justin Rose, $451,704 (18)
2019
Brooks Koepka, $461,143 (21)
Rory McIlroy, $409,752 (19)
2020
Dustin Johnson, $416,648 (14)
Justin Thomas, $408,002 (18)