Memorial Tournament
Out since the Masters, Bryson DeChambeau is eager to test his game ahead of U.S. Open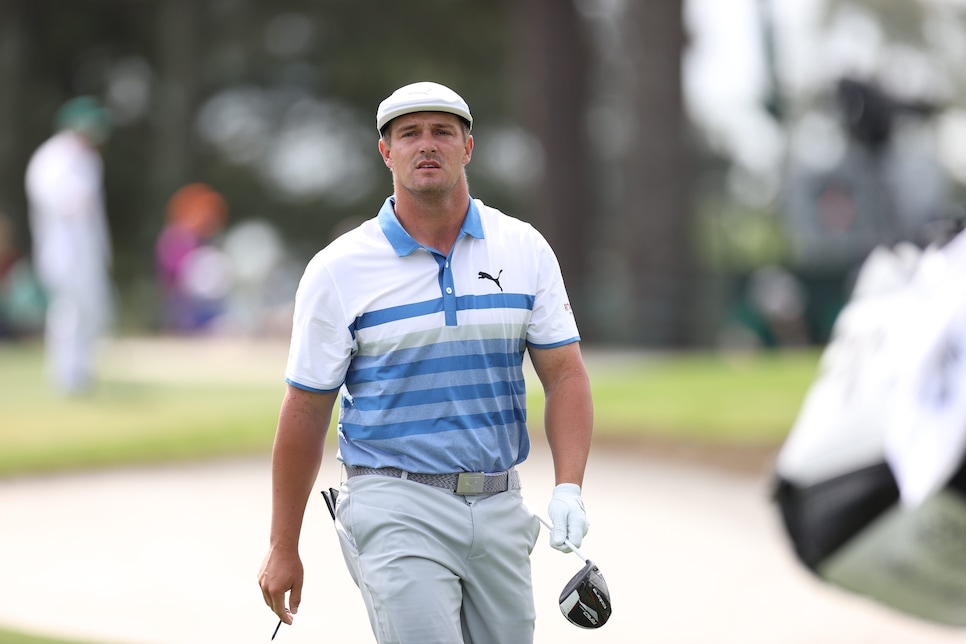 DUBLIN, Ohio — After several false starts, including two weeks ago at the PGA Championship when he showed up in Tulsa, Okla., only to withdraw on the eve of the tournament, Bryson DeChambeau said he is ready to return to competitive golf. Barring an 11th-hour setback, he will tee it up Thursday in the Memorial Tournament.
Mind you, he isn't yet at full health. His surgically repaired left hand still has swelling and is not yet at full strength. Nevertheless, he's intent on giving it a go at Muirfield Village Golf Club, where he won the 2018 Memorial.
"There's certainly less pain than a few weeks ago. There is no pain right now," DeChambeau told Golf Digest after playing nine holes in the Workday Golden Bear Pro-Am Wednesday morning. "I still have some swelling. I've got strength back. Is it full strength? No. Do I have the endurance? I believe so. We'll see as the week goes. But I have to get back out here at some point. I was like, 'Why not the Memorial?' I've won here. I love it. I really did want to play Colonial [last week], but I felt like I needed that one more week."
DeChambeau, 28, injured his hand in February at the Saudi International amid rather bizarre circumstances, claiming he hurt it playing ping pong. He insisted it was not a result of his all-out swings at the golf ball with the driver, a spectacle that has made him a favorite with patrons who enjoy the power exhibition. He withdrew after one round in the Middle East but came back after a period of rest to compete in three events, including the Masters, where he shot 76-80 and missed the cut.
He hasn't played since undergoing surgery April 14 for a broken hamate bone. The surgeon, Dr. Thomas Graham, performed the procedure in nearby Kettering, Ohio. The two met when DeChambeau won the DAP Championship in 2016, a Korn Ferry Tour event in Cleveland, and they have remained friends. "It was a great association to have, given the circumstances," DeChambeau said.
Because he is still less than 100 percent, DeChambeau comes to Muirfield Village with few expectations. He begins the tournament at 12:48 p.m. ET Thursday paired with 2020 winner Jon Rahm, the reigning U.S. Open champion, and Shane Lowry, the winner of the 2019 Open Championship.
"I feel like my game is good enough to compete at this stage," said the eight-time PGA Tour winner. "Hopefully I'll have a chance to win, but if I miss the cut that's OK, too. It will be a great learning experience and a great way to see where I am in my game and how my hand feels. This week it's just more about being back out here, and I feel very blessed to be playing again."
It's also about the next major, the U.S. Open, which DeChambeau won two years ago at Winged Foot. It was important for the California native to test his hand—and game—under the gun before venturing to The Country Club in Brookline, Mass., week after next.
"I really am looking forward to competing again," he said. "I just needed to get back on the golf course and see how it goes. I wanted some competitive rounds before the U.S. Open. I can play at home, but I didn't play a lot. You don't get the same juices going. So, it's more a lot of practice and trying to build up endurance. I feel like I have a lot more endurance. Again, we'll see how the week goes."