World Long Drive
Bryson DeChambeau makes it to final day of World Long Drive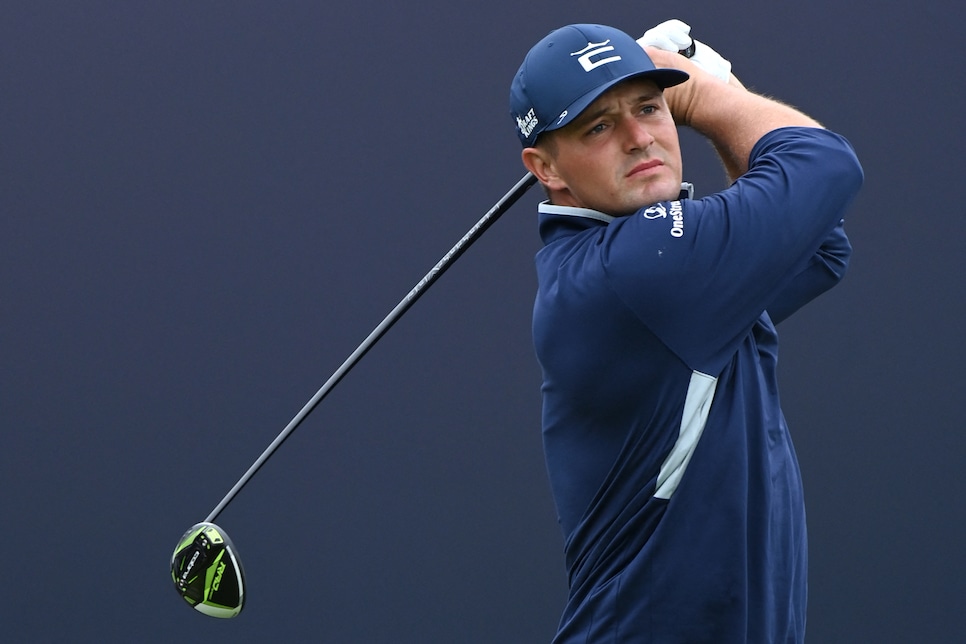 MESQUITE, Nev. — Bryson DeChambeau might have solved the world of competitive long drive—and it's not in the way you might think. It's DeChambeau's accuracy, not distance, that has allowed him to advance to the fourth and final day of the PLDA World Championships.
On Thursday at Mesquite Sports and Events Complex, DeChambeau was among the final 32, vying for 16 coveted spots in Friday's championship round. For the third day in a row, DeChambeau "hit the grid" with at least 40 percent of his swings. That's significant when you consider that his peers are often hitting the grid between 20 and 25 percent of the time. The formula is quite simple—more balls in the grid mean more chances for a great runout and more chances to earn points in your group.
DeChambeau finished first in two of his five sets that had each golfer hitting six balls. His longest drives of each set were: 358 yards, 338, 359, 333 and 333.
While DeChambeau might not be the longest hitter in this format, his ability to post distances on a good portion of his swings gives him a significant edge over the less-accurate competitors.
"It puts a tremendous amount of stress on them," DeChambeau said on Thursday after the competition. By his own assessment, DeChambeau was much more erratic on Day 3, hitting the grid on only 43 percent of his shots—his lowest percentage of the week. DeChambeau said, "Hopefully I can lock it in a little bit better tomorrow."
To DeChambeau's credit, it's not only accuracy, but also his ability to control his ball trajectory better than anyone else in this competition. The grid in Mesquite is at the bottom of a small mountain and susceptible to ever-changing wind strength and direction. As you can imagine, the No. 7-ranked ranked golfer in the world has the ability to match the wind with an ideal shot trajectory while other hitters are at the mercy of the draft.
If those attributes weren't valuable enough, DeChambeau is also very long by most golf standards.
With only 16 golfers remaining, DeChambeau is on a collision course with some of the game's best hitters. Martin Borgmeier, Justin James and Kyle Berkshire all punched their tickets to the final 16 on Friday and will provide some stout competition for DeChambeau. All three are ranked inside the top 10 of the PLDA World Rankings, while Berkshire is both the reigning world and national champion—and is quite literally the sport's logo.
Friday's championship round will see the final 16 competitors whittled down to eight, then four, then two—before a final head-to-head match will determine the world champion, with $50,000 as the first prize. DeChambeau has pledged to return all of his winnings this week back into the prize pool.
The championship round is set to start at 6:45pm ET on Friday.