Takeaways
A rookie leads, a Nick Watney sighting and why you can't wipe the smile off Harold Varner III's face this week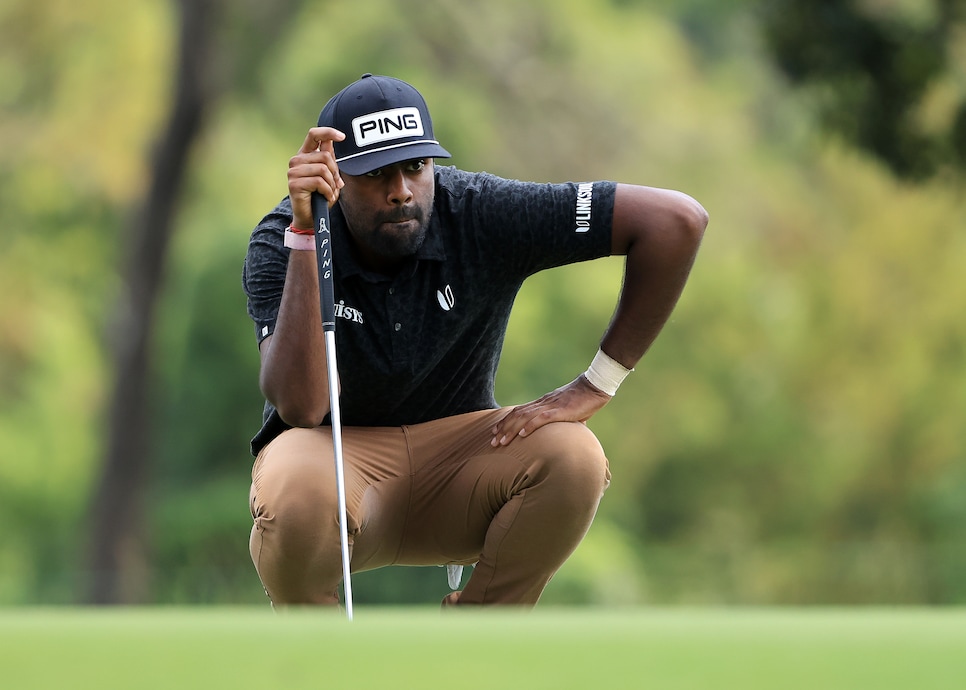 Sahith Theegala lines up a putt on the seventh green during round one of the 2021 Sanderson Farms Championship.
Sam Greenwood
The roars have died down a bit with the Ryder Cup in the rearview mirror, but the birdies continued to flow as the PGA Tour resumed the 2021-2022 season at the Sanderson Farms Championship. And no one scored better on Thursday than one of the tour's newest members.
Rookie Sahith Theegala posted a bogey-free 64 to grab the first-round lead in Mississippi. Not bad for someone who didn't have his tour card a month ago.
But after a missed cut in the first event of the Korn Ferry Tour Finals, the former All-American and 2020 Haskins Award winner at Pepperdine finished T-4 and sixth in the final two events to move on up to the PGA Tour, where he started the season with a T-47 in Napa.
"I don't think I've had a lot of time to think about all this stuff too, so it just feels like I'm kind of just on a roll and I'm not really thinking about big situations or stuff like that," Theegala told reporters after the round at the Country Club of Jackson. "Just feels like I'm playing golf. So that's helped a little bit not having expectations, kind of just being on a free roll the whole time."
The 23-year-old is certainly on a roll off the tee. He hit 11 of 14 fairways on Thursday while averaging 322.3 yards per pop and picking up more than 1.5 strokes against the field.
"The driver's always been what's kind of been my weakest part of my game and that's what took me kind of the next level in college was getting a driver dialed in and started not hitting it out of play as much," Theegala said. "But, yeah, I got a new driver after I missed the first cut at Korn Ferry Finals, went to Ping, did a little bit of work there and they set me up with a new driver. It's a longer driver. I'm like, if I'm going to hit it off line, I might as well hit it a little bit further and funny enough I'm hitting it way straighter. So that helped a little bit, seeing something new."
And golf fans are seeing a new face at the top of a PGA Tour leader board. But it might be one they should start getting used to.
Here are our other takeaways from Day 1 of the Sanderson Farms Championship.
Harold Varner III's (extra) happy mood
Varner looked like he'd share the first-round lead with Theegala when he stuffed his final approach on the ninth hole to five feet. But he missed the birdie try to settle for 65. Not that he seemed upset at all after.
"This is the first time I'm not worried about golf," Varner told PGA Tour SiriusXM Radio after his round. "We're really excited."
You see, Varner's wife Amanda Singleton is expecting the couple's first child next week. So, yeah, he's got a lot on his mind right now.
Still, a nine-birdie round is something to be excited about as well. And so would finally earning a first PGA Tour title before welcoming a first kid.
"I hate when people are just always like, 'When you going to win?' It's not like I'm not trying. It's not easy," Varner said. "So it's a great opportunity, it's always going to be a challenge I'm just excited for it, and I'm not too worried about what anyone else is doing. I used to get caught up in that and I'm just super thankful to be over that step in my life."
Canadians invade the South
At one point during the morning wave, Canadians held the top three spots on the leader board. Those three Maple Leaf flags were still flying high by day's end with Roger Sloane tied for fourth and Adam Hadwin and Corey Conners both tied for seventh.
Not that this is too surprising. Canadian Nick Taylor won this event in 2014, the second year it was played at C.C. of Jackson. And Conners finished runner-up here in 2018.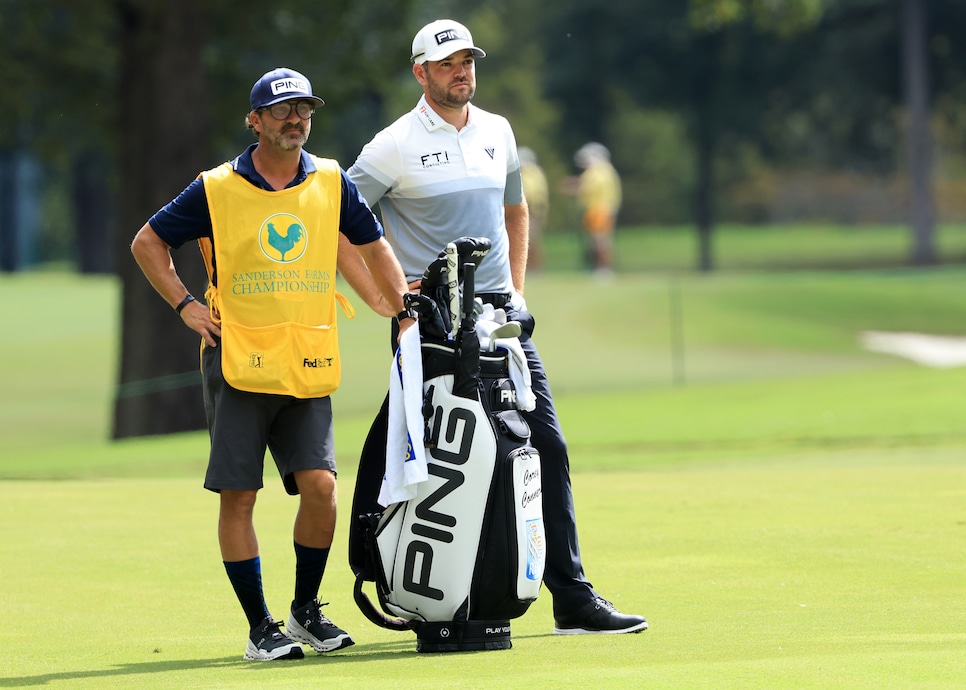 Corey Conners prepares to play his shot on the fifth hole during round one of the Sanderson Farms Championship.
Sam Greenwood
Conners looked like he might be headed for a really special round when he made the turn in 30 and on a streak of five consecutive birdies. Not that he even realized it.
"I really didn't even know I made five in a row until I was signing my scorecard and I was like, 'Oh, that's cool.'" Conners said.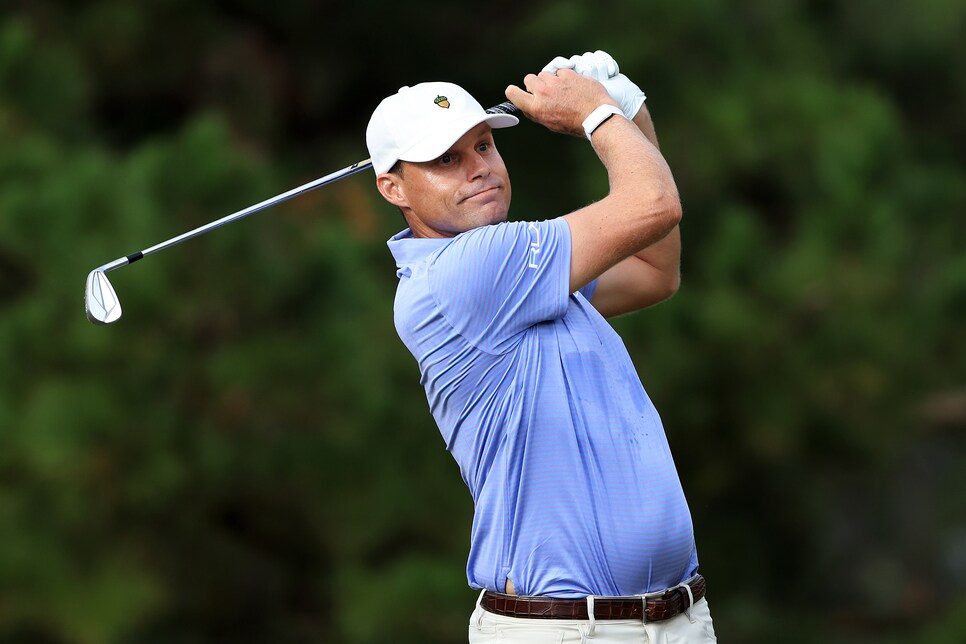 Nick Watney plays his shot from the 13th tee during round one of the Sanderson Farms Championship.
Sam Greenwood
Yep, it sure is. The five-time PGA Tour winner is one shot off the lead after firing a first-round 65. And that's kind of a big deal for someone who hasn't had a top-10 on tour in more than two years.
After finishing 204th in the FedEx Cup standings last season, Watney remained on tour this season by using his one-time exemption for being top 50 on the all-time money list. The 40-year-old used the old one-shot-at-a-time mantra during a round that included six birdies and an eagle.
"I've never done well if I thought, 'Oh, I have to shoot X under.' I think I do my best when I go out and try to play the shot in front of me," said Watney, whose last PGA Tour win came nine years ago. "I know that's super cliche, but that's truly how I play my best. That's what I was even trying to do today. Just to execute my best on that shot."
Hey, it's worked a lot throughout his career. And maybe it's starting to work again.