News
Bruce Lietzke, 67, succumbs to brain cancer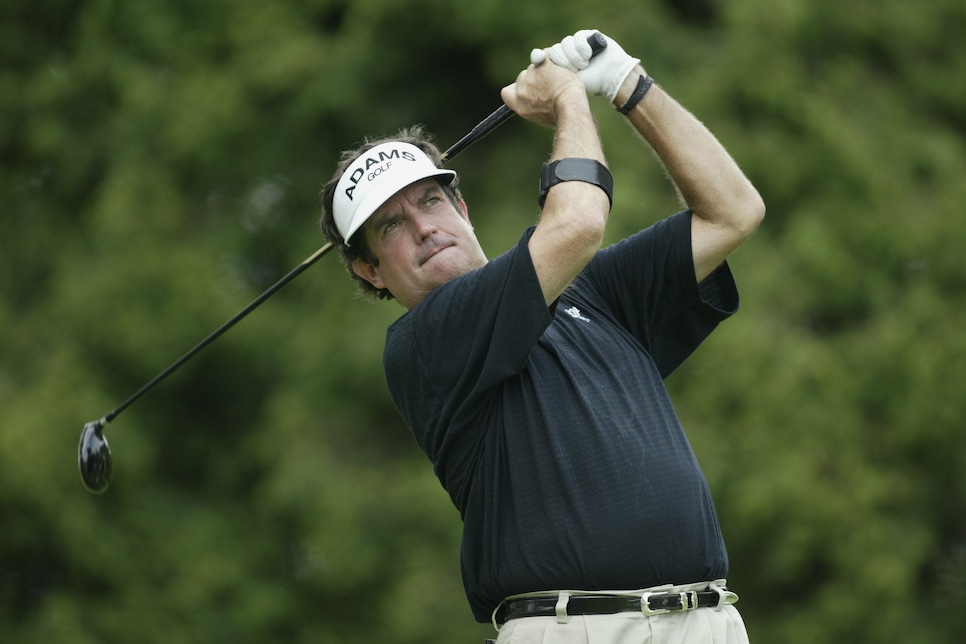 Bruce Lietzke, who won 13 PGA Tour events with a reliable and famously low-maintenance fade, succumbed to brain cancer on Saturday. He was 67.
Lietzke originally was diagnosed with glioblastoma, an aggressive malignant tumor, on April 12, 2017. It was similar to the brain cancer that claimed the life of Cathy Bryant, wife of golfer Bart Bryant, that same month.
He underwent surgery to remove what he described as a golf ball-sized tumor. Afterwards, he underwent chemotherapy and radiation treatments, while resuming something of a normal life that included one of his favorite hobbies, fishing, as well as traveling in March to Washington, D.C., to attend the National Prayer Breakfast.
"Then vertigo hit," Bob West wrote. "He could not stand up on his own. Subsequent testing revealed tumors had returned along the vestibular nerves in his brain. That meant more chemo and radiation treatments, and his body rebelled. He couldn't keep food down and lost roughly 25 pounds.
"'It's been a tough stretch,' Lietzke said Monday. 'Nausea has been a real problem. I have lost ground from where I was. It does appear tumor cells are floating around in the brain. They are not forming and growing, but there are enough to require radiation.
"'I had five radiation treatments last week to try to reduce those new cancer cells. They don't want to do more chemo because my blood has had enough. The MRIs look okay, but the doctors think they could be better. My goal at this point is to get past the nausea, keep food down and starting gaining weight.'"
Lietzke played college golf at the University of Houston and turned professional in 1974. He began his career playing mini-tour golf in Florida.
"I accidentally started coming over the top, trying to hit the ball low," he told the Houston Chronicle in 2013, this his strategy to counter the Florida wind. "All I know is that after about a month in Florida, all I could do was hit a fade. I didn't know why, but it was working pretty well, so I decided not to fight it."
It became the signature shot in a career memorable not only for its successes, but for how little effort was required to maintain the repetitive action. A story frequently told was how, at the end of the 1984 season, he told his caddie Al Hansen to remove everything from his golf bag but his clubs, that he wouldn't be needing them again until his planned return to the PGA Tour the following January, a span of three months.
Hansen did not believe him. So to test his notion he put a banana inside the headcover to his driver and put the clubs in a travel bag. Lietzke put the clubs in a corner of his garage that housed his collection of old muscle cars.
The following January, Lietzke grabbed his clubs and flew out to Palm Springs to start his season at the Bob Hope Chrysler Classic. On the range there, he discovered the banana.
"You should have smelled it," Lietzke said. "Al couldn't believe that I'd go the whole off-season and not practice. He figured he'd have the last laugh. Well, nobody was laughing. The banana was just nasty, all black and covered in fungus. It did something to the driver. It was a real wooden club, and I could never use it after that week. Then I had to throw the bag away. Every time I threw something away I just glared at him."
Lietzke preferred fishing, tending to his collection of cars and spending time with his family to practicing or even playing much. From 1983 through the end of his PGA Tour career, he played more than 22 events only once and usually played fewer than 20.
He won his first tournament in 1977, the Joe Garagiola-Tucson Open, and his last in 1994, the Las Vegas Invitational. The closest he came to winning a major was the 1991 PGA Championship, when he finished second to John Daly.
Lietzke won seven times on the PGA Tour Champions, including the U.S. Senior Open in 2003, when he defeated Tom Watson by two strokes.
He also played for the winning U.S. Ryder Cup team in 1981.