The Loop
Brooks Koepka's fitting No. 1 grab, Paul Azinger's code name, and an infamous golf shirt gets reincarnated
Welcome to another edition of The Grind, where we wish we had Kathleen Zellner on the case of golf's greatest mysteries. What really happened the night of Tiger's Thanksgiving car crash in 2009? Why was Woods missing a tooth at that 2015 ski race? And how in the world did Tiger's final tee shot at the 2000 PGA Championship stay in play? The lawyer from Making A Murderer Part 2 would hire forensics experts to run tests on everything from teeth fragments to cart path density and she would keep digging until she got to the bottom of it. And then the state of Wisconsin would still deny another trial. SMH. But at least we would finally know the truth.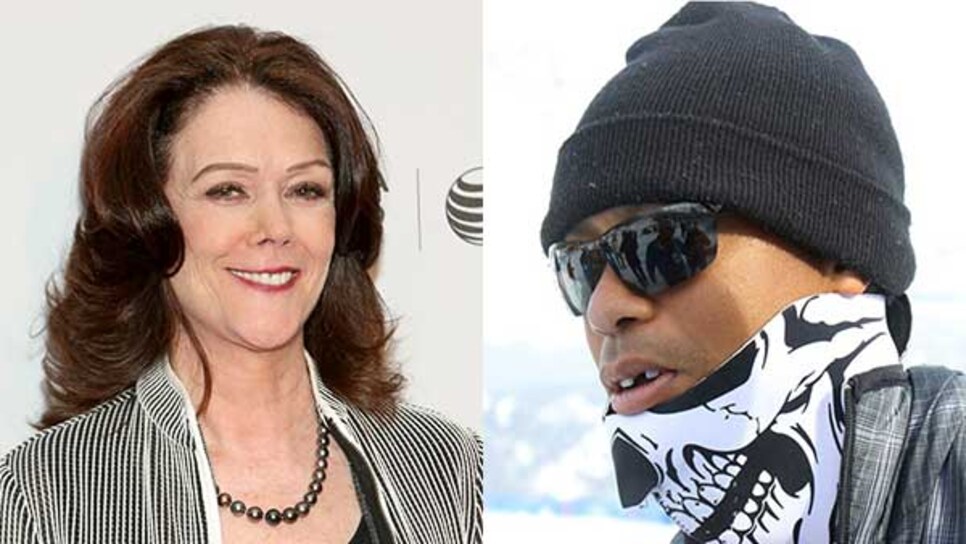 But alas, Zellner is (rightfully) more concerned with getting innocent people out of jail — which is kind of what Golf Digest does these days as well. Kathryn, let us know if you need any help. In the meantime, here's what's actually happening in the world of golf.
Brooks Koepka: I'm so relieved for Brooks Koepka. Most athletes face the tiring pressure of having to prove they can "win the big one," but for Brooks, he needed to show he could win the normal-sized one. Phew. Now we know he can after claiming the CJ Cup (that's not really a cup) by four shots for his first regular PGA Tour title since claiming three majors: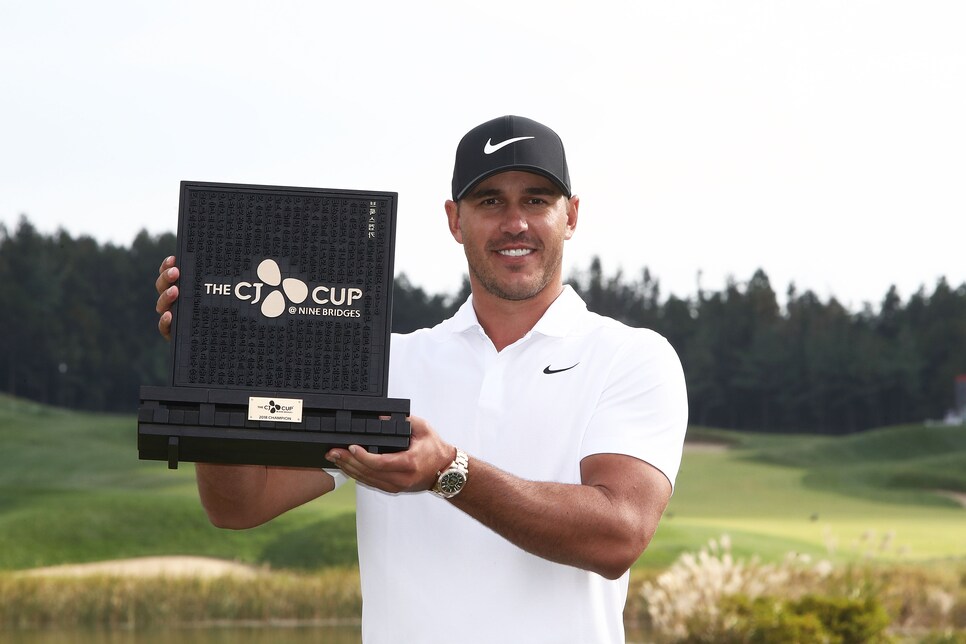 It also couldn't be more fitting that the guy who never feels like he gets enough due won in South Korea to move to World No. 1 while most U.S. golf fans were fast asleep. Sorry, Brooks.
Danielle Kang: Butch who? Yeah, yeah, Butch Harmon probably deserves a lot of credit for turning Kang's game around, but was he playing with her at the Gary Player Invitational when she shot 63 to kick off this hot stretch? Nope. And I know that because I was in that foursome that marveled as Kang hit all 18 greens on her way to firing a nine-under score. And now she's gone T-3 and WIN in her next two events. Coincidence?! Yeah, it's definitely a coincidence. But after a recent battle with the (gulp) yips, it's great to see Danielle playing so well.
Sergio Garcia: Talk about a horse for a course, Garcia won for the third straight time at Valderrama, and this time, he did it by five shots. Sergio certainly looks rejuvenated (Keep reading to see him show off some serious soccer skills) after his Ryder Cup performance so he owes European captain Thomas Bjorn for helping get his career back on track. In a similar move in 2009, Greg Norman made Adam Scott a questionable Presidents Cup pick and all Scott did was win the Masters a few years later. Oh, and special congrats to Sergio for his first victory as a father. Our seven-month-old daughters sure know how to stay on brand, huh?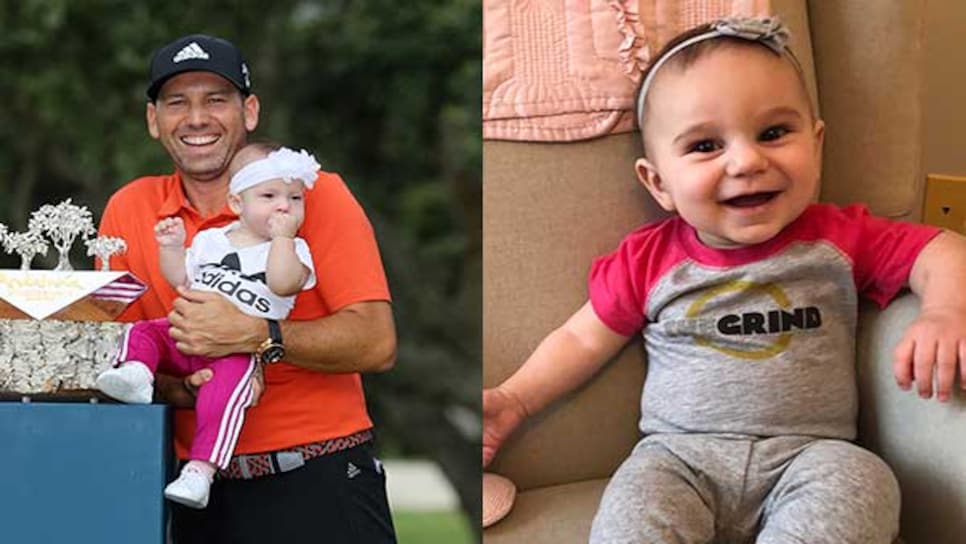 CJ Cup HISTORY: The CJ Cup has quickly established itself as a prime fall destination on the PGA Tour with a world-renowned golf course and the highest non-major/WGC purse, but let's keep its brief existence in proper perspective. The PGA Tour doesn't need to tweet that Paul Casey's hole-in-one is the first in the tournament's HISTORY or that Ryan Palmer's 62 is the lowest score in the tournament's HISTORY. Both were impressive feats, but the tournament has been around for two years. Calm down.
Old Masters courtesy cars: Apparently, players used to arrive at Augusta National in the Family Truckster from National Lampoon's Vacation. Seriously, look at Johnny Miller's ride in 1981: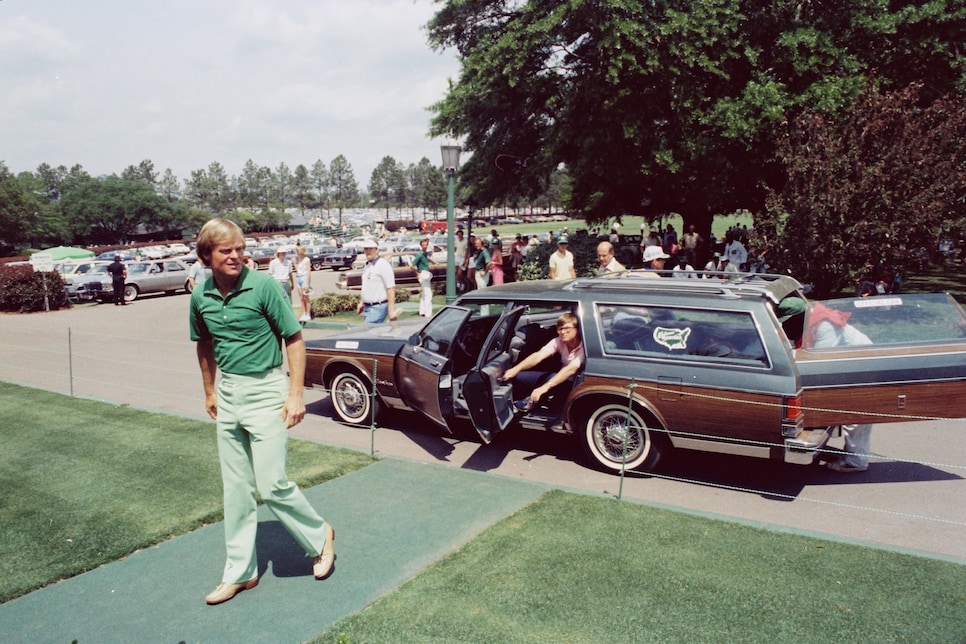 And here's Phil Mickelson and Bones unloading their sweet Caddie in 1996:
When old people say "things were soooooo much better back in the day," please show them these photos.
Messing with this security guard:
Good lord, that brute makes Brooks Koepka look puny.
The PGA Tour's Asian Swing continues in Shanghai for the HSBC-WGC Champions, AKA that event where they always do those really wacky pre-tournament photo shoots. Like this from last year: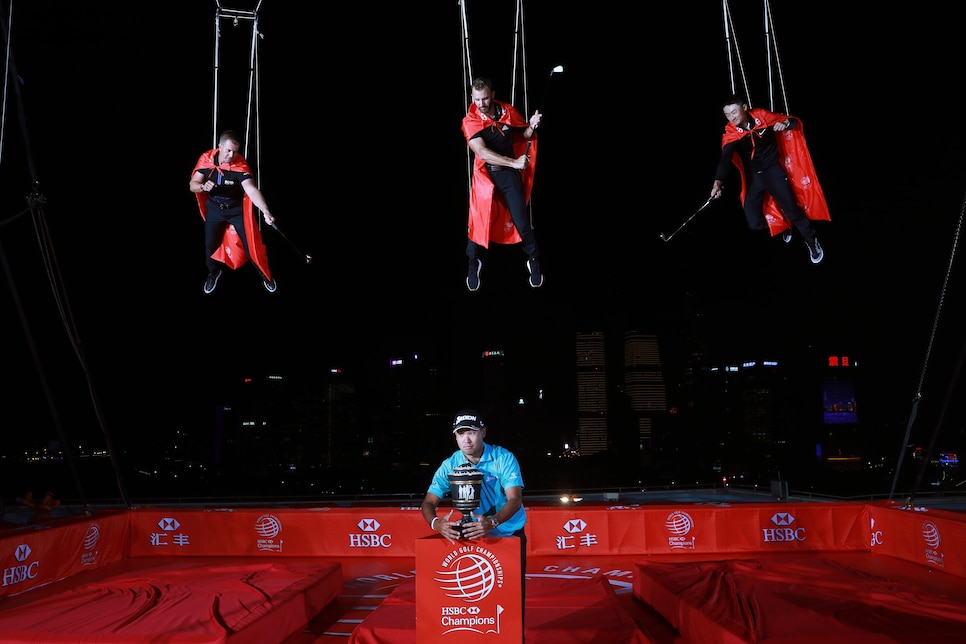 It seems as though the tournament is taking it a bit easier this year, though, after Henrik Stenson (pictured above, left) hinted that he was injured last year. "I'm no superman even though certain people thought I was superman." This year, a few of the guys played badminton instead and no one got hurt.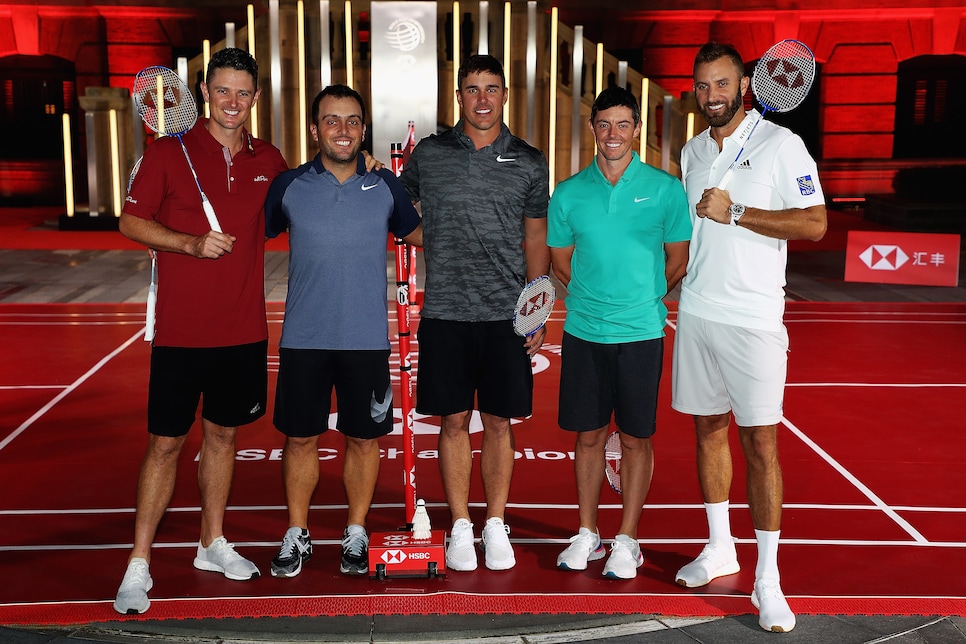 Random tournament fact: Dustin Johnson blew a six-shot, 54-hole lead last year, eventually losing to Justin Rose. There's a good chance that Rose and fellow newbie No. 1s this year, Brooks Koepka and Justin Thomas, wouldn't have ascended to the top spot if DJ hadn't matched Greg Norman and Sergio Garcia for the biggest blown lead in PGA Tour history.
RANDOM PROP BETS OF THE WEEK
— Dustin Johnson will blow another six-shot, 54-hole lead: 1 MILLION-to-1 odds
— Henrik Stenson will fly around in another photo shoot: 10 MILLION-to-1 odds
— Phil Mickelson drove that Caddie to Augusta's Krispy Kreme in 1996: LOCK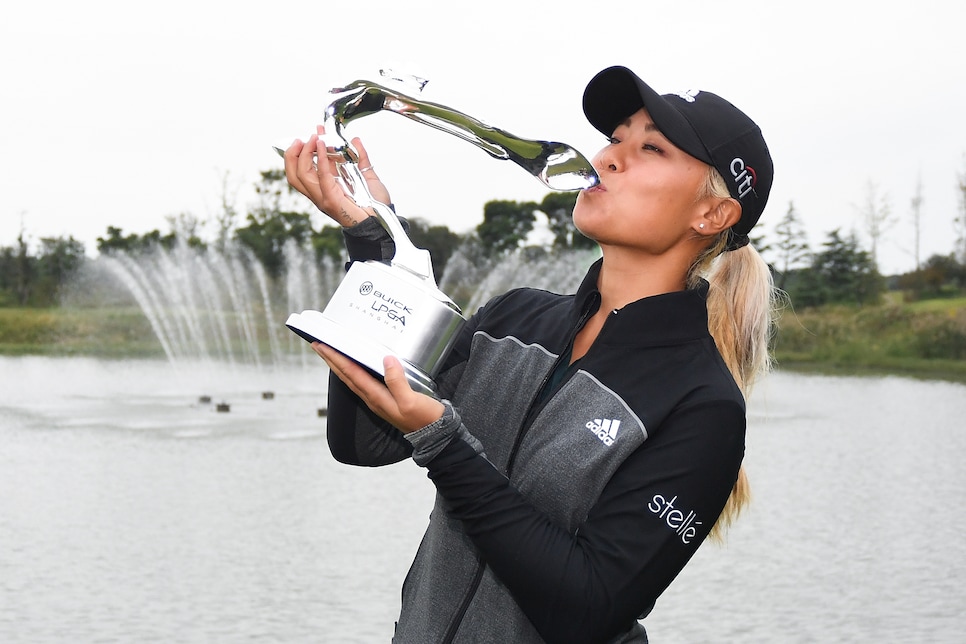 Get your head out of the gutter, people. It's a nice-looking trophy! (OK, so they should probably change that trophy. . . )
VIRAL VIDEO OF THE WEEK (HIDDEN TALENT DIVISION)
Before Garcia went out and kicked the field's butt, he did a different kind of kicking in a player-caddie soccer game. And good lord does Garcia have an impressive leg. Check out this long-range goal he scored on the pitch (How about that soccer, er, futbol terminology?):
(Activate bad British accent) Useful.
VIRAL VIDEO OF THE WEEK (LACK OF TALENT DIVISION)
THIS WEEK IN DUSTIN JOHNSON-PAULINA GRETZKY BROOKS KOEPKA-JENA SIMS PUBLIC DISPLAYS OF AFFECTION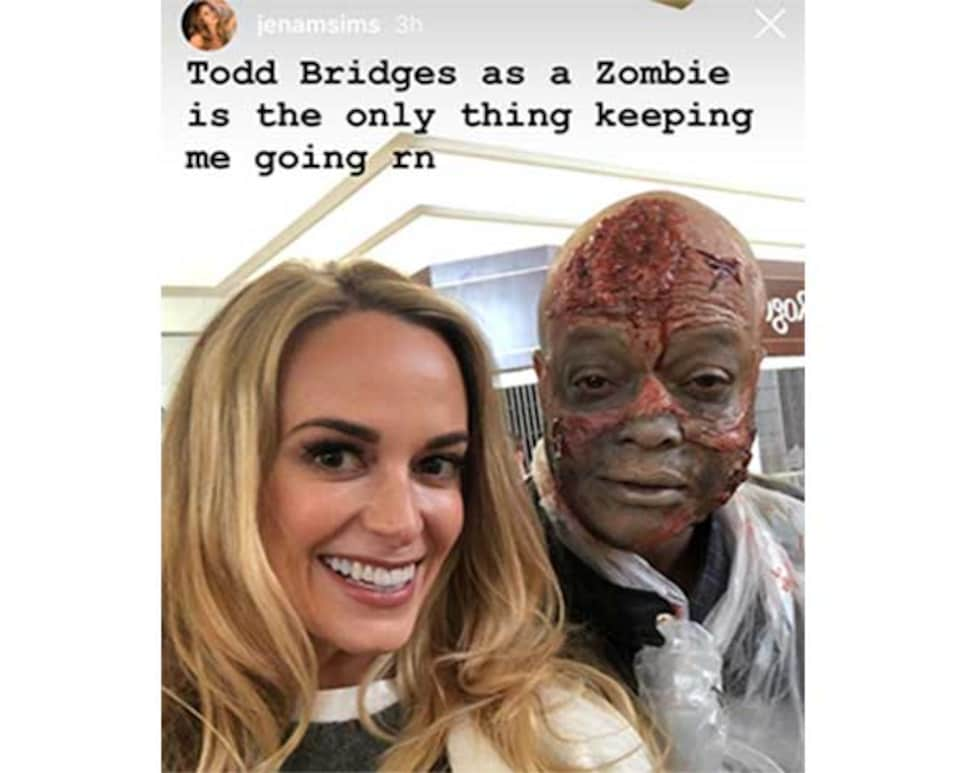 Wait, that's not Brooks. Looks like Jena is shooting another horror movie. Anyway, Jena also sent Brooks this message while he took care of business in Asia and take a closer look at her his T-shirt: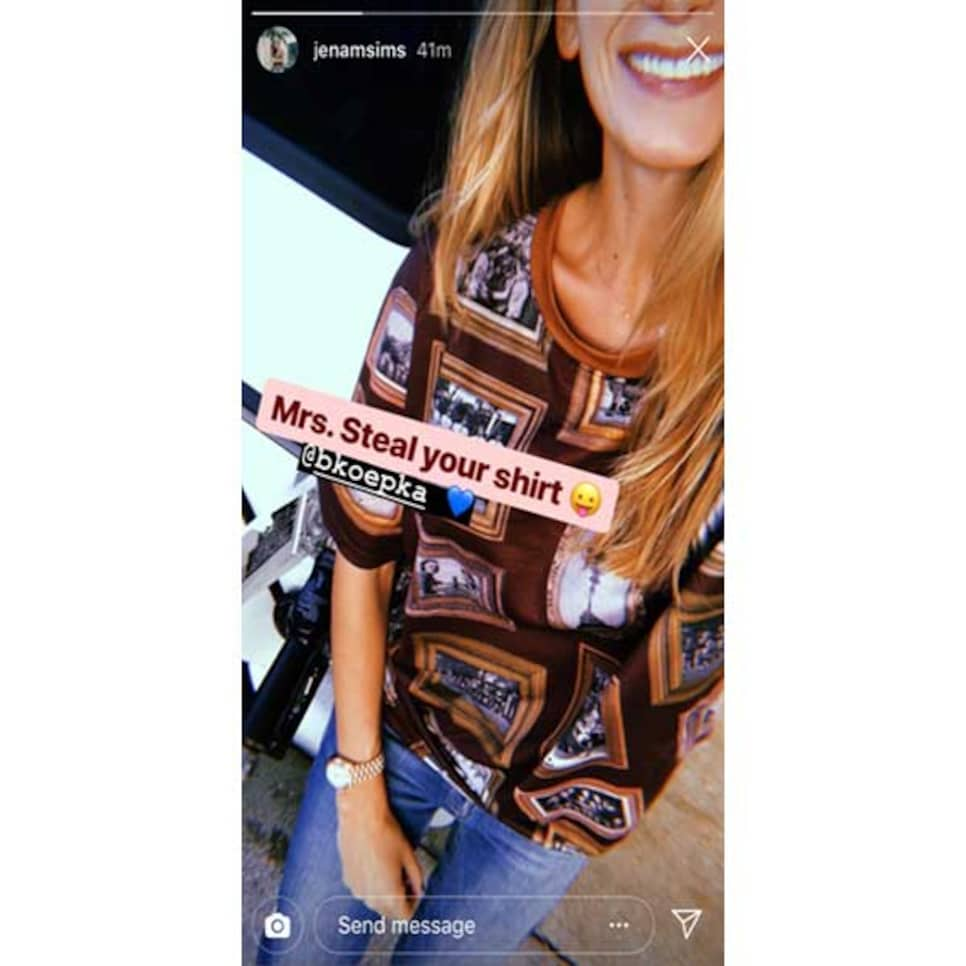 Apparently, there are replicas of that hideous 1999 Ryder Cup uniform?! Was this some sort of team gag this year?! Who was behind this?! How many of these t-shirts exist?! Paging Kathleen Zellner! This needs to be further investigated!
THIS WEEK IN PEOPLE OTHER THAN ME MAKING A HOLE-IN-ONE
Some dude was struggling with his golf swing so badly that he used a putter on an 85-yard par-3. And drained it.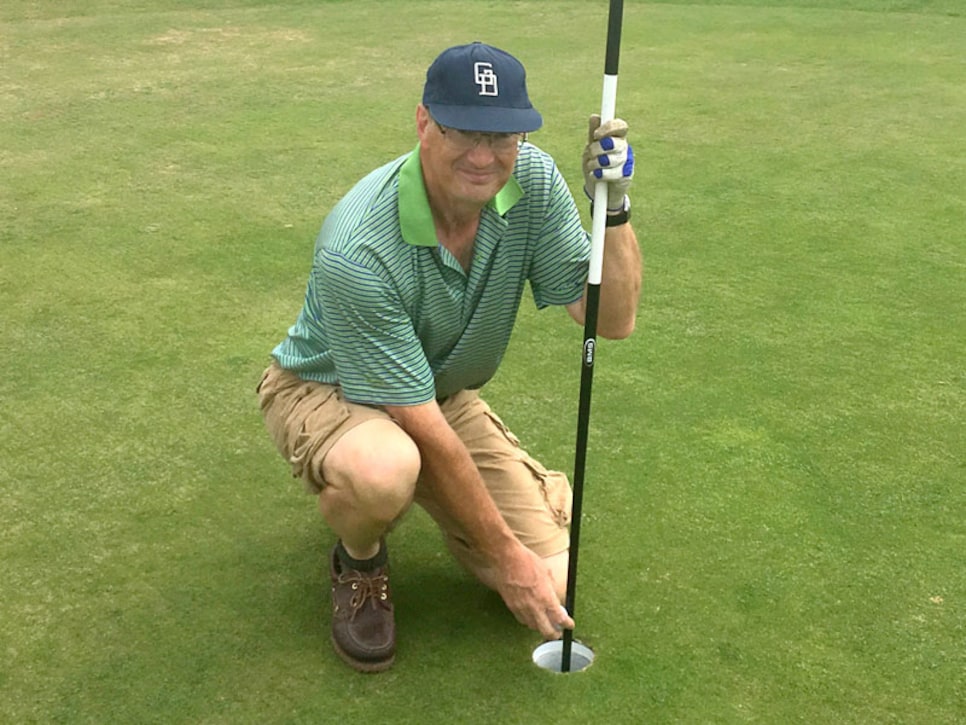 While wearing boat shoes to boot. Unreal.
THIS WEEK IN GREG NORMAN BEING GREG NORMAN
Apparently, the Shark is a big mani/pedi guy:
"The closest thing I can think about (Markelle) Fultz is what happened to my golf game. Like, I'm terrified over the ball. I've got no idea what's going to happen. That's the only thing I can really compare it to. I don't want to say he's got the 100 percent yips, but I have the yips on the golf course, and let me tell you something… it's a terrifying thing, plain and simple." — Charles Barkley. Sounds like the Philadelphia 76ers Markelle Fultz is still a, um, process. . .
Laura Davies won the Senior LPGA by four shots to sweep the circuit's two majors (she also won the inaugural U.S. Senior Women's Open by TEN). How did it take so long for her to get into the Hall of Fame again? . . . Speaking of Hall of Famers, newly announced one Jan Stephenson says she's been in talks about a movie chronicling her career and that fellow Aussie Margot Robbie wants to play her. If the talented Margot could learn how to skate to play Tonya Harding, picking up golf will be a breeze. . . . NBC used a secret code name for Paul Azinger ("Ruby Tuesday") while they tried to hammer out a deal with the announcer because their initial meeting was at a Ruby Tuesday in Florida. I'd say my code name in that situation would have been Chili's, but on second thought, that would probably defeat the purpose of having a secret code name. . . . And finally, you didn't need any proof that pink Starbursts are the best Starbursts. This is obvious everywhere (except maybe in Manitowoc County), but here is some incontrovertible evidence anyway in the form of a ravaged office candy tray in which none remain: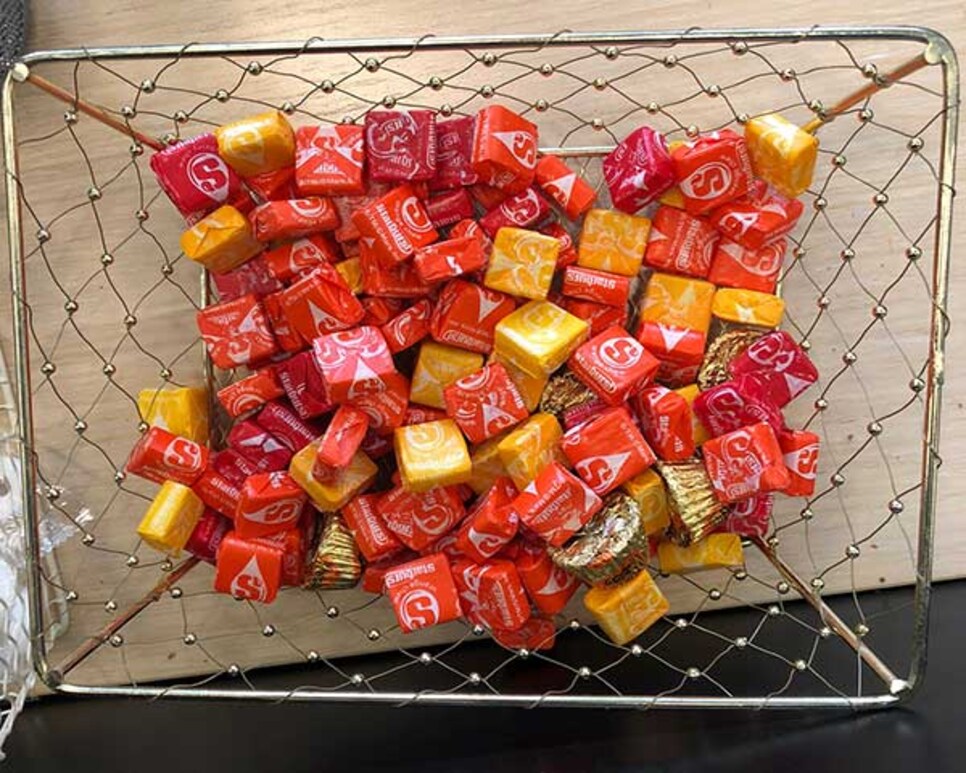 And no, this wasn't some sort of George Costanza candy lineup setup.
RANDOM QUESTIONS TO PONDER
Who will play Tiger Woods when that biopic comes out?
Will Steven Avery or Brendan Dassey ever get out of jail?
Do any other struggling tour pros want to play a round with me?