Brooks Being Brooks
Brooks Koepka sends warning shot to the golf world with one terrifying quote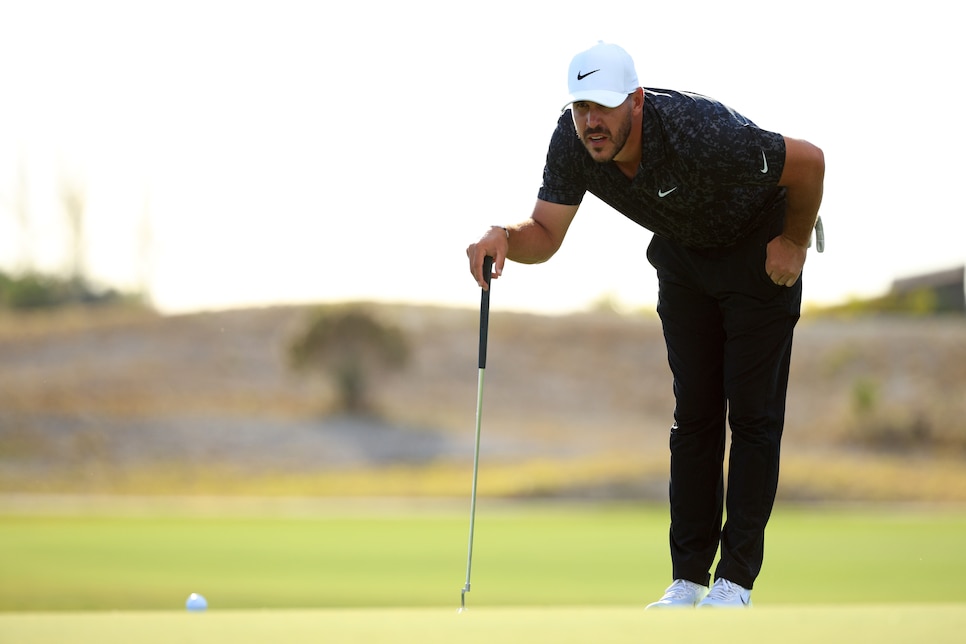 Looking back, Brooks Koepka's 2018-'19 season probably isn't appreciated enough. He had three victories, including the U.S. Open and the PGA Championship, made more than $7 million and had a pair of runner-up finishes. It was a year-long resume most golfers would take for their entire career.
It's also one Koepka thinks he can replicate, or possibly top.
Coming off his drubbing of Bryson DeChambeau in The Match, Koepka has kept it rolling at the Hero World Challenge. Through 36 holes he's one off the lead of ... Bryson DeChambeau, having shot a pair of 67s to reach 10 under. After a rough fall stretch that featured two missed cuts and a high finish of 38th, the four-time major champ is beginning to feel himself again.
"Now that I've got my swing under somewhat control … it's not 100 percent but it's really, really close … we're figuring it out and I'm just happy with everything right now," said Koepka.
Happy enough to return to his confident, somewhat cocky self. On Friday evening, Koepka was asked if he can return to his 2018-'19 heights, specifically if he can return to "peak" Brooks Koepka. His answer should terrify his opponents.
"That wasn't peak," he said. "That wasn't peak. Just wait."
Considering this is a man who once said he thinks he can get to 10 majors, this is hardly surprising. The best version of Brooks is yet to come, according to Brooks, and he shouldn't expect anything less.
For now, Koepka has two more rounds left in 2021, and an opportunity to play alongside DeChambeau on Sunday has presented itself should they be tied for the lead or near the lead after Saturday. Even if that does happen, Koepka has already considered that matter settled, naturally.
"I don't give any thought to it because there should be no Part 2," he said. "I mean, I won the online battle, he can't trash talk, and I've won the golf. So 2-0, it's tough to come back from."