News
Broadcaster Keith Jackson dies; he was an avid golfer who at 80 broke his age at Los Angeles Country Club North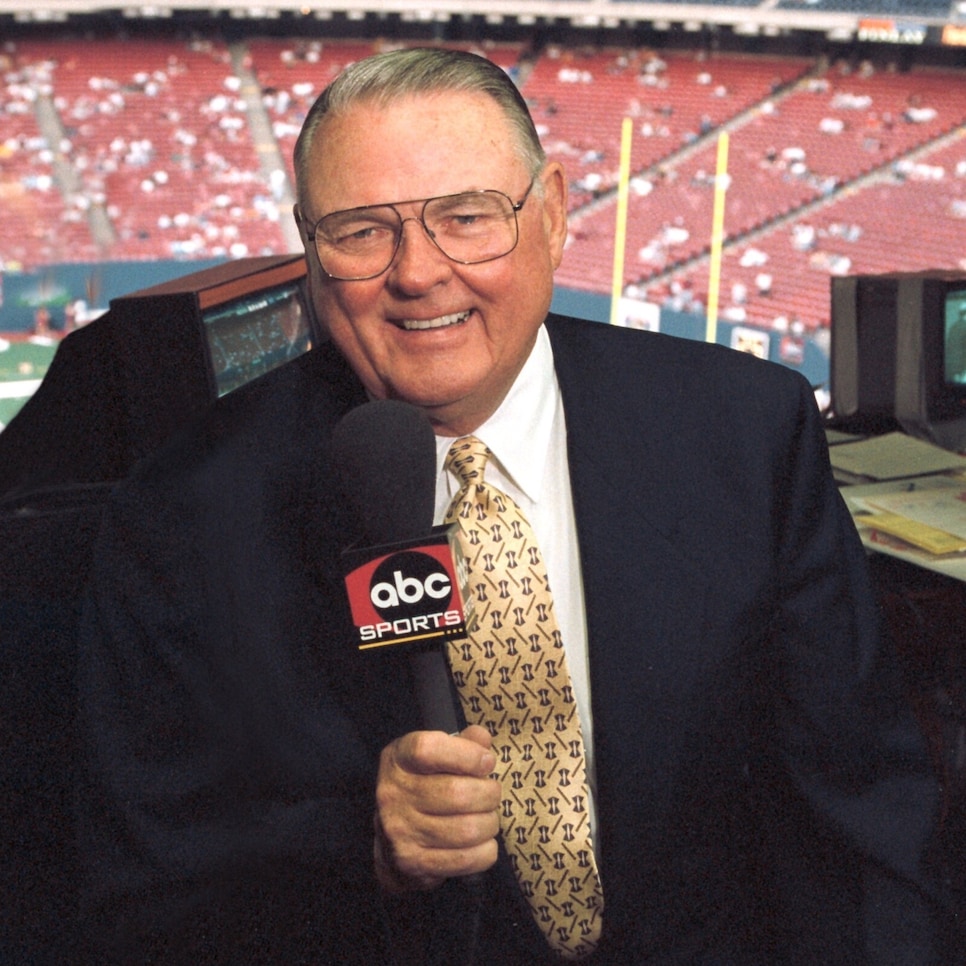 Keith Jackson, a broadcasting legend, was an avid golfer, who at 80 was breaking his age on the exceedingly difficult North Course at Los Angeles Country Club, where he was a member.
"My wife and I play about three days a week and I play with a bunch of buddies over there that I call the mafia," he told me in 2009. "Why? Because two days after I turned 80 I shot 78 and lost $70.
"I played the renowned North Course there for years. But now I'm a senior citizen on a fixed income with limited ability, so I play the South Course."
Jackson, 89, died on Friday night. He was a fixture at ABC Sports and was best known for broadcasting college football, though he also called PGA Tour events for the network for a time. Two of his trademark calls were "whoa Nellie," and "the big uglies," as he called down linemen.
He was introduced golf as a boy growing up in Carrollton, Ga. "Several people were growing up at that time in the golf business," he said on a Callaway Live episode. "Doug Sanders was just up the road. Louise Suggs and her family owned the golf course there in a little town [Lithia Springs] halfway between Carrollton and Atlanta." Jackson said he used a first baseman's mitt to shag practice balls there.
At his best, he said, he was probably a four handicap. In 2009, he still was a strong player, with an index of 10.8. He played in the Bob Hope Chrysler Classic that year. "I played eight days in a row, including four in the Bob Hope," he said. "I'm 80 years old, with artificial knees. That's hard."
Jackson, given his television credentials, was surprised that Los Angeles CC even allowed him to become a member.
"I have no idea how I got in, considering its history of excluding those from the entertainment industry," he said. "We were members at Bel-Air Country Club, when Howard Lester, Jay McMahon and Manny Sheridan asked me if I'd like to join the Los Angeles Country Club. It is a great facility. 'Of course,' I said. That was 1980.
"We belong to Shoal Creek, down in Birmingham, Ala. Hall Thompson, who founded Shoal Creek, is a good old friend. I have a great fondness for him and respect him highly. All of a sudden at Thompson Cottage there's a Jackson Suite and we became members."