News
Dick Enberg, 1935-2017: Legendary broadcaster anchored NBC golf telecasts, 'plucking the right strings'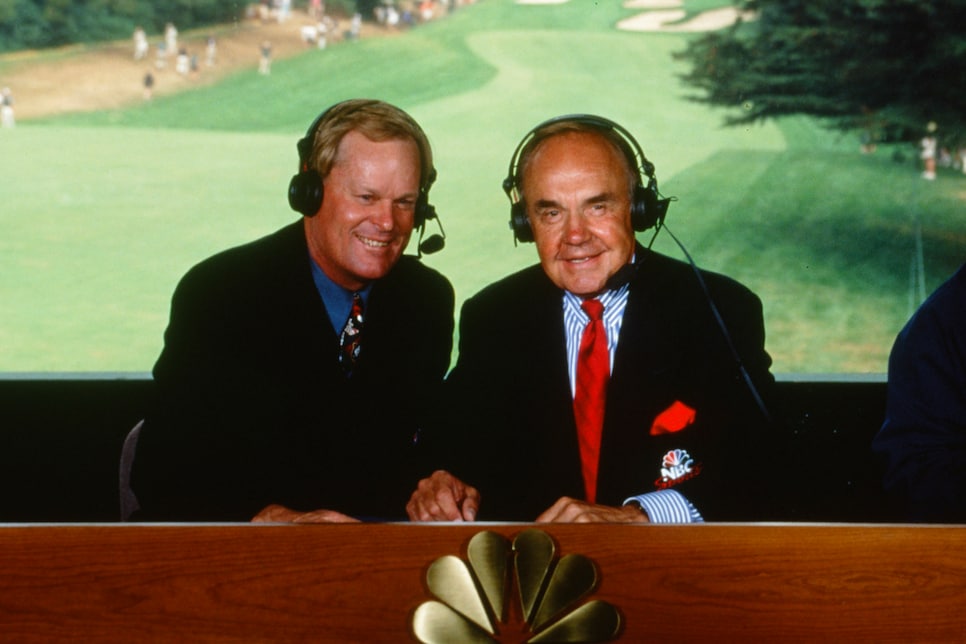 It likely will be noted only as an afterthought in the many tributes forthcoming in the wake of his death on Thursday that legendary broadcaster Dick Enberg also had golf on his resume. That he excelled at it, well, that is a given.
Enberg, 82, who died at his home in San Diego, was the anchor for NBC golf telecasts from 1995 through 1999, which included Ryder Cups and U.S. Opens, among other events. He was renowned for using the phrase, "oh, my," as he did in this call when Payne Stewart won the U.S. Open at Pinehurst in 1999:
In 1995, Richard Sandomir, the TV Sports columnist for the New York Times, noted how skillfully Enberg handled the broadcast of the European Ryder Cup victory at Oak Hill.
"In what may have been the perfect mating of an emotional announcer with an emotional event, NBC's Dick Enberg found a home at the Ryder Cup," Sandomir wrote. "Enberg, who sometimes gushes like Old Faithful, emanated the proper amount of schmaltz on Sunday, plucking the right strings, choosing the best of bon mots.
"After Seve Ballesteros chipped in at the second hole, Enberg said, 'Ballesteros, the prestidigitator from Pedrena.' Later, he said: 'Irish eyes are crying, Philip Walton has won it for Europe.' After an interview with Jay Haas, who lost to Walton, Enberg added: 'Some are heartbroken and some will be smiling with that heart for two years.' Following shots of a forlorn Phil Mickelson, Enberg said, 'What a great chasm of emptiness being there, hoping you can win it for your country, and now it matters not at all.'"
"Of all the sports I've done," he said, "the most difficult of all is golf. Baseball is the most demanding, but golf for an announcer, I wasn't prepared for the shock of calling a sports event where you don't see any of the action live…In golf you set up at 18 and you've got a nice shot of the clubhouse behind you to prove you're really at the event and there are three monitors here and you call the entire event off monitors."
He worked side-by-side with analyst Johnny Miller, whom he put on a par with his tennis partner John McEnroe.
"He's like McEnroe," Enberg said. "No filter, no filter at all. If he sees it it goes right to his mouth and he says it.
"Miller is so good that he could literally stay at home, put his feet up on the ottoman, and have a monitor there and they would just go to him on any shot. Between the sight of the shot being made and the sound he's incredible. 'That's going to be short to the right. That's going to hook to the left.' He sees the game better than anyone I've been able to observe."
Enberg also contributed to CBS' telecasts of the Masters and PGA Championship for several years. He was working San Diego Padres games until he retired from broadcasting following the 2016 season.