A Dissenting View On Turnberry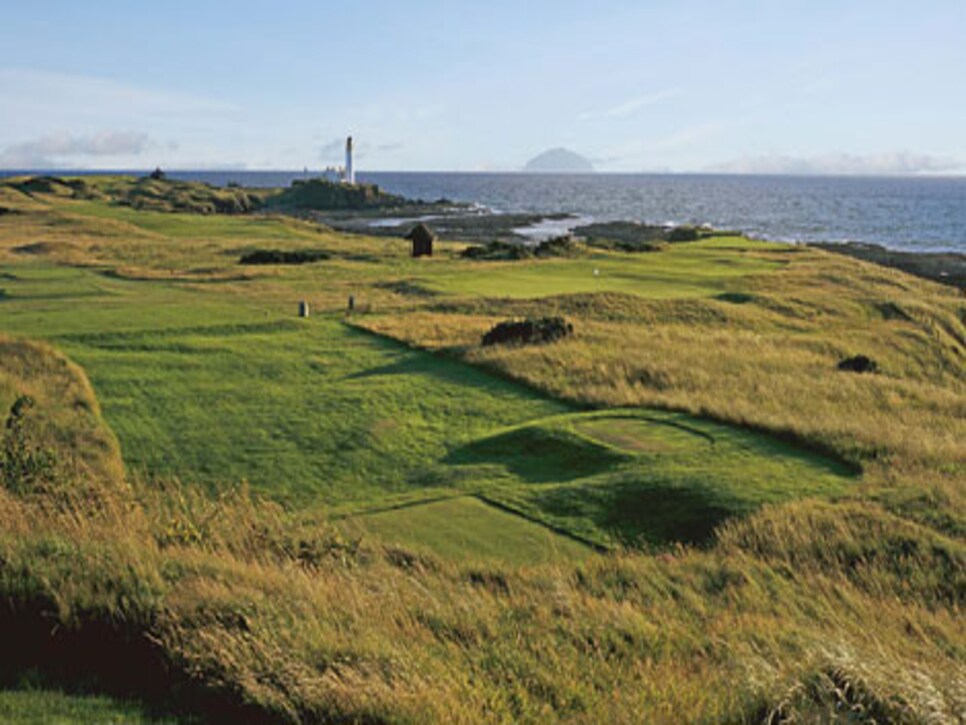 In moments at this time of year when my thoughts turn to golf on the Olde Sod, I like to smile a nod of thanks to Carnoustie and Hoylake. The happy reason is that those courses came back on the rotation after a long absence and saved me from having to cover even more British Opens at silly old Turnberry.
Yeah, Turnberry. The resort course with the lighthouse and the island bird sanctuary in the background that offers photo-ops instead of the rigors of a major championship.
I look at it this way. If Carnoustie hadn't returned to host the 1999 Open, where Inspector Clouseau took up golf, it might have gone to Turnberry. And if Carnoustie hadn't been host to the Sergio Garcia-Paddy Harrington Fumble-Off in 2007, it could have been played at Turnberry.
It's also safe to say that Turnberry could have been the venue in 2006 if elegant old Hoylake hadn't re-entered the R&A's mind-set. As you know, Hoylake was where Tiger Woods made one of his comebacks.
Silly old Turnberry seemed quaint the first time we all went there in '77, the year of the Watson-Nicklaus thing. It was OK and perfectly thrilling that Tom and Jack shot 4,000 under par. We thought it was strictly them.
Then in '86 Turnberry began to be exposed despite the rain, wind and chill that prevailed most of the way. That's because Greg Norman shot a 63 in the second round with three bogeys and two three-putts. It was a round that could have been a 59 and should have been a 61. And this was a major?
It was the same tournament where Seve Ballesteros shot a 64 in the last round even after finding his tee shots everywhere but on Ailsa Craig and inside the lighthouse.
What finally did it for me was the '94 Open, Turnberry's third. This was the time Nick Price equaled Watson's immortal 268, and Jesper Parnevik equaled Nicklaus' legendary 269.
It was the Open where we first really got to know Parnevik and his funny cap with the upturned bill, and worried that a strong wind might lift him up to the top of the luxurious Turnberry hotel on top of the hill, all grand and white and massive.
It was the Open that rained sub-70 scores. There were five 64s and six 65s, including those by an aging Watson (Tom), one by another Price (Terry, not Nick) and one by a Turner (Greg, not Lana). As for the 66s, there were 18 of them, including one from somebody named Jonathan Lomas.
What is it about this course? If my memory still serves, it's an eight-hole layout, from the fourth through the 11th -- the holes closest to the Firth of Clyde, or what you call your water. I hear they've toughened it up a bit for this year's Open. Otherwise I remember it as a flat, boring public course with 12 par 4s that all looked the same, with four unremarkable par 3s, and with two dull par 5s that every middle-aged, under-clubbed and over-medicated recreational golfer could reach in two.
But don't get me wrong. I always enjoy going back for the charm and scenery of Scotland's west coast, where, among other things, you can mingle with the history of Prestwick and Troon. And it will be interesting to see if Turnberry's par is still 65.
FREQUENTLY ASKED QUESTIONS
Just How Good Is Turnberry?
The Ailsa Course is Britain's Pebble Beach. It ranks fifth on Golf Digest's list of the 100 Best Courses Outside the United States, behind Royal County Down, the Old Course at St. Andrews, Muirfield and Royal Portrush (Dunluce).
Can Anyone Play There? Like Pebble, it's a resort. Visitors can secure tee times for less than $140. Guests at the amazing hotel pay $112; rooms start at $213.
Why hasn't it been an open site for so long?
Just three Opens have been at Turnberry, in 1977 (won by Tom Watson), 1986 (Greg Norman) and 1994 (Nick Price). The R&A demanded infrastructure improvements, especially a new road.
Coverage is by TNT and ABC July 16-19: 7 a.m. to 7 p.m. ET and PT for the first two rounds, 7 a.m. to 2:30 p.m. ET Saturday and 6 a.m. to 1:30 p.m. ET Sunday.
Which players should I expect to contend?
Turnberry has a habit of identifying the best player of the day, so keep an eye on Tiger Woods and Phil Mickelson, though Mickelson has only one top-10 finish in 16 Opens. Padraig Harrington is going for his third consecutive Open victory -- there hasn't been a three-peat since Peter Thomson did it in 1956.
2010, St. Andrews, Scotland; 2011, Royal St. George's, England; 2012, Royal Lytham & St. Annes, England; 2013, Muirfield, Scotland.