News
St. Andrews Brings Its A-Game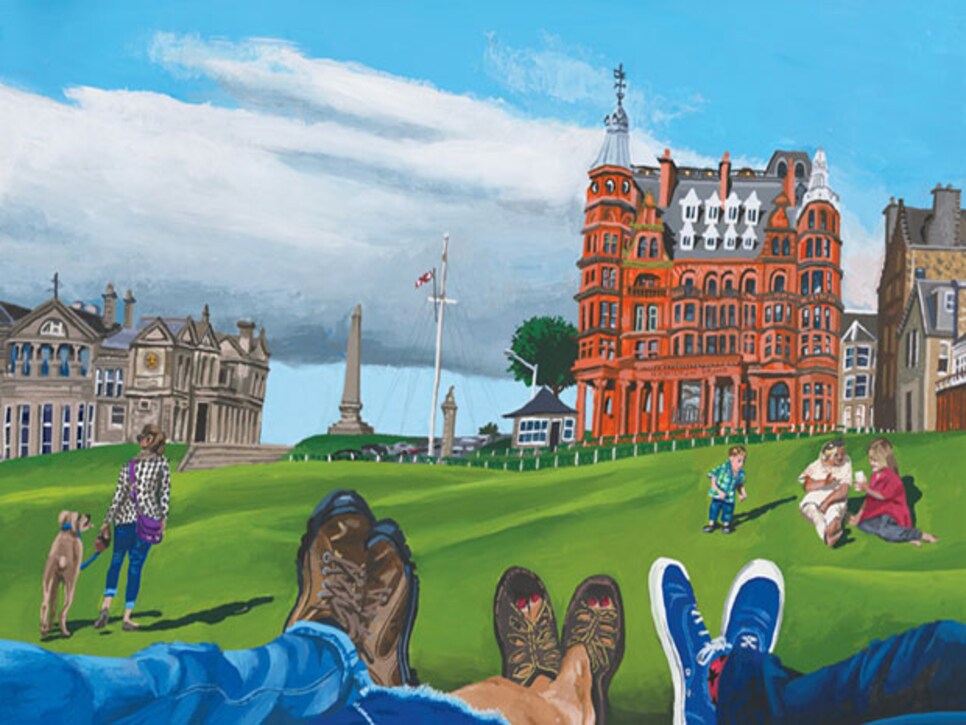 The first time I saw St. Andrews was on a bicycle. My clubs and clothes had been misplaced by the airline, yet my third checked bag--the cardboard box in which my upstate New York bike shop had expertly disassembled my mountain bike--made it. This was just as well, because I couldn't have boarded the cramped bus to Edinburgh train station carrying it all. And this being a period of life when I was long on time and short on money, when I finally arrived to Leuchars, rather than pay eight quid to taxi the final leg, I ripped open the box there on the train platform and wrenched my bike together, inexpertly, using the few tools I'd packed with it.
It was a sunny August day. The wind made for tough pedaling, but to have a Scottish gale whistling away my cobwebs from the overnight flight felt like a proper welcome. The signs to St. Andrews are straightforward, and it wasn't long before The Auld Gray Toon rose into view above my handlebars. The Old Course Hotel--there it was!
I knew it from British Open telecasts. And golfers! Some carrying, others with pushcarts, strolling up burned fairways toward greener greens.
It looked easy. I knew this was a wrong and terrible word for the planet's most historic golf course, and one I best not share. But unless my depth perception had gone awry somewhere over the Atlantic, I was certain I could drive most of these greens with a 3-wood. And I'm not long.
As I'd soon learn, there were six courses in town. Directly northwest of the famous hotel lies not the Old Course but the Balgove, which has a par of 30 and tips at 1,520 yards. It's also about here that the road switches from paved to cobblestone. My tires shook and my skull rattled as if to reinforce how stupid I was.
Such a misreckoning would be forgivable for another visitor. But I'd come to spend the next 21 months--two academic years sandwiching a summer--as a Ransome Scholar. This postgraduate award, which provides full tuition, room and board and travel expenses to a "well-rounded" American scholar-athlete, was created to honor the many contributions to golf made by Ernie Ransome, the famous "dictator" of Pine Valley. A successful businessman, Ransome held posts in several top golf committees, including the one that delivered the inaugural Presidents Cup, and was a football and lacrosse star at Princeton in the '40s. Me? An art major coming off an intensely mediocre golf career at Washington & Lee, I guess mine had been a down year for applicants.
The University of St. Andrews, founded in 1413, is the third-oldest in the English-speaking world. Much of the campus is set within the same weathered stone walls that frame the shops, pubs and flats of the town. A turn down an empty alleyway can give the illusion you've stepped back 1,000 years. Late at night, walking through a dark close--the enclosed alleys built in the times of shorter humans--never did a moment feel more medieval than if a shadowed figure was coming the other way. His footsteps seemed to echo so much information--weight, build, speed, temperament, intent--that you almost listened for the clanging of a long sword. Of course, you're ripped back to modernity the moment you grip the lighter in your right pocket to fortify your fist. And then, as always (except for once), the figure brushes past wordlessly and your heart flutters in relief.
Not to suggest St. A is a rough place. Just the contrary. For each pug-nosed soccer fan in matriculation were 10 stylish gallivanters from London or Brussels with Daddy's credit card looking to do little more than read some poetry and get laid. For students before the Renaissance, when theology was the go-to major, violence surely occupied a larger presence in their lives. A few plaques about town mark the sites of notable Dark Age executions. The white cross of the blue Scottish flag represents, of course, the cross upon which Saint Andrew himself was slain. In the St. Andrews I knew, blackout-drunk freshmen wearing lampshades could be expected to arrive to their dorms safely. Indeed, the royal family could've sent Prince William anywhere. The only time I saw security agents roaming was the day the queen came up for her grandson's graduation. The prince didn't play golf but frequented the same pubs as everyone, and one night, in no condition to meet royalty, I shook his hand. The legend is that the day he switched his major from art history to geography, so did 50 other girls hoping to become Kate Middleton.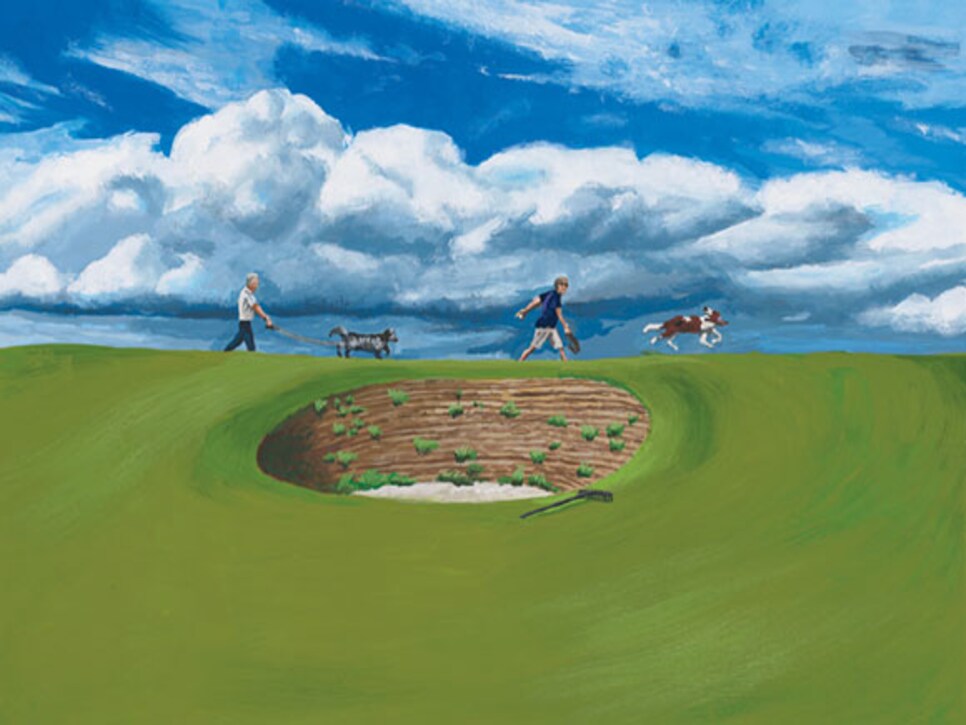 As for my living quarters, the best quality was, it was easy to find. In this amalgam of gothic stone, Gannochy House, the only 20th-century poured-concrete cube in town, stood out like a sore Bauhaus thumb. My floor was shared with 11 other postgraduates. The communal area was a kitchen like one might find in a small boat, with an adjoining room for a folding table, chairs and individual cubbies for dry goods that about half the owners secured with padlock.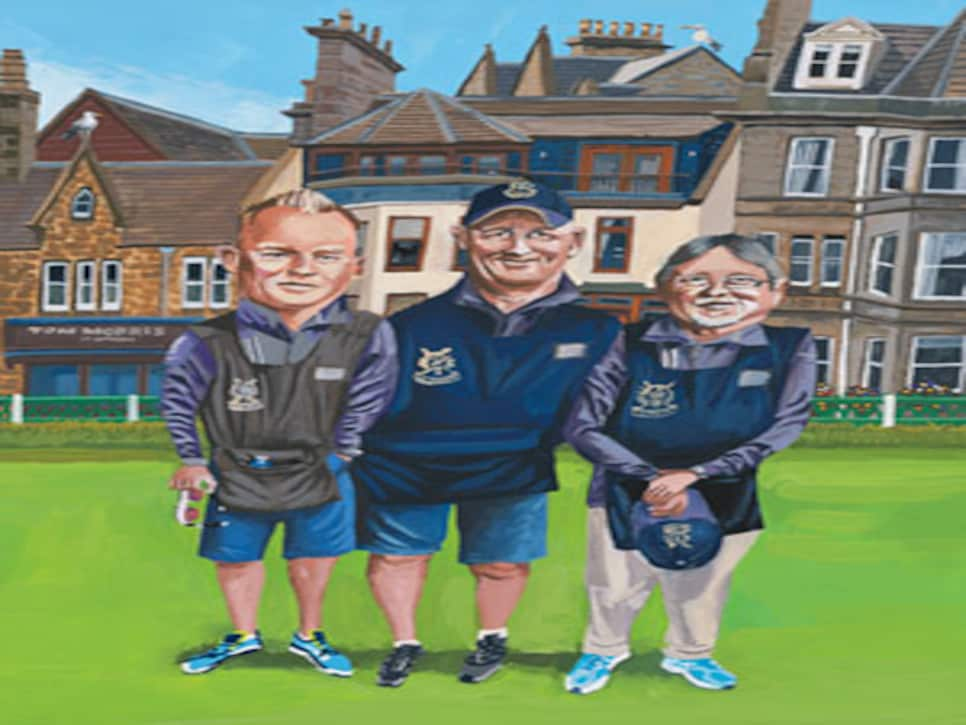 Four young women from Shanghai dominated the space with rice cookers, strings of drying peppers and dishes of unknowable pickling items. All were very friendly and would giggle at my put-on apprehension each time one insisted I try some delicacy. Once I found the kitchen full of a smoke so potent I vomited. The name of the girl serenely tending the pan of billowing smoke was Ping, who was the prettiest. Once I told her that her name was the same as my irons. But her English wasn't much. Same as the others, she was studying "marketing" and answered the question with that one word.
Not to harp on food too much, but the question of sustenance can loom large in a foreign land. And it was in this tiny kitchen that I first learned to cook for myself. I'd been warned the university dining system was less generous than the all-you-can-eat smorgasbord to which I'd grown accustomed in America, and so fearing Oliver Twist moments clutching my empty porridge bowl after a rain-soaked 18, I elected to take control of my food stipend. So it was that in Tesco, the British grocery chain that sells everything from toothpicks to liquor to car insurance, I encountered the scene that typifies the essence of St. Andrews: a shopper bending to check the date on a milk carton, his golf clubs slung over one shoulder.
On my trips to Tesco, where I navigated products like blood sausage, gammon and goat's milk (whose label was a hue dangerously similar to normal bovine 2 percent), more often than not I would see another shopper with golf clubs. Per capita, St. Andrews has the most golfers with handicaps under 5 in the world, or at least this is what locals claim. I believe it. Almost everyone I met was a diehard. The effect was that the boundary between my golf life and regular life vanished. My standard golf outfit--long underwear, fleece, waterproof top and bottom, wool hat, mittens--I could wear anywhere without explanation.
My best friend, I met right away. Alasdair Woodman was a Scot with a posh accent who feigned rage anytime someone mistook him as British. He was also the captain of the University Golf Club, which meant he presided over the weekly meetings any of our 150 members could attend. In reality, a core group of about 40 comprised these drink-ups, and the three teams--the Firsts, the Seconds and the Thirds--that competed against other universities. After match results and other announcements, we'd enjoy a simple dinner of steak pie or fish and chips, and then pitchers of Tennent's lager would begin to arrive to our tables in foursomes and threesomes (and then mercifully twosomes and onesomes) to supply the fuel for games of singing, counting and other mental gymnastics until no one could walk.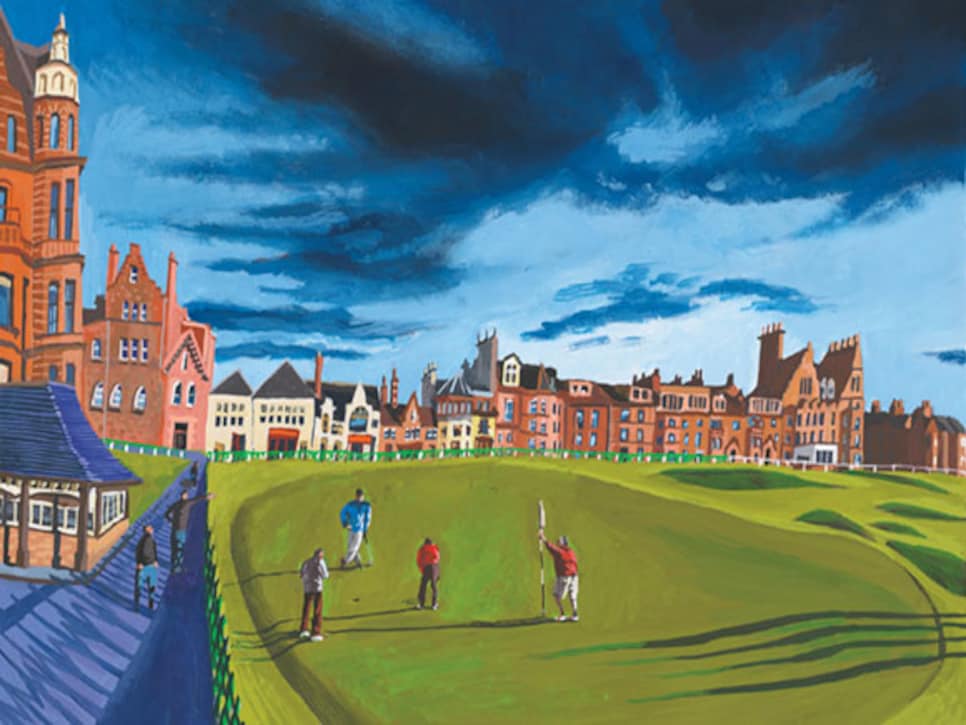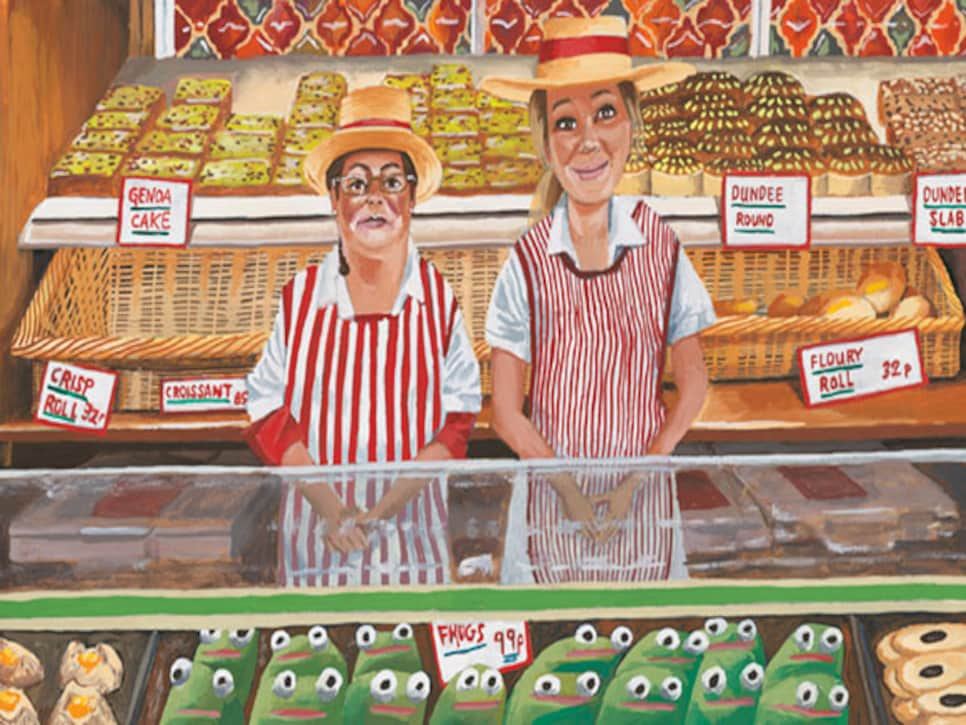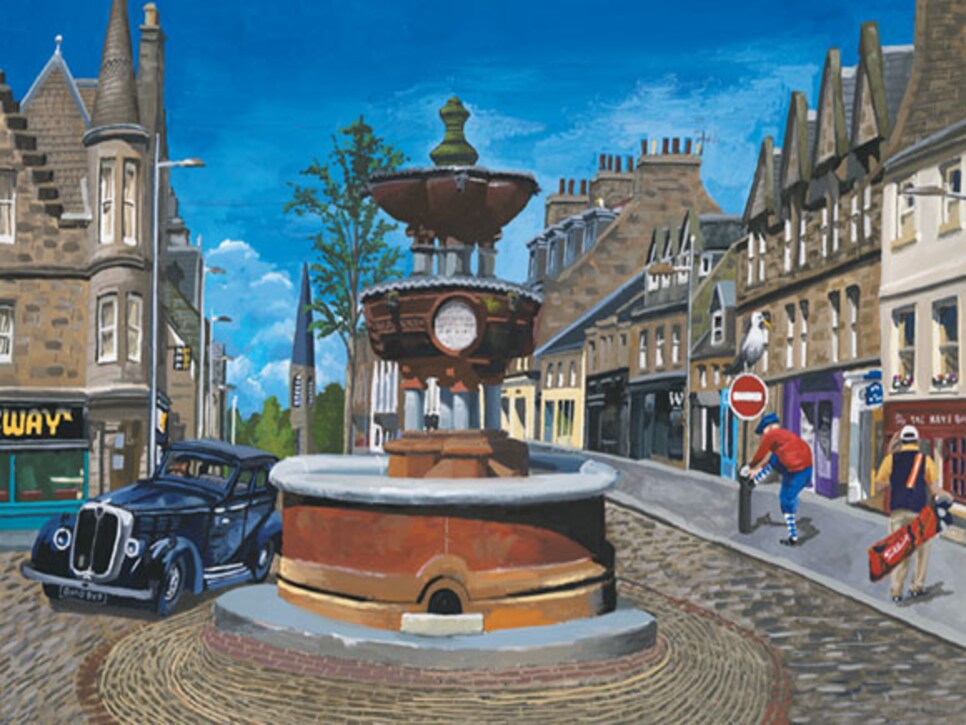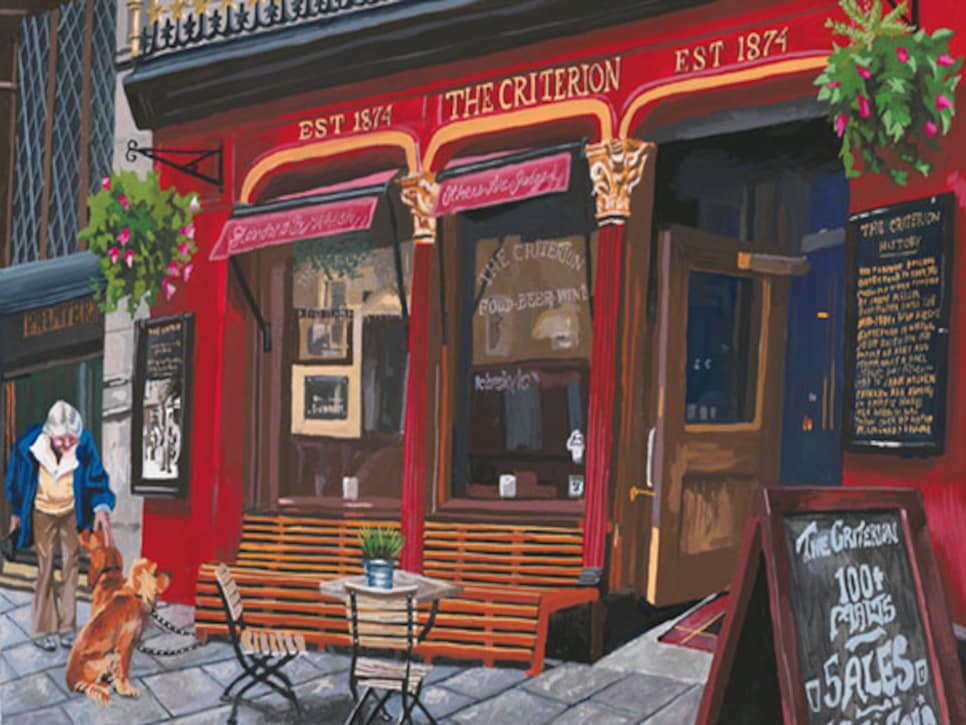 The ability to play well with a hangover drew great respect. It seemed every golfer was evaluated on two levels: how he could play, and how he could play stumbling straight to the first tee with no range balls. Despite our lack of formal university support (no paid coach and but a pittance for our shirts, bags and travel), the standard was high. As a 2-handicap, I played only for the Seconds, and improved a lot before I barely played my way onto the Firsts. (In addition to countless other rounds, I estimate I went around the Old Course 140 times, half playing and half working as a caddie. As a local, my yearly pass for unlimited golf on all six courses was just £110, or what one round on the Old might then cost a tourist. Immersion in links golf did wonders for me. Though my one achievement came later when I missed the cut at the 2013 U.S. Amateur, the sharpest my game ever was, and likely ever will be, was in Scotland.)
But what about school, you might be wondering? Yes, I did attend classes, earned a degree, and enjoyed milder, more cerebral relationships with folks from the English department. But those stories are for another time. I have room for just one more.
When you're watching this year's Open Championship, know that the building on the 18th hole that gets pinged by more sliced tee shots than any other is the elegant Rusacks Hotel. It was here that Alexandra, a brunette from Dundee who owned many beautiful scarves, and I went on our first date. The event was a whiskey tasting, and I thought my eagerness to imbibe her culture's native elixir might win points.
Turned out she didn't drink whiskey (more of a chardonnay girl). So I drank for both of us, and instead of six drams I had 12. How it worked was, each whiskey was introduced by its distiller, who would then speak about the particular merits. After each sampling, members of the audience volunteered what their palates had noticed. I kept mute. Then a final "mystery whiskey" was produced. I downed our two servings, and feeling a rush of confidence, perhaps from knowing I had none more to drink, stood up and clinked my glass. To the entire room I proclaimed this the superior whiskey of the evening, and cobbled together verses about its flavors that no one should ever remember.