The Loop
British Open odds: How I'm wasting £60 betting on the Open at Royal Birkdale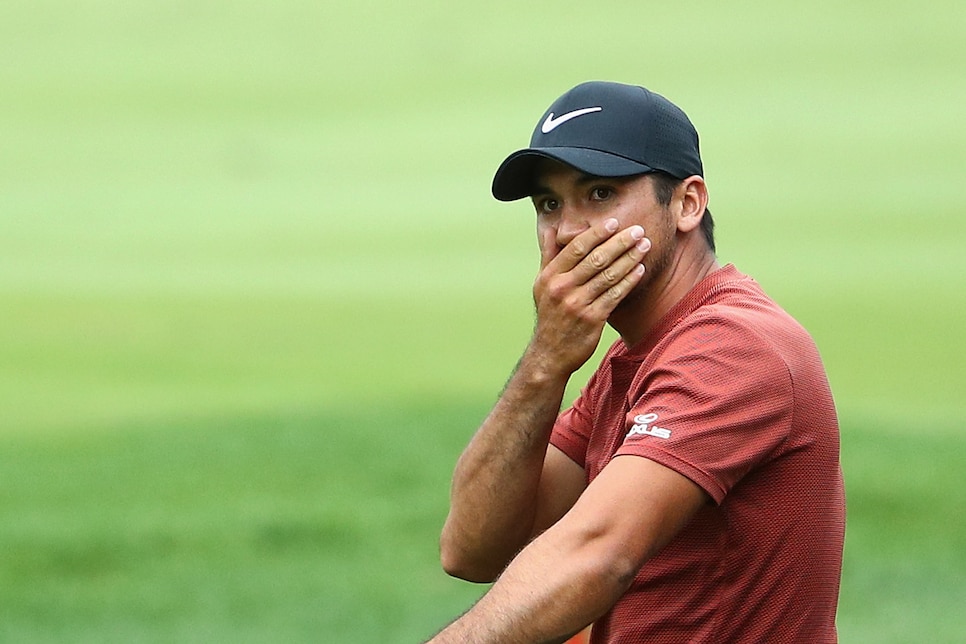 BIRKDALE, England — This week's British Open fantasy picks have a twist: they're all predicated on gambling. OK, so that shouldn't come as much of a surprise because I'm coming to you from the U.K., where betting parlors dot the landscape like Waffle Houses in Georgia. And that's probably why I received such a weird look from the landlord of our rental house when I asked her where to find one within two minutes of my arrival. Or maybe she thought I was a degenerate gambler. Anyway, I found one, and then did some damage to my wallet.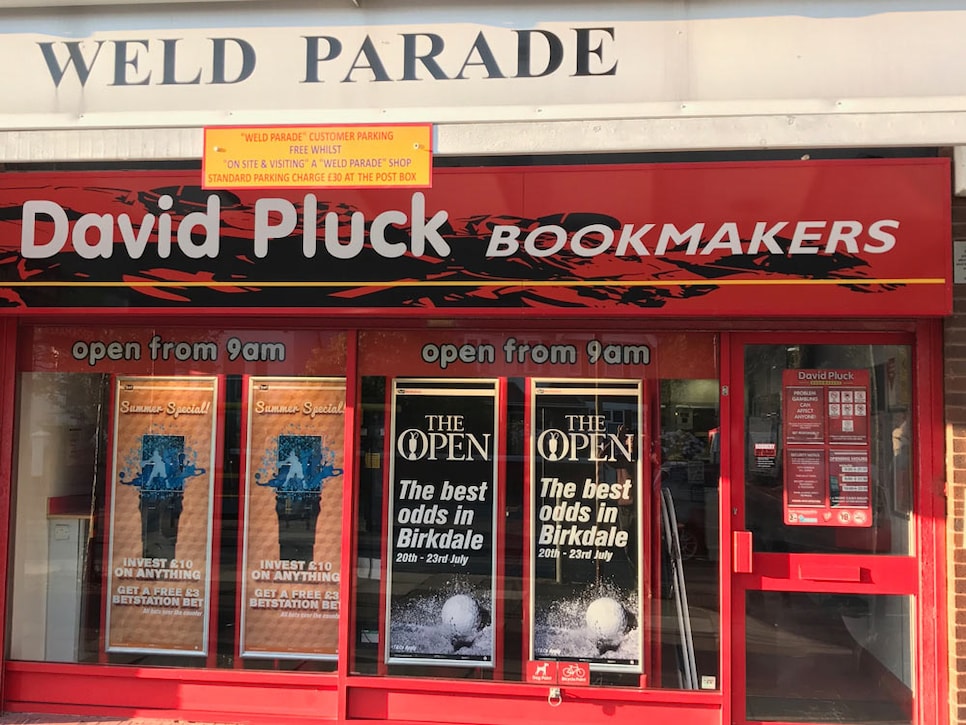 But before we get into my locks, here's my weekly chat with Joel Beall in which we make our usual fantasy picks, discuss why old golfers play well at the Open, and come up with a crazy scenario for how this week could play out like Rocky IV. Please have a listen:
OK, now let's focus on making some real money. I placed the following bets at a David Pluck, which was offering six places for "either way" bets, meaning if you bet £5 on a player either way, you've got £5 on him winning and another £5 on him finishing in the top 6 (at 1/4 of his odds to win) for a wager totaling 10 pounds. Here we go:
Sergio Garcia (£10 to win at 18/1): Yes, he already won the green jacket in April, but if Mark O'Meara could pull off the Masters-Open double at Royal Birkdale, why can't Sergio? Besides, I bet on him to win the British Open every year. If he wins the one time I don't, I won't be happy. Garcia has the lowest odds of anyone who I'm betting on. I had also planned on backing Jordan Spieth, but I can't bet on two players at sub-20/1 odds out of principle. Sort of like how I refused to pay to use the bathroom at the Liverpool train station out of principle. True story.
Adam Scott (£10 to win at 28/1): A difficult Royal Birkdale, which puts a premium on iron play, sets up well for ball-strikers like Garcia and Scott. Plus, the the Aussie seems owed a claret jug after nearly winning three straight years from 2012 to 2014. With a lot of rain in the forecast, could we see him winning another major in the mist?
Ian Poulter (£5 either way at 66/1): Like local favorite Tommy Fleetwood, Poulter is the "sleeper" who has been talked about so much he's no longer a sleeper. Still, he's good value because he finished runner-up at Royal Birkdale in 2008 and ranks a sneaky sixth on the PGA Tour this season in strokes gained: approach-the-green.
Bill Haas (£5 either way at 150/1): Laugh all you want, but Haas is the only player who finished in the top 10 at last year's Open who also finished in the top five of this year's U.S. Open. Yes, that's a pretty random set of criteria. And those also happen to be the two best major finishes of Haas' career, but . . . 150 to 1! In the U.S., he's only. . . 125/1. . .
Jason Day (£10 to win at 33/1): He was on my flight heading over, and we had a nice chat beforehand so I'm picking him. How's that for analysis? No, seriously, you have to make at least one bet based on a sign or a hunch. I also liked how no one other than one flight attendant seemed to know who he was. Here was an actual conversation Day had with a U.K. customs agent upon landing:
Customs agent: "So what brings you to the U.K.?"
Customs agent: "And what will you be doing at the Open?"
Customs agent: "Ah. Good luck."
Day: "Thanks. Appreciate it!"
I know it's been a tough year, but this dude is flying a bit too far under the radar now. And at 33/1 (you get much better odds in the U.K.), I'll bite.
Andrew (Beef) Johnston (£5 either way at 150/1): "Beefsanity" got into full swing at last year's Open when Johnston played his way into the second-to-last pairing with Haas and then played his way out of a top-six finish (like Haas). Hoping he hangs in a little better this time -- and that I actually have a reason to return to David Pluck with this betting slip on Sunday evening: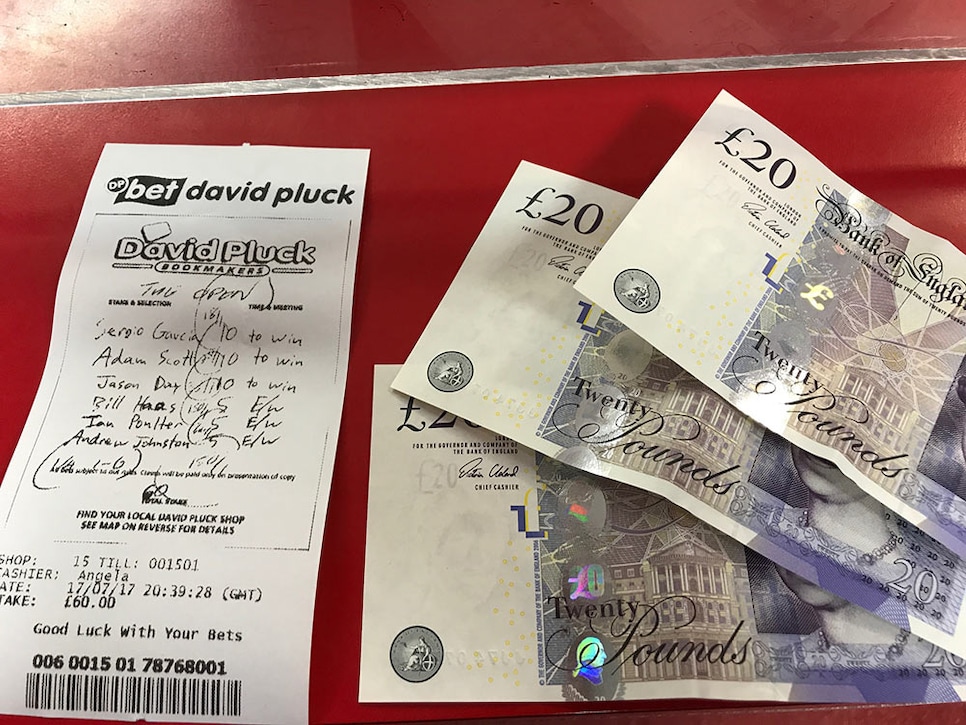 And for those of you playing other fantasy golf formats:
Yahoo! lineup: Jason Day, Jordan Spieth, Justin Rose, Sergio Garcia (Starters); Adam Scott, Phil Mickelson, Brandt Snedeker, Tommy Fleetwood (Bench).
Knockout/One-and-done pick: Sergio Garcia. Adam Scott. Sergio Garcia.
And here's the podcast link again, if you want to hear Joel and I jabber: