SportsCenter Top 10
British Open 2022: Viktor Hovland holes out for a filthy eagle, reacts accordingly
As predicted by the players, the R&A has challenged them by placing the pins in some precarious positions over the first two rounds of the 150th Open Championship at St. Andrews. All that's missing on many of the massive green complexes at the Old Course is a clown's mouth guarding the hole.
And still, the scoring is low, much of that due to light winds and perfect playing conditions, particularly on Friday. So far, sixteen players have finished with a round of five-under 67 or better.
Among that group is Viktor Hovland, who began to cook with back-to-back birdies at the fourth and fifth holes and added two more at the seventh and 10th to reach four under on his round. He quickly gave two shots back with bogeys at the 11th and 14th, but birdied the par-5 14th and then, at the par-4 15th, pulled off what might hold up as the shot of the tournament. After missing the fairway down the left side, Hovland had 140 yards left out of the rough to one of the more treacherous hole locations, the pin sitting just 12 paces onto the green and seven paces off the right edge of the green. No matter for the young Norwegian, who holed out for a stunning eagle that he didn't even see drop and celebrated accordingly:
Filthy. Filthy, filthy, filthy. The only thing filthier is that sweater, which just so happens to match the shirt he's wearing underneath it. The guy is bold, bothing in playing style and actual style. Count it!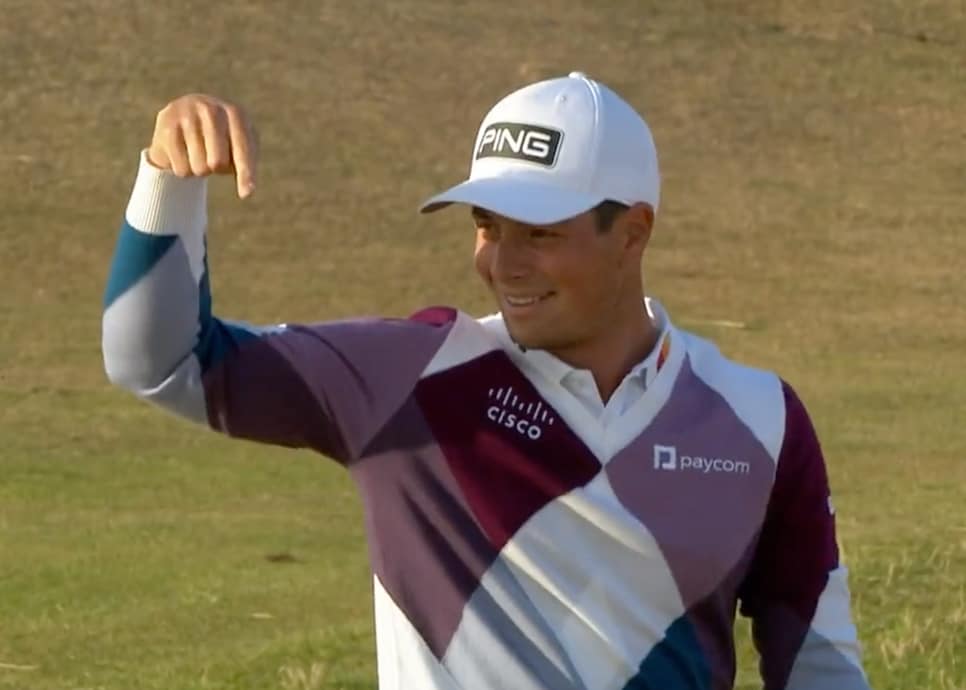 He's also refreshingly honest, too, evidenced by his own admission that he "sucks at chipping." On Friday night, Hovland admitted the plan on 15 was wildly different from the outcome.
"All that I was trying to do was just finish it 30 feet left of the pin and just take a putt going up and take my par and move on," Hovland said. "As soon as I hit it, the ball just kind of drifted off a little further right than I thought. I was a little concerned it was going to go too far right and end up where J.T. [Justin Thomas] was. But it straightened out and somehow landed on that side slope softly and just trickled in. That was unbelievable."
Much like a J.R. Smith fadeaway three, Hovland's approach was a "no no no no ... YES!!!" The best kinds of oops. It's borderline impossible to not love this guy. Following that eagle, he secured pars at 16 and 17, then birdied the short par-4 18th to finish with a six-under 66 with two bogeys. Through 36 holes he's at 10 under, tied for third with Rory McIlroy. They're three back of Cameron Smith and they'll meet on the first tee Saturday for one of the bigger must-see pairings in a major in recent memory.