Live Blog
British Open 2022 live updates: Rory McIlroy and Viktor Hovland tied for lead after Saturday 66s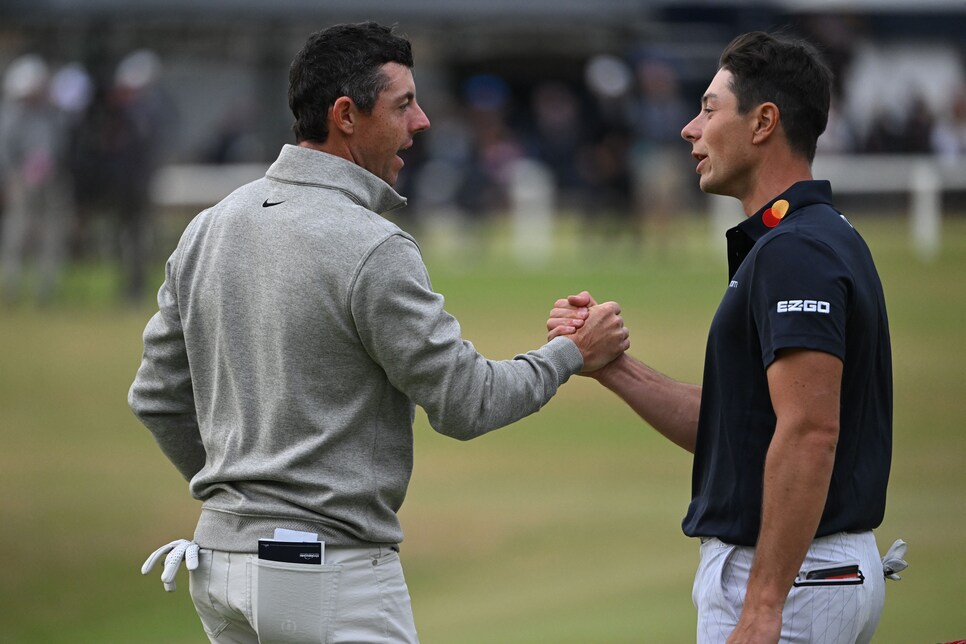 Open Championship 2022 latest updates (all times in eastern):
3:30 p.m.: Finishing up behind the leaders, Cam Smith and Cam Young settle for disappointing pars on 18, and now will swap places with Hovland and McIlroy to move into the penultimate pairing on Sunday. At 12 under, Smith and Young at least have a chance, because if history is any indication, no one else does.
3:14 p.m.: A brilliant Saturday duel between Rory McIlroy and Viktor Hovland will get an encore Sunday. After pulling even thanks to McIlroy's bogey on the Road Hole, the two men made easy work of the 18th, each walking away with birdies for 66 and a share of the lead at 15 under. For Hovland, who has never had even a top 10 in a major, it is his best position through 54 holes, while McIlroy is looking to capture his first major title since the 2014 PGA at Valhalla.
3:02 p.m.: Two distinctly Road Hole shots, two different outcomes. After caroming his approach off the stone wall and chipping to 25 feet, McIlroy has to take his first bogey when his par putt doesn't fall. Hovland, meanwhile, opts to putt off the path behind the green, leaving himself five feet for par, and sinks it. The two men are now tied at 15 under, and lead by three over Cam Smith and Cam Young, who four-putted(!) the 16th for double bogey.
2:49 p.m.: Hovland and McIlroy have both gone 16 holes without a bogey, but they'll face a big test on the Road Hole, where they both players hit thier approaches over the green, leaving difficult up-and-downs for par. Meanwhile, Dustin Johnson is having an . . . interesting finish. He survived 17 with a par, but then basically topped his tee shot on 18. Johnson got away with it, however, leaving himself just a short pitch with his second.
2:32 p.m.: Both McIlroy and Hovland escape the 15th unblemished after facing testers for par, while the Cams keep pace with birdies on the par-5 14th. For Smith, in particular, it was a much-needed boost given the adventures of the 13th. Speaking of losing momentum, Dustin Johnson's Saturday has been derailed on the back nine, with three bogeys in four holes. He's now at nine under, but still with the Road Hole 17th to play.
2:15 p.m.: A brilliant approach from 278 yards into the 14th gives McIlroy a legit look at eagle, which he lags to a foot for a birdie. That, paired with Hovland lipping out for his 4, puts McIlroy alone at the top at 16 under with four holes to play in the third round.
2:11 p.m.: Yikes. Huge unforced error by Cam Smith, who, despite avoiding a bunker off the tee on the par-4 13th, still had an awkward lie adjacent to the hazard. Smith opted to stand in the bunker, swung with the ball at waist-length, and chunked it into a gorse bush. The adventure didn't there, because Smith found the heather with his third, hacked on to the green, and walked away with a double bogey.
1:39 p.m.: Opportunity lost for McIlroy, who mashes a drive on the par-4 12th and avoids the bunker, but his pitch to the green runs out to 30 feet, and he settles for par. Viktor Hovland had the better birdie look after pitching from the rough, but he also two-putts. The two remain at 15 under, two ahead ot the Cameron pair of Young and Smith, who are a hole behind at 12 under.
1:54 p.m.: If McIlroy failed to take advantage of a good drive on No. 12, Cameron Young made his count, birdieing the par 4 to move to within one of Rory and Viktor Hovland, both of whom par the 454-yard 13th. Up next, the long par-5 14th.
1:21 p.m.: If Rory McIlroy captures a second claret jug, one could argue it will be more reliant on holes like the 11th than his fireworks at the 10th. Facing a very delicate up-and-down over a hump on the par 3, McIlroy opted for a wedge, lofted a pitch to about six feet, and made the putt. A huge momentum-saver, especially given that Hovland calmly two-putted for his par.
1:05 p.m.: Yeah, fair to say Rory McIlroy is feeling it right now. After finding the bunker off the tee, he holed out from 82 yards for eagle and a brief spot atop the leaderboard. We say brief since Viktor Hovland responded with a birdie to move to 15 under as well. Still, it's hard to top this.
1:02 p.m.: Alright, let's do a full status update as the leaders make the turn, shall we? Hovland leads at 14 under and will have an eagle attempt on 10 from just off the front of the green. His playing partner, Rory McIlroy, is one shot back, but in a bunker about 20 yards short. The lie looks fine, so we'll see how he handles that.
Ahead of them, Dustin Johnson and Scottie Scheffler are at 12 and 11 under, respectively. Neither is on fire, per se, but are very much in touch with Hovland's lead. The Camerons, meanwhile are a bit dormant so far. Smith is one over on the day but has a 50-foot eagle putt coming on nine. Young is plodding along with six pars, a birdie and a bogey.
12:56 p.m.: An unforced error for Hovland at the ninth. After driving the green, he three-putts for par from some 50 feet, much to the delight of the crowd, which lets out a cheer in support of Rory McIlroy. He steps up and burries his birdie to get to 13 under, one behind Hovland.
Ahead at the 10th, DJ makes a second birdie in a row to get to 12 under, while Scottie Scheffler matches him to get to 11.
12:45 p.m.: Hello again, DJ. He's made four straight pars since his bogey at the fourth, but drives the short par-4 ninth, leaving an eagle putt of about 20 feet. That burns the right edge, but is a tap-in birdie. It'll move him back to 11 under, three back of Hovland.
12:28 p.m.: Shane Lowry finishes his third round with a birdie. He gave three shots back after his back-to-back eagles on nine and 10, so it would take a miracle for him to factor into the conclusion tomorrow afternoon.
12:11 p.m.: He's moving birdies by the O-Z. A fourth birdie in a row for Hovland at the sixth as he pours in a 20-footer to extend his lead to two over McIlroy, Young and Smith.
12:07 p.m.: After holing a record 253 feet of putts on Friday, Cam Smith doesn't have the magic with the putter today. He hits a beautiful shot off a downslope to just left of the fifth green, but can't get up and down and has to settle for par.
11:56 a.m.: Throw your diamonds in the sky if you feel the vibe! Hovland makes a third birdie in a row after narrowly missing an eagle on the par-5 fifth. He now leads alone at the Open Championship.
In the same pairing, the lid is off for Rory, who makes his first birdie of the day after four straight pars to start. The putter hasn't exactly been his friend this week, but if he can find some rhythm with the flat stick, watch out.
11:52 a.m.: Patrick Cantlay is three under through his first six. He's rarely done it in majors, but few have the ability to maintain a heater and go super low like Cantlay. He now enters "the loop" of holes seven through 12, which has played as one of the easiest stretch on the course this week.
11:35 a.m.: Allow him to reintroduce himself, his name is Hov! Viktor Hovland drains a cross-country birdie putt at the fourth to tie the lead at 12 under. While the rest of the leaders have looked uneasy at times, Hovland has hopped fresh out the frying pan into the fire. He's six under in his last nine holes, going back to the 15th hole yesterday.
11:29 a.m.: Tommy lad! Tommy Fleetwood finishes his Saturday with a birdie to post 66. He started the day 10 shots behind Cam Smith's lead. He's now at nine under, three shots back. That likely won't be the case at the end of the day, but it is quite the move nonetheless.
Meanwhile, after two birdies in a row, DJ shows a few signs of shakiness on the fourth. A wayward drive is lucky to miss the gorse and a short par putt dives underneath the hole for his first bogey of the day. He's now 10 under and two back of Smith, who navigates a tough two-putt on the third for an easy-looking par that wasn't so easy.
11:20 a.m.: Here comes Viktor Hovland. He knocks in a long birdie at the third to move into a three-way tie for second at 11 under, joining DJ and Cameron Young. Moments later, Rory McIlroy has a chance to join them, but a funky putting stroke leads to a short birdie miss. And so it'll be a third straight par to open for Rory.
As for Hovland's ascention, this will now be a Jay-Z reference factory, despite the slight difference in pronunciation between the HOVs.
11:06 a.m.: Well then. The chase is on, but Cameron Smith makes it a bit easier on the field with his first three-putt of the week to card just his second bogey. He drops back to 11 under, one ahead of Dustin Johnson, who has birdied two of his first three holes, and Cameroon Young, who had a front row seat to his playing partner's mishap.
10:55 a.m.: The leaders are off, with both Camerons (Smith and Young) finding the fairway down the first. Smith's lead over Young is two. This is Cam Smith's fourth career 36-hole lead or co-lead on the PGA Tour. He's 1-for-3 in converting those leads, with the win coming earlier this year in Hawaii. He co-led after two rounds at the 2020 Masters and went on to finish tied for second. Most recently, he led after two rounds at the Memorial in June but fell back on the weekend to finish T-13.
Meanwhile, up at the green, Rory knocked his approach to about 15 feet but burns the left edge with the birdie attempt. He remains 10 under, three back.
10:42 a.m.: Next on the tee: the penultimate pairing of Rory McIlroy and Viktor Hovland. Rory starts the day just three shots back of Cameron Smith's lead, but he surely won't want to be reminded that he's T-90th in third round scoring average on the PGA Tour this season (70.36). He may, however, want to be reminded that in the fourth round, only two players average lower than him this season. If Rory can remain in touch today, he may be on his way to capturing that elusive fifth major.
10:35 a.m.: While we shouldn't get ahead of ourselves (as we proceed to get ahead of ourselves), should Cam Smith go on to capture the 150th Open this week, he's suddenly right back in the discussion for PGA Tour Player of the Year. After Scottie Scheffler's stellar run in the spring, capturing four titles including the Masters, it seemed a foregone conclusion that he would take the honor. With a win here, to go along with his Players title and Sentry Tournament of Champions win, Cam Smith would boldly reinsert himself into the discussion.
That said, World No. 1 Scheffler tees off at eight under, just five back of Smith. He stings his opening tee shot down the generous fairway to get his third round started. Should he go on to win, he'd be the first player since Jordan Spieth in 2015 to win five or more times on the PGA Tour in a season including multiple majors.
10:16 a.m.: Shane Lowry! The 2019 Open champion goes eagle-eagle on the ninth and 10th to vault up to nine under. After flashing his short game brilliance on the ninth, pitching in from well off the green, he holes out again on the 10th for eagle! Playing the two par 4s in four shots total, the Irishman is suddenly in contention as he looks to capture his second Open Championship. Here's his pitch at the ninth:
10:13 a.m.: Thomas Pieters keeps the moving-day charge going with another birdie at the par-5 14th. That gets the Belgian to nine under, just four shots back. After a bogey on his second hole today, he was one under, 12 shots back. Six birds and an eagle later and he's within touch of Cam Smith.
10:04 a.m.: Current Stanford standout Barclay Brown gets his day started with a par at the first to remain at six under. You may remember the last time The Open was played at St. Andrews in 2015, an amateur, Ireland's Paul Dunne, shared the lead entering the final round with Jason Day and Louis Oosthuizen. Dunne fired 66 on Saturday to vault up the board in 2015. Can the amateur Brown summon similar magic in this third round?
9:52 a.m.: Willy Z is putting himself back into the mix at yet another major championship. The runner up at the PGA and the U.S. Open goes out in three-under 33 to get to seven under. Thomas Pieters adds another birdie at the 13th, and he's the first guy to get to eight under from the early starters on Saturday.
9:30 a.m.: Tommy Fleetwood, who went out in four-under 32 to get to seven under, finds himself in an awkward position on the par-3 11th, left of the greenside bunker. Stymied by the imposing pot bunker, he plays well past and left of the cup, leaving himself a lengthy par attempt. The 2019 Open runner up two putts for bogey, dropping him back to six under.
Meanwhile, after a four-putt double at the 16th, Bryson goes way, way left off the 17th tee. His approach lands on the green but bounds over onto the road. He hits a nifty chip and makes the six-foot par attempt to stay at five under. The rollercoaster continues on the 18th, where he nearly hooks his tee shot out of bounds on the left.
9:18 a.m.: DeChambeau's charge has officially been haulted. After reaching the green in regulation at the par-4 16th, Bryson takes four putts to card a double bogey. Despite being six under for the round through 13 holes and vaulting himself into (sort of) contention, the hiccup takes Bryson back to five under for the championship.
9:05 a.m.: Thomas Pieters follows up his eagle with a birdie at the par-4 10th, getting him to seven under, which appears to be a popular number right now. No one on the course has reached eight under, yet. Bryson DeChambeau still has three holes to do it, while Pieters still has almost the entire back nine, as does Tommy Fleetwood, who has a 30-footer for birdie coming up at the ninth.
8:50 a.m.: Fleetwood just misses yet another birdie at the seventh and remains at seven under. Up ahead at the 15th, Bryson finds the green in regulation and has a chance to reach eight under. At the ninth, Thomas Pieters holes an eagle putt to climb to six under. Plenty of action to go round on this fine Saturday.
8:35 a.m.: It appears we were a bit premature in handing Bryson DeChambeau a birdie, the golf gods' way of getting him back for making birdie at 13. His approach into the green came up just short and then his eagle putt came up miles short. A disappointing par for the big hitter, but he still has plenty of time to match or better Kisner's 65.
Meanwhile, at the sixth, Fleetwood pours in another bird to join the seven unders in a tie for eighth.
8:26 a.m.: DeChambeau cleans up his fourth birdie of the day to go with his one eagle and he's now at seven under with another prime birdie opportunity coming up at the 14th. The way he's hitting it, an eagle is very much in play, too. If that happens, things would suddenly get very real.
Just one shot back of DeChambeau is Tommy Fleetwood, who has quickly moved to six under for the tournament with three birdies in his first five holes. The Englishman has just one previous top 10 in the Open, a solo second finish at Royal Portrush in 2019.
8:17 a.m.: Oh MY! At the 13th, where most players would sign for par (it's the second-hardest hole on the course this week), Bryson DeChambeau nearly holes out for eagle, leaving him with a kick-in birdie to get to seven under. Something special could be brewing.
8:11 a.m.: After driving the green at the 351-yard 12th hole, Bryson easily two-putts for birdie to reach six under. He now sits in a tie for 13th, just two shots out of being inside the top eight. Up ahead at 18, Molinari fails to make birdie and shoots six-under 66, putting him in the clubhouse at six under. His playing partner, Dean Burmester, finished with a 67 and sits at five under. Moving day has quickly become a game of limbo. How low can you go?
All the way back at No. 1, Will Zalatoris starts his third round with a birdie to quickly get to five under. Would anybody be shocked if he finds his way into one of the final three or four groups tomorrow? The guy absolutely feasts in these majors. At No. 2, he just found the putting surface and has a decent look at birdie coming up.
8:01 a.m.: One of the other big movers, Francesco Molinari, just made one of the better pars you'll see all week at the Road Hole, having missed the green wildly left and then getting up and down to keep it at six under for the day. If he birdies 18, he'll match Kevin Kisner's 65, which would mark his lowest round in a major since Saturday at the 2018 Open Championship at Carnoustie, where Molinari won.
7:53 a.m.: Kevin Kisner, knowing full well he needs a miracle to have a chance on Sunday, summed it up nicely in his post-round interview. "I hope the wind blows like hell and they all shoot over par this afternoon," Kisner said. You never know, right?
Don't look now, but Bryson DeChambeau is starting to creep his way up the leader board. Through 11 holes he is four under for his round, five under for the championship. With the short par-4 12th and the par-5 14th coming up, DeChambeau has a good chance to make a serious run at eight or nine under.
7:38 a.m.: Kisner's final birdie effort just misses and he settles for a par at the 18th. If there were ever a disappointing 65, that might be it. He had to have 62 or 63 on the brain for awhile there. He now sits in a tie for eighth, six shots off the lead, and there's a strong chance he's 10 or more back by day's end.
7:24 a.m.: Kisner finally cools off with a semi-predictable bogey at the 17th after he missed the fairway. While it's no guarantee, he should be able to get it back at 18 to post 64. But 63, and definitely 62, are now out of the question.
7:10 a.m.: Goodness. Kisner rolls in yet another birdie at the par-4 16th, suddenly bringing 63 (or 62) into play. He did just pull his drive into the left rough on the Road Hole, which will make par difficult, let alone birdie. But with the 18th being drivable, an eagle is not out of the question on the final hole. What a Saturday charge (so far) from the four-time tour winner.
6:57 a.m.: Kisner is hardly alone in going low on Saturday morning at St. Andrews. His playing partner, Barbasol winner Trey Mullinax, is six under through 15, making that pairing a combined 13 under on the day. South Africa's Dean Burmester started his round birdie-bogey and then began a streak of five consecutive birdies at the par-5 fifth hole to turn in 31. Through 13 holes, he remains five under for the day and for the championship. Nineteen other players are already in red figures, too, including former Open winner Francesco Molinari (four under), Tony Finau (three under), Bryson DeChambeau (two under) and Justin Thomas (one under).
6:44 a.m.: While you were sleeping, Kevin Kisner was burning the Old Course to the ground, once again displaying that this "ain't no hobby." Kiz made the cut at even par and went out early, beginning his third round with three consecutive birdies before finally settling for par at the fourth. He then went birdie-birdie-par before dropping this bomb for another birdie at the par-3 eighth, which has played as the eighth-hardest hole this week:
That 93-foot conversion, plus a par at the ninth, capped off a front-nine 30 for the 38-year-old. Another birdie at No. 10 got him to seven under, where he currently stands five holes later. He'll need to birdie out to match the lowest round in major championship history (62), which doesn't seem likely. Kisner will probably sign for just one more birdie for 64, which would match Cameron Smith's second round for the low round of the week. The only bad news for Kisner is if the wind stays down this afternoon, he'll likely end up 10 or 11 shots back heading into the final round. Still, a great Saturday move to position himself in the top 10, where he's only finished once in his career in this event (T-2, 2018 Open).