Open Championship
British Open 2022: Bryson's insane 17th hole par featured a duck hook, a provisional, TIO relief and a chip from the road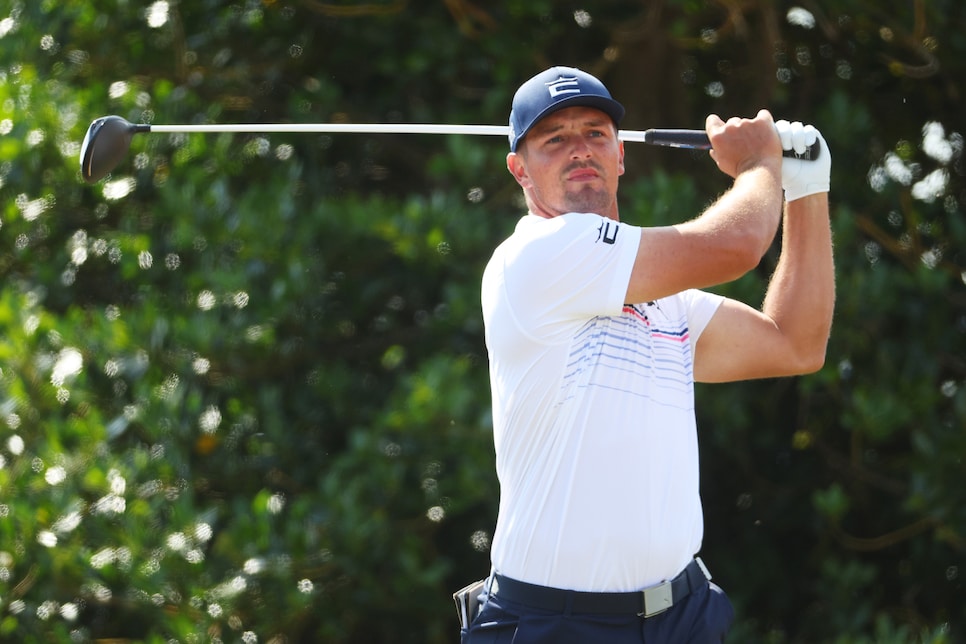 The Road Hole at the Old Course is the ultimate "don't go right" hole in all of championship golf. Bryson DeChambeau took that a little too literally on Saturday at the 150th Open Championship.
DeChambeau, who was making a charge up the leader board on moving day, arrived at the par-4 16th at six under for the day, seven under for the tournament. He then proceeded to make a round-killing double bogey, four-putting from 100 feet on the massive green. He appeared to compound that mistake on the 17th tee, where he aimed at the inside of the hotel line and proceeded to hit a massive duck hook:
That picture doesn't quite do it justice, either. Here's another view of just how far left it went:
While left appears to be very safe on 17, DeChambeau hit a provisional anyway. They found his first, and he was given relief from a temporary immovable obstruction (TIO). Because of how far left it went, there were grandstands between he and his line to the green, which earned him a free drop back in the short grass.
From there, DeChambeau's 206-yard approach shot landed on the very back of the green, took a big hop and rolled onto the road on the Road Hole (get it?). He then played a classy bump and run from the pavement that trickled out to three feet. Unfortunately, this fan's video is the only video we could find of the shot:
After a little mop-up duty, it all added up to a four on the hardest hole on the course, one Kevin Kisner, who shot 65, described as a "par 5" on Saturday. Kisner made just two bogeys all day, one of them coming at the 17th.
At the 18th, DeChambeau hit another wayward drive and was given relief again, which has quickly become a controversial topic on Golf Twitter (shocker!). He followed by wedging one to three feet and finishing with a sick par-birdie finish to post six under in the clubhouse. Quite the final three holes. Then again, sort of what we've come to expect from DeChambeau.