Course Guide
How to play the Old Course at St. Andrews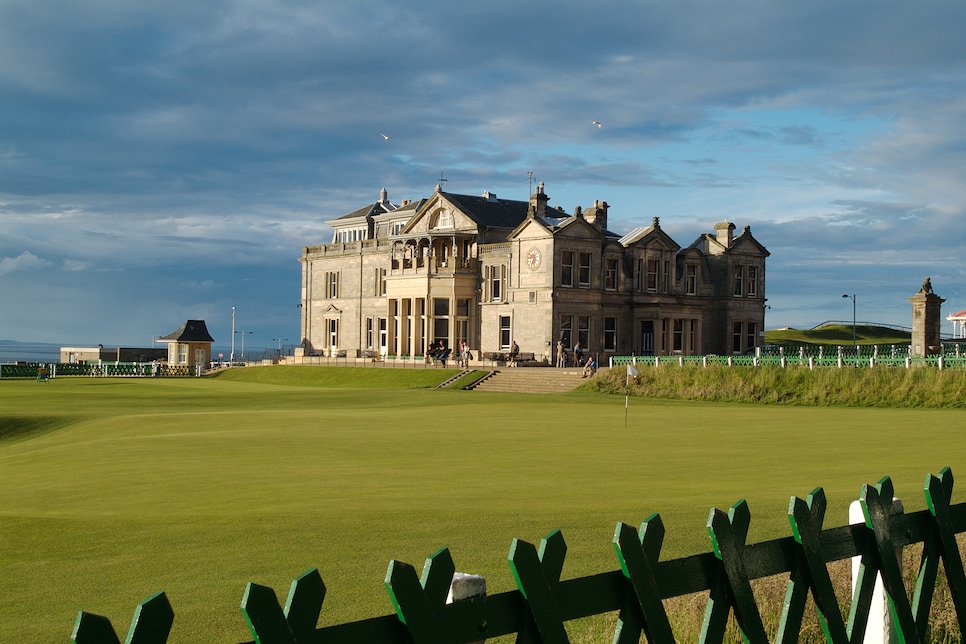 This week, as the best players in the men's game descend on the Old Course at St. Andrews for the 150th Open Championship, all eyes will once again be on the Home of Golf. Hosting The Open for a record 30th time and boasting a long line of illustrious past champions, the Old Course would be a must-play for its major championship history alone. Open Championship history aside, the Old Course offers a glimpse into the origin of this game that dates back to the 15th century. The layout's architectural merits have influenced the designs of tens of thousands of other courses and help it consistently rank near the top of our World's 100 Greatest Courses.
It's this history that makes the Old Course sit high on any golfer's bucket list. With play being open to the public every day except Sundays—when the course becomes a town park—and select tournament days, the Old Course is among the more accessible courses in major championship golf. There are a variety of ways to secure a tee time, ranging from convenient (yet often costly) pre-booked trips to a same-day option for singles, making it essential to know your options and have a plan.
Here's how you can play the Old Course:
One quick note: While the Old Course is open for public play, you must display a current official handicap card or certificate that verifies your world handicap doesn't exceed 36 (the current max for men and women).
Enter the private advance tee-time lottery through St. Andrews Links Trust
Each fall, the St. Andrews Links Trust (the body that manages and maintains the seven courses at St. Andrews) accepts applications for tee times on the Old Course for the following year. Applications are typically open for several weeks in August and September, and you can expect to hear back on whether you've secured a time by late October.
Book through an authorized provider, which have access to a number of advanced slots
Perhaps the most convenient way to land a tee time at the Old Course is through an authorized provider. Each year, St. Andrews will release a certain number of tee times to third-party companies—deemed "authorized providers"—who then sell those times to the general public. Typically, these tee times are part of a larger curated trip that also includes rounds at other nearby courses. While using an authorized provider guarantees you a round on the Old Course, these trips often sell out quickly and can be expensive. These tee times are typically released in April the year prior to play, so make sure to plan your trip well ahead of time.
Every Hole At The Old Course
Golf Digest's Architecture Editor Emeritus, Ron Whitten, narrates this spectacular hole by hole drone tour of The Old Course at St. Andrews in St. Andrews, Scotland.
Secure a more readily available time through a winter package
Though many of the nearly 50,000 rounds of golf played each year at the Old Course are played during the summer months (known as "high season"), St. Andrews offers a winter package for those willing to play between November and March. Starting in June, groups of two to 16 can apply to play that winter. If accepted, the package includes three rounds of golf, including one guaranteed round at the Old Course and a round at two of the other seven St. Andrews courses of your choosing. One caveat is that from November through March on the Old Course, golfers must use mats when hitting off the fairways to protect against divot damage. But, a willingness to use mats and brave colder temperatures (winter high temps average in the mid 40s) can land you a deal: While the Old Course costs £270 (about $323) to play from April to October, the winter package—including three rounds of golf—is just over $200. As for current availability for this coming winter, the winter packages appear to be available for December and January.
Enter the Old Course ballot
For those who aren't able to secure a guaranteed tee time on the Old Course before heading across the pond, you have a couple of options. Each day (except Sundays), the Old Course leaves a substantial number of tee times available for a lottery, which is drawn two days prior to the date of play. To enter the lottery, there must be a minimum of two people and no more than four in your group. You can enter by providing the names, home club and handicaps of your group either online, by phone or in person at one of the clubhouses two days prior to when you want to play. The lottery closes at 2 p.m. and ballot results are available just a couple of hours later at 4:30 p.m.
Try the same-day option for singles
If all else fails, you still have one option left for landing a coveted time on the Old Course. Each morning (er, night), eager golfers line up outside The Old Pavilion, adjacent to the first tee. When the starter arrives at dawn, they allocate remaining open slots for the day (often paired with existing twosomes and threesomes) to those waiting. If you and a group of friends line up, don't expect to play together as you'll typically be split up as singles at separate times. One piece of advice for the line: Arrive earlier than you expect. We've heard stories of people arriving at midnight just to secure a late afternoon tee time for the coming day. Nonetheless, the queue (fancier, more eloquent name for line over there) for singles provides a great opportunity to land a last-minute time at the Old Course.