News
British Open 2018: Tiger Woods reacts to fan yelling during his backswing at Carnoustie but still hits great tee shot, and Twitter reacts accordingly
In a year in which spectators have made more headlines than ever for their hooting and hollering at tour events, we might've just had our most high-profile situation out of all of them at Carnoustie's Home hole. As Tiger Woods was at the top of his backswing on the 72nd hole, a fan yelled loudly, at a moment when Tiger needed birdie to join Rory McIlroy and Justin Rose in the clubhouse at 6-under. Tiger flinched as he made impact, but quite impressively, still hit a good tee shot up the right side.
And though this drama won't get quite as much attention because a birdie from Tiger wouldn't have been enough to match Francesco Molinari's stellar play, becoming the Champion Golfer of the Year, it's worth examining a bit more, as it's not the first time fans have gotten under the skin of tour players this year.
We've had the "mashed potatoes!" and "Baby Booey!" yelling crowds in the past, but never in such a crucial moment—at least on display as it was on Sunday at Carnoustie—has a fan yelled in such a way as to potentially help determine the outcome of play.
Here's the scene (scroll past the initial tweet to the video):
And a closer look at Tiger's reaction (scroll past the initial tweet to the video):
The expression says it all: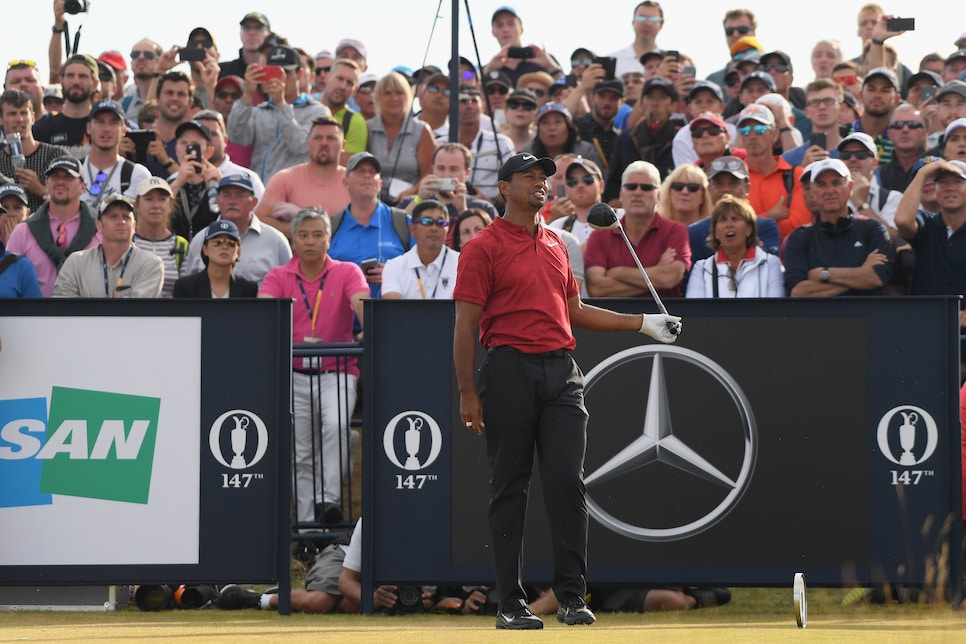 These are terrific photos, captured by Harry How of Getty Images: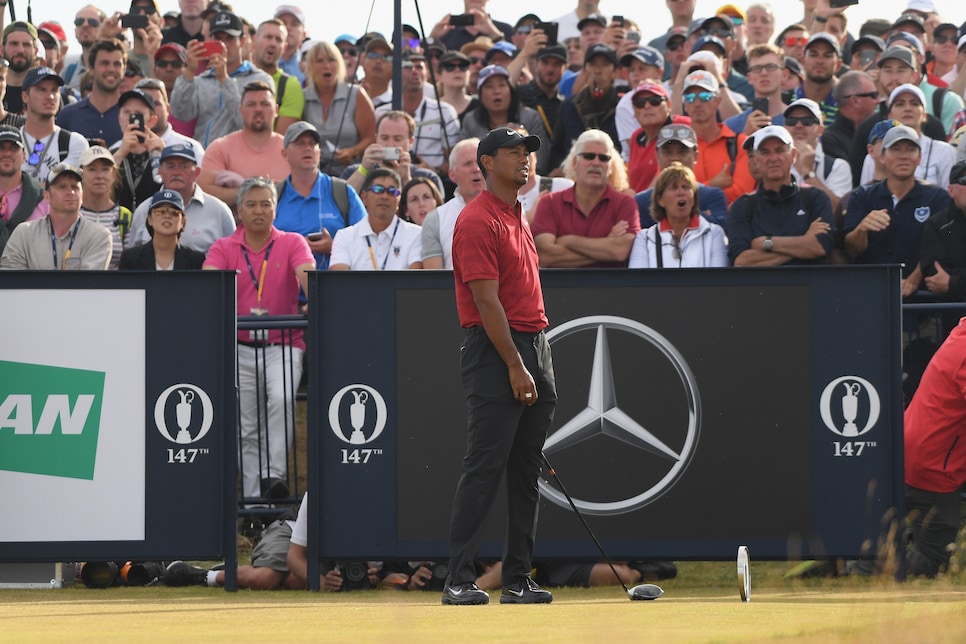 This comes following a number of fan run-ins in 2018. At Riviera, Justin Thomas and Rory McIlroy both called the fan behavior "completely unacceptable," as they were paired with Tiger Woods. Then the following week, JT dealt with a heckler in his gallery, having the spectator removed after the guy pleaded for his tee shot to "get in the bunker."
We'd guess that the boneheaded fan got pointed out by his fellow fans and ejected from the premises, but we're not sure. What is known is the immediate fan reaction after that dramatic scene.
If anyone knows the perpetrator, we're all curious:
To the point above, we're not sure whether the fan was, in fact, an American over watching the golf in Europe, or a European golf fan. Regardless, we're just glad it didn't distract Tiger Woods enough to hit a poorer tee shot. Still, another bad look from golf fans. We can do better, guys.