News
British Open 2018: Pat Perez an unlikely but eager contender at Carnoustie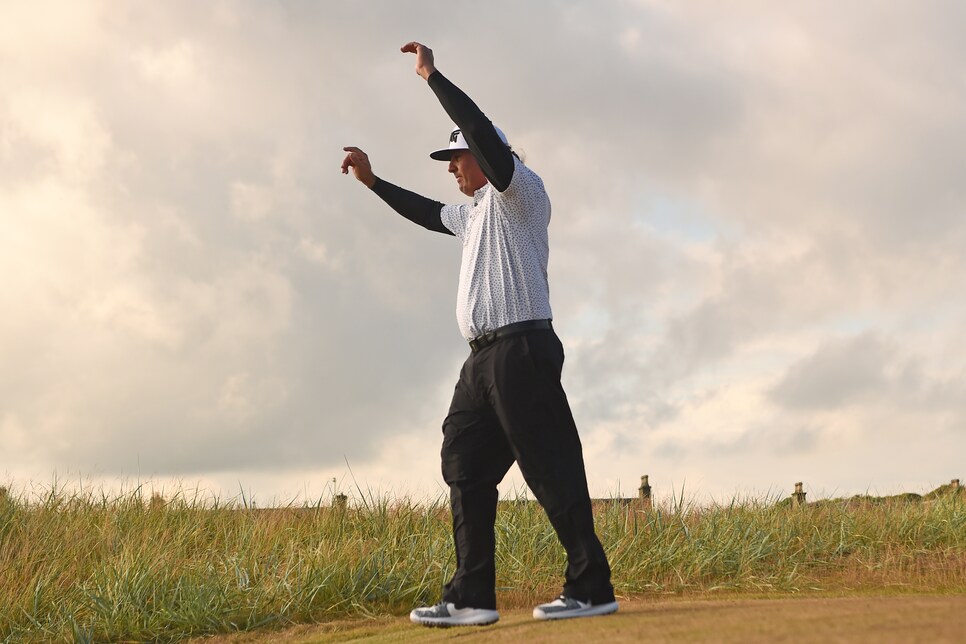 CARNOUSTIE, Scotland—Pat Perez and The Open Championship. On the surface, a square peg and a round hole. It looks like they go together about as well as a Marilyn Manson concert at the Royal & Ancient Clubhouse.
Imagine the R&A's horror. Perez's, too. He hated it here early on.
"I didn't like it the first time I came over," the native San Diegan said. "When I went to St. Andrews in '05, I didn't like it because it was cold and terrible and this and that." Put another way, Perez is Al Czervik and the stuffy governing body Judge Smails.
But time often has a way of softening, if not altogether changing, one's perspective. Playing in just his fifth Open Championship, the 42-year-old Perez now has a certain affinity for the event, the type of golf and the venue, especially Carnoustie.
"There's something about this place that I think is fantastic," said Perez, whose best finish in the championship came at Carnoustie in 2007. "It's hard enough that I don't feel like I have to hit perfect shots. Greens, you can kind of miss a shot, and it won't run off and go off the green 40 yards. You're still kind of on the green. You can putt. You can have a 60-footer and actually think about making it because of the speed. It's not something running it 15 on the Stimp.
"There's so many things I've learned over the years being here. You know, and I played it enough times now, I know where I'm going. I played all the wind. But once again, the setup is great. When I get on the green, I feel like I can make them."
Believing is half the battle, especially on the hardest course in the rota. Jordan Spieth can attest to that, too. Certain guys just switch on when it comes to links golf.
Perez is one of them. He likes the creativity and shotmaking. He likes that it's not bomb and gouge. Sure, there are long hitters in contention, but so are guys like Perez.
"I couldn't hit driver on 6 because I couldn't fly that second bunker," he said of the par 5. "I hit 4-iron, 4-iron, 9-iron, which I kind of like that play. That's what's so awesome about this place is you can play it so many different ways."
Perez lives in Scottsdale, home to the PGA Tour's annual Wasted Management Phoenix Open. They do things a little differently on this side of the pond and with his two decades on tour he has come to appreciate the atmosphere.
"Over the years, I've really learned to like to come over here," Perez continued. "Plus the fans are so awesome here. They know a good shot. They don't laugh at you if you hit a bad shot. They know that it's hard. The knowledge of those people are just phenomenal. That's what also makes it so special. You don't have drunk guys out in the bushes making fun of you. I mean, they're really knowledgeable. It's enjoyable to play here because, when they clap, they actually mean it, not just clapping to clap."
Friday, Perez gave them plenty of reason to, with four birdies and no bogeys through his first 14 holes. He was tied for the lead until finding a fairway bunker on 18 and eventually making bogey. Still, his 68 was one of the better scores on the day and has him tied for third a stroke off the lead entering the weekend. If Perez, who once beat Tiger Woods when the two were juniors growing up in So Cal, is ever going to win a major, the Open is probably his best chance.
In 24 career major championships, Perez has just one top 10, a backdoor T-6 at the 2005 PGA Championship at Baltusrol. From 2010 through 2016 he only played in three majors.
The last couple of years have also been a major rebirth for the neomulleted, metal band listening Perez, who underwent season-ending surgery for a torn labrum in the middle of 2016. When he returned eight months later, he ended a seven-year winless drought in just his third start back, going out in 31 on the last day in Mexico to win by two. Then he won again the following year in Malaysia and earlier this year climbed to a career-best 16th in the Official World Golf Ranking.
In January, Perez's wife Ashley, whom he met in 2014 after having gone through a divorce two years earlier, announced she was pregnant. She's due in about a month. Life is good, off the course and on it, especially this week.
"You know, I knew when I got to Erin Hills and Shinnecock, there was no prayer," he said of the last two U.S. Open venues. "I mean, I knew it. 7,500-yard par 70, what am I going to do there?
"I don't really worry about [majors]. They're nice to play. I'd like to win one. I mean, who wouldn't?"
And who wouldn't like to see Perez drink from the claret jug?
"I haven't really drank much," Perez said when asked what his favorite beer in Scotland is. "I'm more of a screwdriver guy myself."
"A little bit of Woodford," he continued. "That's when it goes dark. That's when bad nights happen."
But if Perez were to win the claret jug that'd be one hell of a good one. After all, the two go together better than they look.