News
British Open 2018: Jordan Spieth returns the claret jug, now focuses on winning it back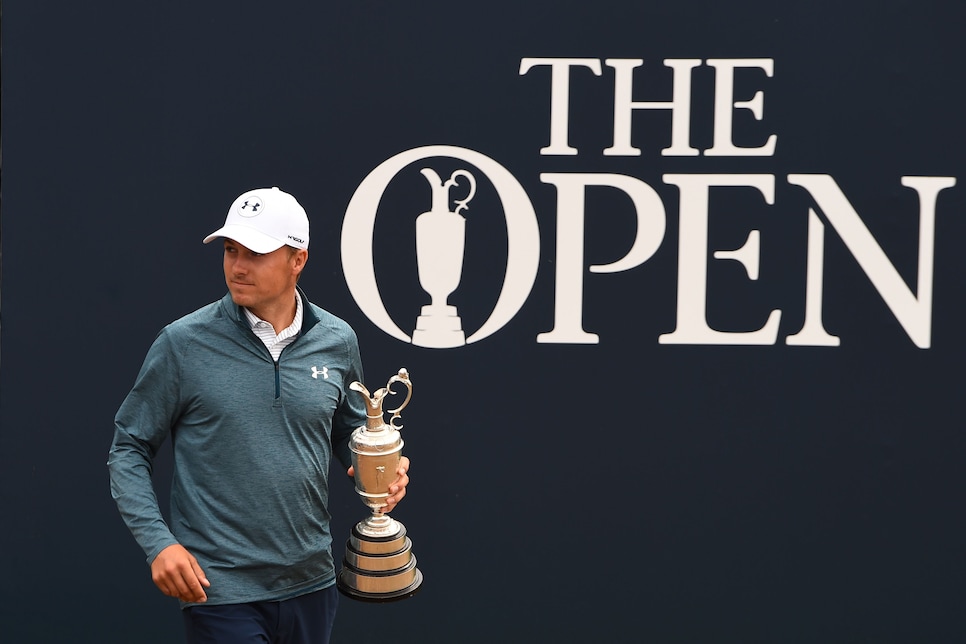 CARNOUSTIE, Scotland—Not all traditions at the Open Championship are old. Only within the last few years has the reigning champion golfer of the year returned the claret jug in a (contrived) ceremony conducted on the first tee at the start of tournament week, which is where Jordan Spieth found himself Monday at Carnoustie.
"It wasn't an enjoyable experience," he joked. "I thought maybe somebody would meet me in the parking lot and I'd just give them the case back and we'd move on.
"It's the coolest trophy that our sport has to offer. So having to return that was certainly difficult. It kind of hit me a little bit there on the tee box."
To say he enjoyed the aftermath of last year's victory a bit more would be an understatement.
Less than 24 hours after raising the claret jug, Spieth and caddie Michael Greller were back in Texas watching a replay of the memorable final round. The unfolding of events on the 13th, naturally, stood out the most. Merely watching it as opposed to living it sparked different reactions, too.
"I just remember a couple things: One, how long it took on 13 versus how long it felt it took. It felt like I was making decision, decision, decision, decision kind of quickly, concisely, and on TV I was very annoyed. I had to fast forward through it.
"And then how quickly it looked from when I finished on 13 to tee off on 14 and how long that time felt, that regrouping actually felt like—I remember using the restroom, I remember kind of regrouping. But watching the coverage, I finished 13, all of a sudden I'm on 14, and I looked like a different person—demeanor, player, everything."
To say that Spieth has looked like a different player this year would also be an understatement.
The 24-year-old hasn't won since his victory a year ago at Royal Birkdale and in 16 starts in 2018 has just four finishes in the top 10, along with four missed cuts.
The main culprit has been Spieth's putting, something that spurred him to victory at last year's Open and a lot of other weeks. This season, however, he ranks a dreadful 175th in strokes gained-putting. Breaking it down further, he's 123rd from inside 10 feet, 139th from 10-15 feet and 196th from 15-20 feet.
Comparatively, he was 42nd in strokes gained-putting a year ago. In 2016 he ranked second and in 2015 ninth.
So in advance of this year's Open, Spieth mostly disappeared. After last month's Travelers Championship, he went to Seattle to watch his sister Ellie at the Special Olympics and went back to nearby Chambers Bay with Greller to relive the memories of his 2015 U.S. Open victory there. Then came some R&R in Mexico with a handful of friends before returning home to Dallas last week to work on his game, followed by a trip to France for an informal Ryder Cup practice round.
"My game feels good," he said. "I needed a break. I was kind of dragging along, [playing] cut-line golf for a while and playing a pretty heavy schedule and I needed to get away from the game.
"I feel like I'm in a position now with every part of my game. I kind of attacked the places that really needed some strong work. That combination with an Open Championship, the way it needs to be played, I think, is a really good spot for me to kick back into shape."
The last player to win back-to-back Opens? Padraig Harrington. The venues? Carnoustie in 2007 and Royal Birkdale the following year.