News
British Open 2018: A pensive Rory McIlroy reflects on first Open, seeks to revive the carefree attitude he had then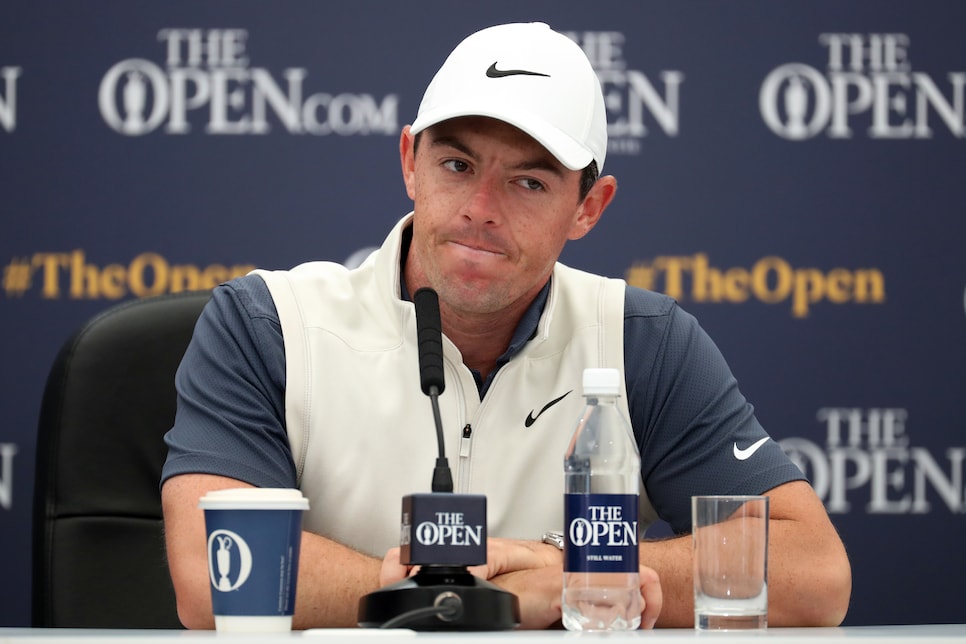 CARNOUSTIE, Scotland – Rory McIlroy showed off more than just a big head of hair in his 2007 debut in the Open Championship. Competing as an amateur here at Carnoustie Golf Links, McIlroy opened with the day's only bogey-free round, a 3-under 68 that augured, well, heady days to come for the talented youngster from Northern Ireland.
That uncomplicated time was much on McIlroy's mind Wednesday on the eve of the 147th Open Championship. The green, pudgy kid has grown into a lean and muscular man who already has fulfilled much of his promise, winning four major titles – including this championship in 2014 – and reaching No. 1 in the world ranking.
That he hasn't added to his major total since winning the Open at Hoylake and the PGA Championship at Valhalla to end that year's campaign is a conundrum for which he has no definitive answers, no matter how many times he fields the question. Just 29 years old, he has figured out a lot about life. But even with his enormous well of talent, there is no eluding golf's vicissitudes.
Not that it is keeping him up nights. Well, maybe it is.
"Depends which day you ask me," McIlroy responded when he was asked if he has realized a level of harmony in his life. "I try to see the bigger picture and I try to have some perspective in my life. It isn't all about trying to win golf tournaments and chase titles. There's other things that give me fulfillment as well."
He is married now, and he has a charitable foundation in his name that receives proceeds, among other sources, from a European Tour event, the Dubai Irish Open, at which he presides as host. He remains committed to his home tour while making his home in the U.S., where earlier this year he won his 14th career title at the Arnold Palmer Invitational. It is his only world-wide victory in the last two years, though he's endured a handful of painful near misses while battling injury.
That kid who opened with a 68 went on to capture the silver medal as low amateur, finishing T-42 overall at 5-over 289 and starting to dream of bigger things.
McIlroy definitely remembers who he was then, even with so much that has happened to him in the intervening years.
"Yeah, lots of great memories. It's great to be back. It doesn't seem like 11 years ago that the Open was here last," he mused. "Hopefully, I can create some more good memories this week. I obviously remember that week very fondly for different reasons. I hadn't even turned pro yet and didn't know what to expect or the journey that I was about to embark on.
"So to be back and be in a different position, it feels good, and to be talked about as one of the guys that could win, and to already have a Claret Jug is very nice. But, obviously, I want to add to my collection."
One of McIlroy's most vivid recollections from '07 was the emotional quandary he navigated during the four-hole playoff between countryman Padraig Harrington, the eventual winner, and Sergio Garcia. The teen-aged McIlroy could be seen behind the 18th green with Harrington's young son, Paddy, not quite sure who he'd like to see win.
"It's so funny thinking back on that day," he said. "Mixed emotions. Sergio was one of my favorite players growing up, and he hadn't won a major at that point. Obviously, Padraig is from back home. I honestly didn't know who I wanted to win at that point. I think I was OK with either winning. It was tough the way Sergio lost. And I remember just after turning pro I went to Padraig's house, and he had the Claret Jug sitting on the kitchen table with the [stuffed] ladybirds coming out of it."
He added again for effect, "yeah, good memories."
Conjuring memories is one thing. Throwing yourself back into the past is another. Tiger Woods is finding out how difficult that can be. McIlroy isn't old enough to have forgotten the feeling. He's a seasoned golfer but still a young man. And there still is a boyishness in him, a tangible innocence.
It's something that he rarely puts on display, but it was palpable during his victory in March at Bay Hill Club when he fired an inspired final-round 64 to beat back Woods, Henrik Stenson and several other legitimate challengers.
Returning to Carnoustie, to his first Open, when freedom sprung from an elixir of confidence and obliviousness, could be good medicine for a player still formidable at No. 8 in the world but expecting more of himself. He's seen the photos from his visit here 11 years ago, frozen moments. It's time for a thaw.
"I've alluded to the fact that I think sometimes I need to get back to that attitude where I play carefree and just happy to be here," he said. "It was my first Open Championship. I mean, I was just trying to soak everything in, and I was just so grateful to be here.
"I think sometimes with, you know, the pressure that's maybe put on the top guys to perform at such a high level every week, that starts to weigh on you a little bit. But, yeah, like I look back at those pictures, and the more I can be like that kid, the better."