News
Brian Harman continues to roll while strategizing on how to make Ryder Cup team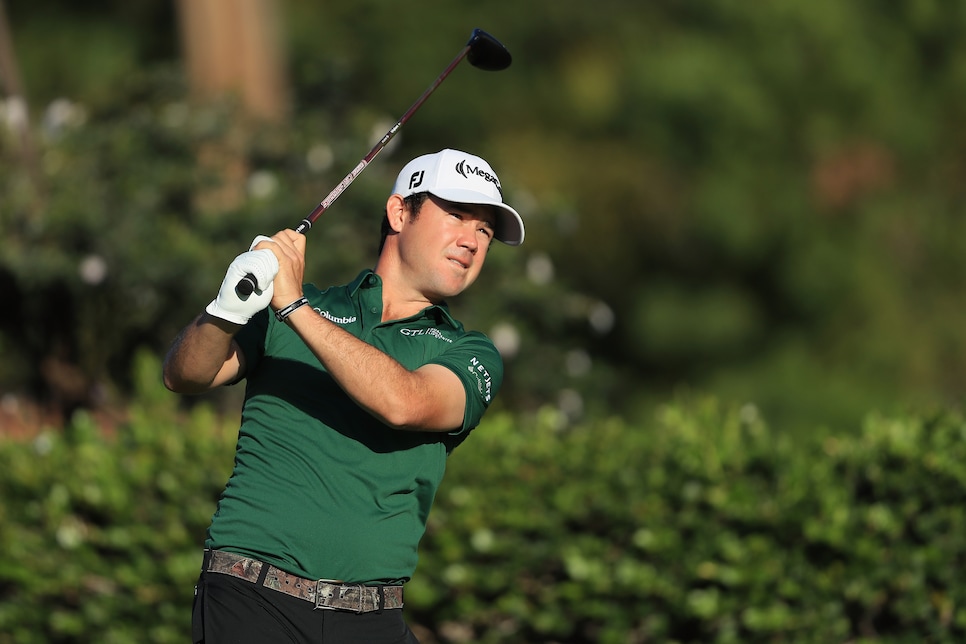 HONOLULU — Last fall Brian Harman was the odd man out when it came to the Presidents Cup—despite a season that included a gritty one-stroke victory over Dustin Johnson at the Wells Fargo Championship, a runner-up finish at the U.S. Open at Erin Hills (where he led through 54 holes), a tie for third in Palm Springs and four other top-10 finishes.
Never mind that his amateur career included beating Rickie Fowler in match play at the 2009 NCAA Championship and tallying 2½ points for a victorious U.S. Walker Cup team in 2005 that included a 6-and-5 drubbing of Rhys Davies in Sunday singles.
But Harman struggled down the stretch, missing two cuts and finishing inside the top 50 just once over his final five starts before Steve Stricker used his captain's picks on Phil Mickelson and Charley Hoffman. With Mickelson always in line for a pick, Harman was effectively one of a handful of players vying for one spot. In the end, Kevin Chappell narrowly qualified, and Hoffman, next in line in the standings, instead got the nod.
"Missing out on the Presidents Cup hurt," Harman said Friday. "I didn't feel like I deserved a pick by any means. I would've been happy with one, but I didn't feel like I played well enough to make it where it was a snub by any means."
Not that he wasn't bothered by not getting picked. Ticked off would be more accurate.
Though it's early in the 2017-'18 season, the 30-year-old two-time PGA Tour winner is trying to leave less doubt when it comes to making his first Ryder Cup team this fall. In four starts Harman has finished in the top 10 four times, which included a third-place showing at last week's Sentry Tournament of Champions, where he led through the first 36 holes.
Through the first two rounds at this week's Sony Open, he has kept that momentum going, shooting a seven-under 63 that included an eagle on the last hole Friday to take the halfway lead at Waialae Country Club.
"The first three rounds last week I played well enough to win the golf tournament," Harman said. "The last day it was a combination of Dustin [Johnson] playing incredible and me not putting a lot of pressure on him."
This year, Harman is hoping to avoid putting too much pressure on himself.
Last season, he told himself how badly he wanted to make his first U.S. team. It backfired.
"I just think about the most effective way to not have that problem again," he said. "Getting really upset and trying to place blame somewhere I don't find to be very effective. There's certain things that'll make me successful to try to make those teams and those are the things I'm trying to do."
One of those includes changing his schedule.
Over the past six seasons, Harman has averaged a little more than 30½ starts per year. Twice he made at least 32 starts. His total of 185 starts since the beginning of 2012 is nine more than the next closest player, John Huh, in that same span.
All that golf added up to Harman running on empty, particularly at the end of last season, a time of the year when Stricker and his assistants were watching most closely.
"I was really disappointed with the way I finished the year and the playoffs because I wanted very badly to make that team, and I didn't get it done," Harman said. "I don't know if I didn't have the energy or what, but I didn't go about it the right way so there's certainly motivation to be gained from that.
"It's worked for me in the past, be it making Walker Cups and Palmer Cups. Whenever I felt like, OK I really wanna make this team, I usually did and I really wanted to make that Presidents Cup team, and didn't, so that kind of rubbed me the wrong way. I always felt like I could find a way when I really needed t,o and I couldn't find a way in the playoffs."
This year, Harman will play each of the next two weeks, then take the next three events off before returning at the Honda Classic. Despite a good track record at Riviera, it didn't make sense to fly from his home in Georgia to L.A. for one week, then play Honda and go to Mexico City for the WGC the week after that.
"Part of [the plan] is knowing when to rest," he said. "I didn't realize I was playing that much golf. I've got to be a little more strategic about where I play and where I rest. That'll help."
Harman is currently sixth in the Ryder Cup standings. A win this week would move him up even further. And if he's on the bubble at the end of the season, a strong finish would all but guarantee it.