News
How Brian Harman's career is coming full circle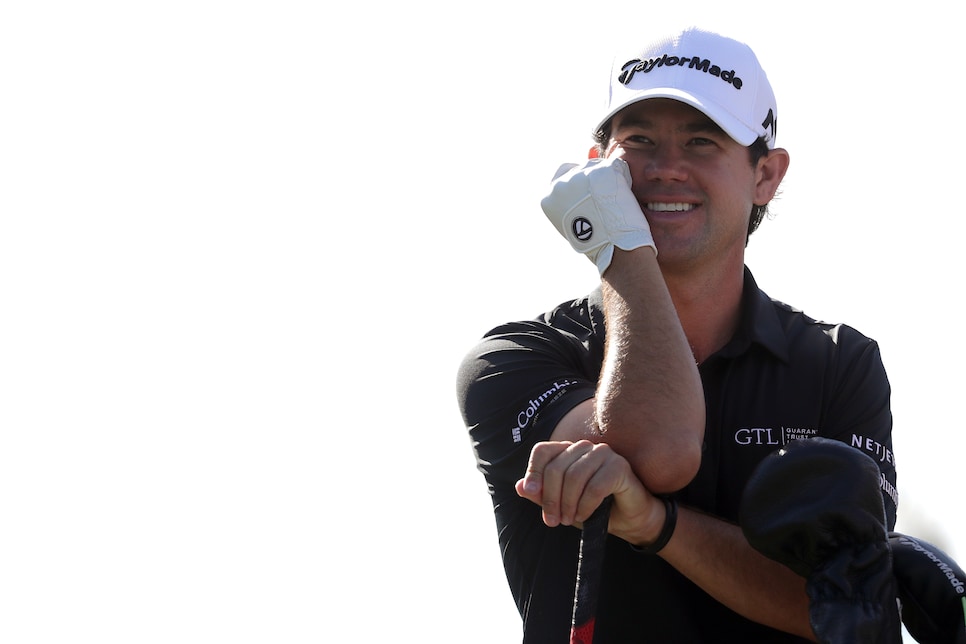 PONTE VEDRA BEACH — Brian Harman spent Monday on his boat in the waters near his home on Sea Island Ga., needing a day alone in the ocean after winning the Wells Fargo Championship for his second career PGA Tour victory and first in 83 starts. If for nothing else, it was a day for clearing his head, catching some fish and resetting for the drive into Ponte Vedra Beach for the Players Championship.
After hooking the big one in North Carolina, Harman received the winner's welcome, pulling up to TPC Sawgrass on Tuesday morning in the Yukon Sierra Denali pickup with the big tires and old-school instructor Jack Lumpkin riding shotgun. At 5-foot-7 in golf spikes, Harman gets teased by friends that he needs a trampoline to get up in his ride.
Shaking hands until the doors closed behind him for a Presidents Cup uniform fitting, Harman eventually arrived at his locker. The general public may not know much about the left-hander from South Georgia, but among the players, this was a popular victory. Jerry Kelly busted his chops by saying "at least you know now the first one wasn't a fluke." They laughed and hugged. Of course Kelly was just kidding, and Harman took it that way.
For Harman, beating Dustin Johnson with a 28-foot birdie putt on the 72nd hole at Eagle Point was the norm as a junior golfer all the way through a college career at the University of Georgia. He won the 2003 U.S. Junior Amateur and was the youngest to play on an American Walker Cup Team, going 2-0-1 as an 18-year-old in 2005. But he's 30 now, and that one victory at the John Deere Classic in 2014 was more a sign that he should be doing better than the record indicated.
"I'm kind of seeing in him right now what I thought I'd see all along," says Harman's college coach, Chris Haack.
Harman developed a reputation as a giant killer by taking out Rickie Fowler in the quarterfinals of the 2009 NCAA Championship with three closing birdies. Whether it was Johnson or Fowler, Harman wasn't afraid of being Brian Harman. "I am who I am," he says. "If I was any taller, I'd be playing minor league baseball. In a way I'm thankful for the way I am."
When I asked him if he was gritty or cocky, Harman admitted, a little of both. "When I was a kid, I was very cocky, but I'm proud of my grittiness," he said. "It's one of the things I really like about my golf game."
So does Zach Johnson. After losing to Harman in the John Deere and mentoring him this past winter, the two-time major champion wasn't surprised with the result at Eagle Point. "He's always had a good grit about him," Johnson said. "He cares, but he doesn't care care."
Johnson also likes the fact that Harman is a little rough around the edges, knowing his heart is in the right place. Recognizing Harman and Johnson were both bulldogs and undersized in today's game, performance coach Randy Myers suggested they get together. "Zach is the model for how it's supposed to be done," Harman says. "He works hard, he's a good family man, and he believes in himself. … Those are the things I admire about him and what I have incorporate into my own life and golf game. … It's all inclusive."
Harman has also bought into the all-inclusive package of getting married, having a baby and building a house all at the same time. As he said, "I figured I'd take all the stressers of tour life and throw them all into the same year." Harman is proud of that house, grateful of wife Kelly and gratified by raising daughter Cooper. They actually turned out to be stress relievers and improved his golf game. "I'm feeling a lot better about everything," he said.
Good parenting should come easy for Harman. His father is a dentist who was a valedictorian in high school. His mother is a chemist. Brian graduated from Georgia with a 3.7 GPA in finance. He is said to be more like his mother: brilliant, thorough, stubborn, tough and very detail-oriented.
"I definitely have an active brain," Harman says. "For me, it's hard getting out of my own head and letting things happen, not trying to control every single situation. But if I'm going be a control freak, which I am, I'm not going to worry about things I can't control."
Lumpkin provides more than just swing thoughts. He started teaching Harman when the boy was 11, and just as precocious then as he is now.
"He always believed in himself, though people told him he was too small and things like that," Lumpkin said. "He didn't pay any attention to it, but he has been a fiery competitor from the day I first worked with him. When I see him today, I see a mature young man that's starting to realize he has the ability to play the type of golf he did last week."
In other words, it doesn't matter how tall he is, now that he's grown into himself.